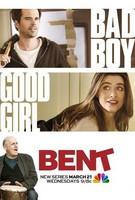 TV Info
---
Episode Premiere
March 28, 2012

Distributor
NBC

Genre
Comedy

Show Period
2012 - 2012

Production Company
Universal Media Studios


Cast and Crew
---
Director
Phil Traill
Screenwriter
Aseem Batra
Main Cast
Additional Cast
Larry Miller
Matt Letscher
Synopsis
---
The construction crew is debating new guy Gary's nickname, ultimately deciding on "Back Fat," as Alex enters to ask if anyone's taken her necklace. Ben gave it to her, and Alex wanted to wear it at a wedding this weekend. The crew is indignant that Alex could even accuse them of any misconduct and feigns being wounded by the accusation. After Alex leaves, Pete reveals he actually did take the necklace because it broke while he was looking at it. Now what to do?
At her office, Alex's boss, Bob, asks how the wedding plans are going. It's a co-worker who's getting married, and Screwsie is catering the event. Even more important, Bob wants Alex to make sure Ben brings his "A-Game" so he can impress the partners' wives. Given the tough year she's had with her husband being incarcerated, Bob wants Alex to put on a good show; if she's ever going to become a partner in their firm, the wives' approval is vital.
The next morning, Ben promises Alex he's going to "bring it" at the wedding. Pete comments how cockiness only works from blue-collar guys. Once Ben leaves, Pete sows the seeds that Alex is nervous Ben won't be able to "wow them" as necessary at the party. Alex tells Pete to stay out of her head, and Pete replies he's already in there... now he's just sticking around making pop-tarts.
Ben abandons Alex right in front of the wedding location when he gets paged for an emergency heart transplant. As soon as Alex enters the reception with the "flimsy" excuse that her date was called away, the snooty partners' wives move her to the singles table. Meanwhile, Walt is working with Screwsie's catering staff, but he's forgotten the crab cakes at his house, forcing Walt to ask Pete to deliver them himself.
Wondering how her night can get any worse, Alex sees Pete at the reception. Alex is flattered Pete thinks she looks amazing all dressed up until he, as usual, takes it too far and she has to shut him down. Bob walks up and is so astounded by Pete's off-the-cuff remarks, he demands they start doing shots immediately. Alex pleads with Pete to stay to impress her boss. Sadly, all that develops is Bob's man-crush on Pete. Alex is no closer to a corner office.
Alex resigns herself to just having a good time at the party and ends up chugging beers with Pete. When she overhears the whisperings of the partners' wives saying Alex's is never going to be partner because her life is too screwed up, it only makes Alex feel worse. Pete comes up with a plan to try to re-impress the partners' wives on the dance floor. Once they realize they're no Rogers and Astaire, Alex changes tactics and impulsively tells Bob all the reasons she deserves to be a partner and it has nothing to do with playing office politics.
Later, Alex is afraid she went too far with what she said, yet Pete believes standing up for yourself is more impressive than any "act." Alex is grateful Pete stuck around with her tonight, until Pete confesses he has her necklace and dishonestly blames Gary for breaking it. While Pete still hopes to party late into the night with Alex, Ben returns from the hospital. Accepting that three's a crowd, Pete quietly ducks out of the reception with Alex wondering where he went. Pete leaves smiling. After tonight, Pete knows for sure he's in Alex's head.