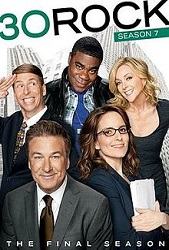 TV Info
---
Episode Premiere
May 20, 2010

Distributor
NBC

Genre
Comedy

Show Period
2006 - 2013

Production Company
Broadway Video, Little Stranger, NBC Universal


Cast and Crew
---
Director
Don Scardino
Screenwriter
Tina Fey
Main Cast
Additional Cast
Synopsis
---
At Floyd's wedding, Jack's still trying to persuade Nancy to take him back. He loves Nancy because she knows the real Jack: a poor Mama's boy from Massachusetts who used to wear his sister's hand-me-down corduroy pants. Nancy asks if Jack's in or if he's out of the relationship. He tells her he's in.
The crowd goes from Floyd's wedding to Cerie's wedding. While there, Jack meets Jenna's boyfriend Paul. Paul opens up to Jack, confessing that Jenna caught him impersonating another woman named Cher, and wonders if it's possible to love two women at once. Jack says it's possible, but Paul needs to choose one or the other.
While in the bathroom at Cerie's wedding, Nancy runs into Avery and the two begin to chat. Avery tells Nancy she's crashing the wedding to try to win a boyfriend back, hinting that she's pregnant with his baby.
Liz agrees to grab a pair of shoes for Wesley from his office. While there, a dashing pilot named Carol walks in looking for his insurance agent. Carol and Liz bond over Carol's awesome job. Liz perks up when Carol tells her TGS is one of his favorite shows, and they play it on all of his flights. Liz invites Carol to Cerie's wedding.
At Cerie's wedding, Jack strikes up a conversation with Carol. Liz interrupts. Carol promises to meet Liz at the reception, telling her to be ready for some dancing. Liz calls Jack out for finally choosing Nancy. He can thank Liz later for making him choose one or the other. Jack's made his choice and isn't looking back.
Kenneth finds out he's been promoted and transferred to LA. Out of spite, he begins doing a terrible job giving tours, including the tour for the Kabletown execs. Because of this ploy, Kenneth is fired instead of receiving his promotion.
Nancy retrieves the place cards and discovers that Jack's contains his name and Avery's. She wants to know why Jack dated Avery to begin with. When Jack begins to list all of Avery's great qualities, Nancy claims she feels better about leaving him, because Avery's at the wedding and she's pregnant. Jack is shocked by the news.
Wesley confronts Liz for trying to break off their engagement by text message. She tells Wesley that Carol is her real soul mate, and she needs to pursue him and be with him forever. Hurt, Wesley stomps out. Carol overhears the entire exchange. and tells Liz that this is his cue to leave as well.
Jack tells Avery that her pregnancy is fate; he's meant to be with her. When Jack proposes marriage, Avery replies by asking if there's gay juice in the champagne. Jack explains that he's always wanted to be married with kids, and the two kiss passionately.
The crowd hops to Grizz and Fiancee's wedding, where Liz finds herself alone. Jenna spots Paul dressed half as Jenna and half as Cher. He tells her she needs to accept that not everything is about her. Jenna takes Paul back and the two seal it with a kiss.
Carol crashes Grizz's wedding looking for Liz. He tells her that maybe they really are meant to be together, and decides to give a relationship a shot. A drunken Kenneth interrupts the reception to tell off the entire TGS staff before being carted away by security. He ends his rant with "Have a wonderful summer!"