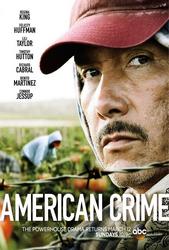 TV Info
---
Next Show
Eps 2.01:
TBA
Category
TV Series
Genre
Drama
Seasons
2
Production Co.
ABC Studios
Distributor
ABC
Official Site
click here

The Story
---
The humble city of Modesto is far inland from San Francisco, surrounded by farmland. Parts are pastoral, while others are grittier with rising crime due to gangs, drug trafficking and addiction.
All over the news are reports about a young couple who were attacked in their home. Matt Skokie, a war vet, was killed and his wife, Lily, was raped and beaten unconscious. This tragedy sends shock waves into the community, stirring up tensions across racial lines, and connecting victims, suspects, and their families.
Matt's father Chuck (Timothy Hutton) has flown in from Arizona for the grim job of identifying his son's body. He and his ex-wife Barb (Felicity Huffman) haven't seen each other in a long time and she is still angry with Chuck for his gambling addiction that destroyed their family. Barb became a struggling single mom and regrets having to raise Matt and his brother in public housing - as the only white kids there, they were badly treated. Chuck got the help he needed to overcome his addiction, but it took a lot of time to repair his relationship with his sons.
They are at the hospital with Lily's parents, Tom and a tearful Eve, watching over their unconscious daughter. They still believe there is life in her, but doctors tell them that they are pessimistic that she will ever recover, even if she wakes up.
The two couples have to decide whether they talk to the press. Tom and Eve are not ready, but Barb wants to keep the story front page so the people who did this to their children are arrested. It's been several days and no arrests. But that will soon change. The police are about to arrest four suspects.
There's teenager Tony Gutierrez raised by single father, Alonzo. He insisted that Tony and his daughter, Jenny, steer clear of gangs and trouble. But, Tony rented out a car from his father's garage to a thug named Hector Tontz... mainly because he was too scared to refuse. Because that car was at the scene of the crime, Tony is arrested. Later, Hector is arrested with force after he was caught using victim Matt's credit card.
Police get Hector, who proclaims his innocence, to give up petty crook Carter. He and his 20-year-old white girlfriend, Aubry, are methheads and always looking to buy. They are broke and desperate, and have a knack for finding trouble, like at a club when black girls beat up Aubrey for being with a 'brother.'
Cops burst into their apartment and arrest the couple. Is it possible they knew the victims?
The investigation takes a turn when a search of the couple's home reveals a disturbing secret. The case has just gotten bigger and the players will have their lives torn apart. A racially charged drama, from the point of view of the victims, the accused, and their families
The Stills
---