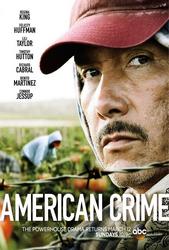 TV Info
---
Category
TV Series
Genre
Drama
Starring :
Felicity Huffman
,
Timothy Hutton
, W. Earl Brown, Richard Cabral, Caitlin Gerard, Benito Martinez, Penelope Ann Miller, Elvis Nolasco, Johnny Ortiz

January 15, 2014 11:01:17
Hot on heels of his work on critically-acclaimed film "
12 Years a Slave
", screenwriter John Ridley's racial drama has received a pilot order from ABC. Titled "
American Crime
", it's written by the Golden Globe-nominated screenwriter who will also executive produce it along with Michael McDonald.
The drama is set in California's Central Valley. It revolves around the lives of the players in a trial for a racially charged murder. The case takes on greater meaning in the community, bringing to the forefront America's hardened views on race, class and gender politics.
...