November 21, 2008 06:05:15 GMT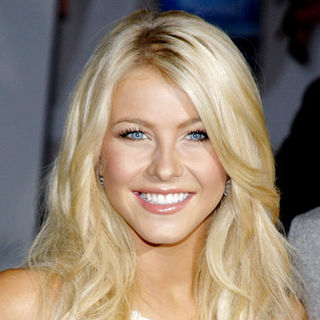 's professional partner on "", , has been reported to leave the ABC's popular dancing competition. The professional dancer who has been eliminated from the show on November 18 has decided not to return to the competition show next season.

Hough assures that her definite absence from "Dancing" show will only be for the next season, but she cannot give any guarantee whether she will return for other upcoming seasons. She states, "I won't be on Dancing this spring season. I don't know about the fall. Maybe, maybe not. We'll see."

November 21, 2008 04:15:32 GMT

It's Cristina Yang's week in the new episode of "". In "All by Myself", she is awarded the first solo surgery among the residents but must give it up and choose for her replacement. Meanwhile Mark performs a cutting edge procedure to restore a patient's ability to speak, and impresses Lexie in the process. Also, Callie can't figure out if Sadie is just friendly or flirtatious.

"All by Myself" is airing December 4 at 9/8c on ABC. is back as Dr. Owen Hunt, Cristina's new love interest while is guest starring as Sadie, Callie's possible new lover. Academy Award nominated actress also joins the show as Dr. Virginia Dixon, a cardiac surgeon who suffers from Asperger's syndrome, a form of autism that causes an inability to interact socially with others.

November 21, 2008 04:13:28 GMT

This fall season, another serial TV show has been canceled from its upcoming production. Bryan Fuller, "" co-executive producer in 2006-2007 period, has given a statement to that his drama comedy series, "", has been canceled by ABC network.

To E! Online, Fuller gives a confirmation over the series' axing saying that the decision comes directly from ABC network. He additionally mentions that ABC 's President of Entertainment, Steve McPherson, has personally called him about the matter.

November 21, 2008 03:18:55 GMT

In a new video interview which is part of her MTV documentary "Britney Spears: For the Record", the pop star opens up about her new album "". talks in details on why she chooses "Circus" as the name of her sixth studio album and how it is different to "" that was released in October 2007 and failed to deliver her a big comeback.

The interview which will be played during the documentary when it is premiered by MTV on November 30 at 10 P.M. ET/PT, also has Britney talking about "Womanizer" and the concept of where she is seen almost nude. Previously, there has been a clip of Britney talking about her failed marriage to with "Womanizer" played behind. The footage plus several other clips from "For the Record" can be seen .

November 20, 2008 09:37:19 GMT

Preview of "" episode 2.07 has been released. It shows how the Darling's chauffeur invites a reporter to the mansion while the family is out of town.

In the episode entitled "The Facts", all the Darling family are celebrating Thanksgiving holiday, away from their Mansion in New York. The family's absence made Clark, the family's chauffeur, setting the record straight with a reporter on all the Darling's scandals and rumors.

November 20, 2008 08:54:15 GMT

As revealed through recently released preview of "" episode 5.09, Lindsay Monroe tells Danny Messer about her pregnancy. The preview also features a crushed car in which parts of an unidentified body are found.

With the title "The Box", the episode revolves around the finding of a victim's bones inside a crushed car by the CSI team. It shows how the bad condition of the car forces the team to carefully extract the bones in order to identify the victim and discover the killer.

November 20, 2008 08:36:28 GMT

"" is back on ABC last night after two weeks of delay. The preview for its next episode which is titled "Robbing Hood" has been given, showing a new murder case that Ned, Chuck and Cod have to solve after a rich old man is found dead trampled by a chandelier.

When resurrected from his death, the old man named Gustav Hoffer says to the threesome that they have to find his will. He got killed when a chandelier is shot by its thread and falls down on him during a robbery. A lawyer for the millionaire suspects his client's death was not part of a robbery gone wrong as was reported, but rather murder. Cod and Ned have to find out who kill Hoffer, interrogating also his much younger wife, Elise, and a latter-day Robin Hood.

November 20, 2008 07:57:52 GMT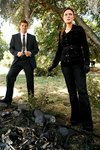 Preview of "" episode 4.11 has been released. It shows how Dr. Temperance Brennan is shocked by the fact that her estranged father, Max Keenan, teaches at the Jeffersonian Institution.

In the episode entitled "The Bone That Blew", Brennan and her FBI special agent Seeley Booth are investigating a case in which a skull and various skeletal remains are found in a tree in a nationally protected wooded preserve. When the victim's bones point to those of an ex-Marine who has been off-the grid for nearly three years, the two are led to an ultra-elite private school and a group of rich and powerful families.

November 20, 2008 07:18:02 GMT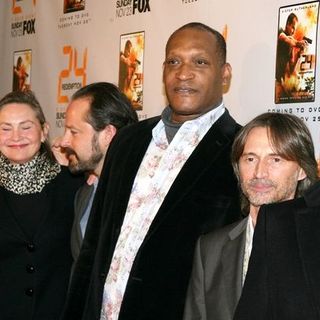 Taking the stroll on the red carpet rolled down in front of New York City's AMC Theaters Empire was Keifer Sutherland who was there to promote his TV movie "24: Redemption". Kiefer, was joined at the November 19 event by the movie's other cast such as , , and among others.

"24: Redemption" is a two-hour movie that will hit the small screen on Sunday, November 23 via FOX. It was created based on the popular series "" in anticipation of the long break between "24" sixth to seventh season, that was caused by the writer's strike. It serves as a prequel that correlates between seasons six and seven, set in Southern Africa where Jack finds himself caught up in a military coup.

November 20, 2008 07:01:59 GMT

The CW's "" cycle 11 finally gets its winner. On its November 19 final episode, the hit modeling competition show crowned boxing enthusiast, Brittany 'McKey' Sullivan, as the next America's Top Model.

After the winning announcement, 19-year-old McKey shares her grateful feeling, saying "I'm so proud of myself right now, this was the last thing for me, I was going to try out and this was going to be it." She adds, "Now I'm America's Next Top Model and from here this isn't the end. I'm going to keep going and keep rising, it's just like a dream come true."

November 20, 2008 06:22:38 GMT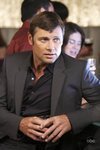 Addison receives a surprise visit from her brother in the new episode of "". Archer, played by Grant Show who claimed his fame in "Melrose Place", comes over to stir up the situation with his playboy status. The man who is also a surgeon, oozes his charm at women and sleeps with several of them.

Archer not only causes a trouble for his big sister but for Naomi and Sam as well. Meanwhile Meg returns to try to make it work with Pete, and a patient accused of a malicious crime stirs up anger and emotions, for both Violet and Dell. The episode is called "Tempting Faith" and aired November 26.

November 20, 2008 04:22:31 GMT

Based on November 6 episode of "" that features Dr. Izzie Stevens being reminded of her deceased fiance, Denny Duquette, which leads to a speculation of Izzie's brain tumor, Shonda Rimes finally gives her comment. To , she briefly says that the reason of bringing back Denny in the middle of Izzie and Alex has nothing to do with the deadly disease.

As Rimes states, "I think the love triangle with Denny, Izzie, and Alex is among the most interesting we've ever done. Watching the chemistry between Jeffrey and Katherine again has been really touching." Then she adds, "I can't wait for our viewers to see where we're taking it. But what it won't involve is Izzie having a brain tumor."

November 20, 2008 03:03:24 GMT
ABC have given their 1998 series "" another shot, and released its trailer. The dramedy show is coming from "Veronica Mars" creator Rob Thomas, and originally put as the titular character. But the remake that will air in midseason, is starring and as Cupid and Dr. Claire Allen respectively.

"Cupid" is basically a modern love story where a man claims that he is a Cupid sent by Zeus to Earth after he shows arrogance. He is stripped off his godly power and in order to return to Mount Olympus, he has to match 100 couples with true love. Dr. Allen is assigned to analyze this man's thought which is considered as 'insane'.

November 19, 2008 09:49:34 GMT

Episode 1.09 of "" has been revealed through recently released preview. The preview shows how Olivia Dunham is dealing with an unexplained phenomena case and with John Scott, who haunts her conscience.

With the title "The Dreamscape", the episode revolves around the death of a Massive Dynamic's employee after hallucinating of a butterfly attack. It reveals that Olivia's unexplained interaction with John helps the investigation, but a frustrated Olivia wants to remove him from her consciousness once and for all. Meanwhile, the gig is up for Peter when a former friend and some current foes find out he's back in Boston.

November 19, 2008 08:14:07 GMT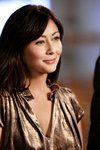 A promo of "" episode 1.12 has been released. Not giving any details about what will happen on the next episode, the preview shows only that Beverly Hills can change people because the place is filled with contradictions since whenever there are virtue, honesty and trust, temptation, lies and betrayal will follow closely behind.

With the title "Hello, Goodbye, Amen", the episode revolves around Brenda Walsh who receives a life changing news after having some kind of problems with Kelly Taylor on the last episode. Dixon Wilson grows closer to Christina Worthy, while an unexpected secret is destined to rock Adrianna Duncan's world.