October 26, 2007 04:19:04 GMT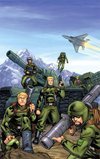 Moving the project into the next stage of development, Paramount Pictures has delightfully started the casting process for "", which it now refers as "Untitled Stephen Sommers Project", Superhero Hype! has claimed.

The site further informs production will start in mid-February next year in Prague and Los Angeles. To meet the schedule, this could only mean that scribe Stuart Beattie has to quicken his pace in finishing his script revisions before the intended Writers Guild of America's strike at the end of this month.

October 26, 2007 03:43:32 GMT
Getting prepared for the release of its upcoming holiday flick "", Yari Film Group has smoothly released a really merry poster for the movie , which will supposedly be 's last flick in 2007.

As seen on the left, the one-sheet has the background of the mall's interior where the family comedy's story mostly takes place. The Saunders siblings were pictured cheerfully riding a motorbike inside the building with the crooks chasing them behind. On its left side, just above the title, a tagline read "Two kids, a mall, a million in cash, ... what could go wrong!" is printed in blue.

October 25, 2007 09:49:40 GMT
There are tons for you to see from -starrer "" this time, folks. MGM and United Artists as the studios behind the political drama have delightfully launched five new clips from the flick plus a new featurette presenting interviews with supporting cast members, , , and .
All posted at
IESB.net
, the clips and featurette can also be reached via section at AceShowbiz. Some of them are already available on YouTube as you can see one below.
October 25, 2007 08:55:09 GMT

The world's famous El Capitan Theater in Hollywood displayed a blinding light yesterday, October 24, 2007 as packs of stars merged together to celebrate the world premiere for Touchstone Pictures' "."

Male lead was noted flashing friendly smile as he arrived on the scene to walk down the red carpet, dressed in dark suit and gray shirt minus tie. Joined the funnyman were other cast members that included , , Marlene Lawston, and with director Peter Hedges and singer/songwriter Sondre Lerche, who worked on the original music for the flick, completing the lineup.

October 25, 2007 07:42:28 GMT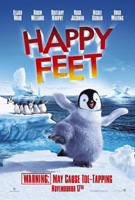 Kudos and recognition still get directed to "" as the prancing penguin toon was named best feature film at this year's Environmental Media Association Awards, which celebrated its seventeenth anniversary yesterday, October 24, 2007.

The Warner Bros. Pictures release was recognized for its ecologically uplifting and informative message, particularly the campaign to stop commercial overfishing of the Antarctic. Pic beat out its three competitors of "," "", and "."

October 25, 2007 06:48:19 GMT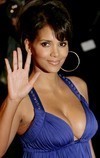 Marking the first full week of the running of the 51st London Film Festival, ensemble drama "" took its turn to show up as part of the festival's lineup yesterday, October 24, 2007, and let the spotlight go down on its female lead .

Despite the cold weather, the four months-old pregnant actress looked comfortable and radiant in Grecian-style low-cut royal blue gown as she made her way down the red carpet to the premiere held at Odeon West End in the city's Leicester Square. The beauty was noted to spend over half an hour showing her bump off to photographers also signing photographs.

October 25, 2007 05:09:07 GMT
It's time to wear the police badge again for after doing so in "." The Oscar winner has just been reported by Variety to about topline a new crime thriller feature entitled "The Zebra Murders: A Season of Killing, Racial Madness, and Civil Rights" as well as to produce via his Foxx-King Entertainment.

Based on Prentice Earl Sanders and Bennett Cohen's 2006 book, project chronicles the series of racially motivated serial killings - black on white - that took place in San Francisco from 1973 until 1974. Foxx is said to play Sanders, one of two black police detectives who headed the team cracking the case while also fighting harassment within the police department.

October 25, 2007 04:40:02 GMT

The James Cameron ambitious project known as "" is on its way to fulfill the promise of boasting remarkable special effects you never imagine of, if looking from several pictures of outdoor set from the picture.

Courtesy of Flickr.com, the images, taken from the flick's set in Wellington, New Zealand, showcase huge green screen used for shooting the movie, which, as Cameron said, will be composed of sixty percent computer-generated elements.

October 25, 2007 03:40:14 GMT
It appears that few decisions have been made on the heels of the announcement of the May 1, 2009 release date of "." That's if tidbits regarding the project brought by several sources are proven legit.

The first one coming from Filmonic.com claimed that a change has occurred on the creative mind behind the flick's screenplay, saying the original one crafted by David Benioff will have a re-write under "" scribe Skip Woods. Scoop is supported by a recent article on the LA Times, which reported that 20th Century Fox turned out to issue "an urgent SOS to the major agencies looking for a quick rewrite person" days before the launch date announcement.

October 24, 2007 10:08:14 GMT

Imagine in long brown hair with curly mustache and long beard, and that's what you get in the very first picture from his upcoming vehicle "."

Brought by USA Today, the photo, as seen on the left, also captures Myers' beautiful co-star in, who flashed her white teeth while looking lovely in yellow dress. In the comedy, the latter is portraying the owner of a hockey team and the love interest of Myers' Pitka.

October 24, 2007 09:53:43 GMT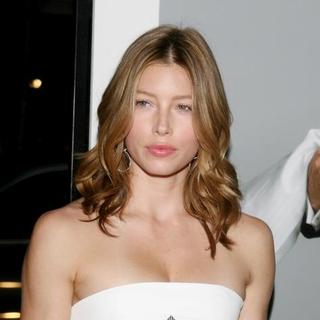 Opted to ditch Wonder Woman role in "Justice League of America", turned out to go for a more humane part in her next move. According to Variety, the actress is now poised to topline a crime thriller titled "" which United Artists is developing.

Pic is an adaptation of Megan Abbott's novel of the same name that explores how the lives of a schoolteacher and her LAPD detective brother are turned upside down by a mysterious woman. Unlike the original material, however, it will be set in the present day instead of the 1954 Los Angeles set depicted in the book.

October 24, 2007 09:52:41 GMT
Once again celebrating the achievement in independently funded British movies, organizers of the British Independent Film Awards have smoothly rolled down the list of eligible titles and names to vie for the honors in the event's tenth anniversary.

Leading the pack is biographical feature "" as it remarkably took ten nods in total, most notably that of Best British Independent Film. To win the prize, pic, however, faces tough competition from the likes of "And When Did You Last See Your Father?", "", "Hallam Foe", and "."

October 24, 2007 07:46:42 GMT
Never miss to give an update to his official blog for his current project "", director Rob Cohen has delightfully posted another production still from the project, this time featuring the first look of martial arts expert .

As seen on the above left, the photo shows the back image of as Rick O'Connell as he is about to take a kick from a gravity-defying Li, who plays a despotic Emperor in 50 B.C. whose evil is punished by a terrible curse. Li, according to Cohen, just shot his scene of riding a black stallion into battle in a jade armor on Monday, October 22, 2007.

October 24, 2007 07:03:58 GMT
What a huge treat moviegoers are given this time. Not only they can catch an international trailer for Warner Bros. Pictures' upcoming "", but also a second domestic trailer for the action horror as well by now.

The international version, previously leaked at Worstpreviews.com, is posted on HD format at while the domestic one is available on the flick . Both open with the Brooklyn Bridge evacuation scene, these two can also be accessed via section at AceShowbiz.

October 24, 2007 05:06:55 GMT
Lionsgate Films apparently is wasting no time in promoting the fourth installment of the iconic Vietnam War veteran series. Recently unleashed the first poster for the flick, now the studio already brings something new for fans to watch. Yes, it's the second trailer of ""!

Available now at YouTube as seen below, the trailer runs about two and a half minutes and still boasts some explosive scenes here and there though is less gory than the first one. Footage is presented in a time-line fashion, showing us the titular character's early refusal to help before finally going back in action to rescue the kidnapped missionaries.