News
>
Movie News
January 20, 2013 13:16:03 GMT

Stephenie Meyer is eying another movie project to produce. Along with her producing partner at Fickle Fish Films, the author of vampire book series "Twilight" is, according to LA Times, going to produce a film adaptation of young-adult ghost story "Anna Dressed in Blood" written by Kendare Blake.

The book follows ghost hunter Cas Lowood as he travels the country following legends and local lore to kill the dead. Then in a new town, he finds a ghost like he's never faced before, a girl who's entangled in curses and rage but for whatever reason spares his life.

News
>
TV News
January 20, 2013 11:53:12 GMT

's first-time visit to "" as a host is full of dated topics. In an opening monologue, the actress, who won Best Actress in a Motion Picture - Musical or Comedy at Golden Globe Awards, roasts fellow Best Actress nominees of Academy Awards, which will be held in a few weeks.

She says of "" actress , "Jessica Chastain? More like Jessica ain't winning an Oscar on my watch." She continues to poke fun at "" lead female , "You were in The Impossible. You know what else is impossible? You beating me on Oscar night."

News
>
Celebrity Gossip
January 20, 2013 10:42:26 GMT

pulls his pants down, literally. The 18-year-old Canadian singer posts a picture of himself from behind as he's lowering his pants to show off his backside. Wearing a black tank top, a backward hat and black shades, he gives a glance at the camera over his shoulder.

Bieber uploads his revealing photo on Instagram and later deletes it. He says nothing as the pic makes its round on the internet, but his manager Scooter Braun speaks on his behalf, "as a prankster u have to respect another good prank. only makes sense. #crackdealer." The star seems to agree as replying, "Haha."

News
>
Music News
January 20, 2013 08:32:07 GMT
As Barack Obama's inaugural festivities kicked off January 19 with hosted by the First Lady, words run rampant that is tapped to headline a ball on January 22. While the Saturday event honored the military families, the Tuesday gig is held for Mr. President's campaign staffers.

The Mother Monster followed the footsteps of who took the stage for Team Obama in 2009 after Mr. President's first election win. During the private concert for the White House staff members, the Roc Nation founder reportedly changed lyrics of his hit single into, "99 Problems but George Bush Ain't One."

News
>
Celebrity Gossip
January 20, 2013 07:40:53 GMT

The famous customized car used in the 1960s ABC Batman TV series starring Adam West has gone under the hammer. The Caped Crusader's cruiser was purchased by the winning bidder for Lot 5037 at the Barrett-Jackson Auction Co. in Scottsdale, Ariz. for $4.6 million.

The iconic car was 19 feet long and built from a one-of-a-kind 1955 Lincoln Futura concept car, which was purchased for 1 dollar only. The owner King of Kustomizers George Barris created the vehicle in three weeks at a cost of $15,000 funded by 20th Century Fox.

News
>
Music News
January 20, 2013 06:36:54 GMT

The military families were celebrated in a star-studded concert hosted by U.S. First Lady Michelle Obama and wife of Vice President Jill Biden. , and "" cast delivered high-energy family-friendly performances for the soldiers and their families. Sasha and Malia joined the celebration along with the Bidens' brood.

At the "Kids Inaugural: Our Children. Our Future" event, Mrs. Obama talked about the challenges faced by kids in the military families. "Did you know that a military kid attends an average of six to nine schools by the time he or she graduates from high school?" she said. "Just think about the level of maturity that is required for military kids during those times."

News
>
Celebrity Gossip
January 20, 2013 05:01:28 GMT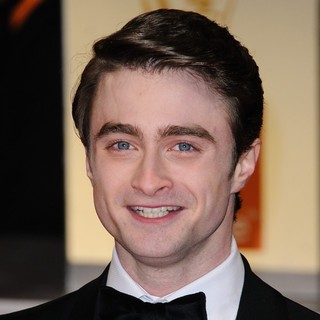 has a new girl. According to PEOPLE, the Harry Potter depicter was cozying up to his "" co-star Erin Darke when attending Sundance Film Festival. They were spotted showing off PDAs at the Grey Goose Vodka Lounge dinner at the Blue Door.

"They were affectionate most of the night," a source told Us Weekly. Darke reportedly "was touching his knee" and sharing a brief kiss with him. "They were a little more obvious outside the venue after they were leaving." Outside later that night, he was draping his arm around her.

News
>
Celebrity Gossip
January 20, 2013 04:21:46 GMT

A few days after Bolshoi Theatre's artistic director Sergei Filin was shockingly attacked with acid by a masked assailant, a man has been arrested by Russian authorities investigating the matter. He is allegedly suspected of hacking into his email account before the horrific assault.

The man is believed being connected to the alarming terrors happening to Filin in the months leading to the acid attack. Someone threatened him, slashed his car tires and disabled his cell phone. A fake Facebook page was also created in his name and his professional correspondences were posted online.