News
>
Celebrity Gossip
September 25, 2011 16:31:36 GMT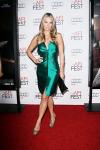 has tied the knot to "" producer Scott Stuber. In front of family and friends, they wed at the Frank Cafaretta Vineyard in Napa Valley, California on Saturday, September 24.

Sims and Stuber invited a number of stars such as aka Fergie and her husband as well as . "It's an entire wedding filled with celebrities. It's the wedding of the century. They are all celebrities, and they are all singing!" Sims joked back in August.

News
>
Music News
September 25, 2011 16:17:42 GMT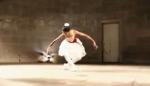 apparently wants to make sure his debut album will come out successful in the market, pulling the last strand of effort by releasing a music video just 48 hours before the album hits the shelves. Cole chose to give "Daddy's Little Girl", one of the "" bonus tracks, a video treatment.

The video follows a heartbreaking story of a girl who trained to be a ballerina when little but ended up as a stripper later. The girl shed a tear at what her life has turned to be. "Mama couldn't never reach her/ Brother tried his best to teach her/ She thinks she's ready for the world/ Just look at daddy's little girl," Cole sang.

News
>
TV News
September 25, 2011 15:56:39 GMT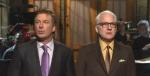 The "" team has obviously prepared to the max its 37th season opener and 's 16th time hosting. For the monologue alone, they invited over whose record of hosting the show was beaten by Baldwin, and also who was there to assist Martin on popularity check.

Baldwin was on full energy opening the variety show when suddenly his "" co-star and Rogen entered. Martin was suspicious whether Baldwin used performance-enhancing drugs such as steroid that night so he brought in a medical team to test Baldwin's urine sample. The continuation managed to make the audience squirm.

News
>
Celebrity Gossip
September 25, 2011 02:56:04 GMT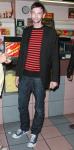 American actor was beaten by a police officer in Vancouver although he did nothing wrong. "I cannot understand it," the "Road Trip" star wrote on Twitter. "I'm sitting here, with a busted face in total shock. I literally did nothing wrong."

Qualls was in Vancouver to shoot an episode of the CW's "". In his account, the 33-year-old said that "a dude punch a girl" when he was walking out of cafe. Police then arrived and he told them what had happened but he got into hot water. "He said if I didnt get out of there, he's arrest me, I asked why and he tackled me, busted my face and handcuffed me," Qualls said.

News
>
Celebrity Gossip
September 25, 2011 01:59:45 GMT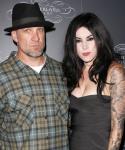 Jesse James and realize that their relationship is not going to work, even for the second time. The tattooed couple called it quits again after about a month of reconciliation. "I am not in a relationship. (And I apologize for all the "back and forth" if it's caused any confusion)," Kat announced on her Facebook page.

Jesse proposed to the tattoo artist after only dating several months. Planning a summer wedding, they called off the engagement in July only to be back together a month later. Apparently, long distance also played a role in the split. "I am not in any way moving to Texas," she wrote.