News
>
Celebrity Gossip
December 29, 2006 04:16:22 GMT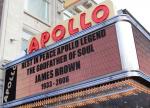 Thousands of fans gathered at the historic Apollo Theater in Harlem to bid farewell to the Godfather of Soul, . Outside the venerable theater, the marquee read: "Rest in Peace Apollo Legend. Godfather of Soul James Brown 1933-2006."

Billy Mitchell, the Apollo's manager of group sales and a theater historian, said that fans are expected from all over the country for the public viewing. Some fans turned up before midnight to get a spot in line, he said.

News
>
Celebrity Gossip
December 29, 2006 03:41:18 GMT
and sister Maggie were staying at the Manka's Inverness Lodge in Marin County for Christmas holiday when the fire began around 3 a.m. Wednesday after a tree fell and hit a water heater.

Guests were seen running outside at around 2:43 am. Said a neighbor, "They weren't dressed to come out. It was early."

News
>
Celebrity Gossip
December 29, 2006 02:39:12 GMT
The Hollywood couple, and , along with their 3 children, a nanny and a personal chef, registered as "the Black family" at the exclusive Four Seasons Resort in at Peninsula Papagayo. They have been reported staying at the resort since last Friday.

As part of Jolie's ambassadorship for the U.N. High Commissioner for Refugees , Jolie and Pitt have been in Costa Rica to spend their Christmas Day with refugee children and families from Columbia.