News
>
Celebrity Gossip
December 02, 2006 08:28:43 GMT
The month of November has seen great movies coming up to the surface yet none of them could gather such tremendous publication like "" for sure, and the one who takes most advantage from it is certainly none other than its star, .

Aside from whether it was a good or bad one, the continuous exposure undoubtedly has directed all eyes to gaze fixedly on the funnyman so that it is rather unsurprising indeed to find him seat atop AceShowbiz's Top 100 Celebrity Buzz of November 2006 edition replacing last-month's champ who sadly ends up on number sixteen this time.

News
>
Celebrity Gossip
December 02, 2006 06:44:26 GMT
While her no-panties tour makes the gossip pages everyday, won't stop making headlines anyway. The pop singer, who is working on her musical comeback, reportedly is founding a new love already.

Spears, who's been close to since she filed for divorce, is said dating the hotel heiress' oil heir ex Brandon Davis. If this is proven true, surely the best pals would not stand for any longer. Trust me.

News
>
Celebrity Gossip
December 02, 2006 04:52:08 GMT
Former "Dancing with the Stars" contestant sent a shock to many of her fans with engagement report. The beauty is engaged to Dallas Stars player Mike Modano, her on-again, off-again boyfriend of more than four years.

The happy babe showed off her diamond sparkler at the Arby's Action Sports Awards in Los Angeles Thursday Nov 30th, while saying "We were out to dinner the other night, and I think he had [the ring] with him the entire night. He was really nervous. Then right before we went to sleep he asked me and I said, 'Yes.'"

News
>
Movie News
December 02, 2006 04:33:53 GMT
Jumping into her next big screen role after a pretty respectable performance in "", "Beverly Hills, 90210" star is poised to topline indie-thriller "Player 5150" with actor Ethan Embry.

Currently filming in Los Angeles, the picture revolves around a day trader and his fiancee who get caught up in high stakes gambling. David Michael O'Neill is directing with Patrice Lucien Cochet handling cinematography and Cherelle George serving as production manager.

News
>
Music News
December 02, 2006 03:52:05 GMT
can never have too many. The actor has had and done everything, but music. And so, he comes to the brilliant idea, making music with wife .

Talk is heating up that Cruise wants to record and release a rendition of The Righteous Bothers' "You've Lost That Lovin' Feeling" with Holmes.

News
>
Movie News
December 02, 2006 03:41:06 GMT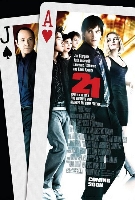 Set to mark his return into filmmaking after his 2005 work "", Robert Luketic has reached an agreement to helm casino-set thriller "" for Columbia Pictures based on Ben Mezrich's best-selling nonfiction book "Bringing Down the House: The Inside Story of Six M.I.T. Students Who Took Vegas for Millions."

Slated to start filming in February using locations around Boston and Las Vegas, the project takes a look on a group of young men who become experts in the art of card counting. Script is penned by Peter Steinfeld with to both star in and produce.

News
>
Celebrity Gossip
December 02, 2006 03:26:51 GMT
breaks her silence. The has just chosen as the Highest Paid Actress set the records straight on her being pregnant with hubby 's child, claiming such reports are false.

She says, "No, I am not pregnant. One minute I'm being told I'm too thin, the next I'm told I'm fat and it must be because I'm expecting a baby. It's very confusing."

News
>
Celebrity Gossip
December 02, 2006 03:00:16 GMT
There it is, after chatter and speculation it is confirmed already that does attend AA meetings.

A representative for the troubled actress confirmed Friday Dec 1st that Lindsay has been attending Alcoholics Anonymous meetings, saying "She started attending some, and I think it's a positive thing. My biggest fear is who's the big idiot to out which (chapter) she goes to.''

News
>
Movie News
December 02, 2006 02:53:12 GMT
Preparing for his next move in film industry, renowned filmmaker Martin Scorsese is about to produce a crime action feature entitled "" with an eye to also direct, Variety has revealed.

The first movie project identified for Scorsese under his new Paramount deal, the picture is an adaptation of the Eric Jager historical novel which tells about a duel occurred in 1386 between Jean de Carrouges and Jacques LeGris that became the last sanctioned by the French government, in this case by a young King Charles IV.

News
>
Movie News
December 02, 2006 02:20:43 GMT
Barely taking "The Pineapple Express" under its wings, Columbia Pictures has already secured two more film projects titled "" and "" to also be developed in its pit, Variety has reported.

The former one will be a new take on the life of the Egyptian ruler which will be based on the upcoming book written by Pulitzer Prize-winning biographer Stacy Schiff with Scott Rudin producing. Its story is said to focus more on the queen as a firm ruler and military tactician who embarked on a ruthless rise to power.

News
>
Celebrity Gossip
December 02, 2006 02:06:44 GMT
thinks he deserves fame? Do you? The self-proclaimed rapper reportedly is looking to extend his 15 minutes of fame with a new reality TV show.

Rumor has it that the rapper and former back up dancer is exploring the possibility of doing his own reality show. Kevin is in negotiations to develop his own reality series with Kenneth Crear, the brains behind hit show "House of Carters," which follows the exploits of pop stars and and their siblings as they attempt to live together.