News
>
Movie News
November 10, 2006 09:29:29 GMT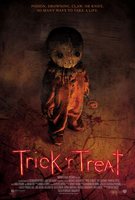 So far, it takes four to play the game. Variety has revealed that names like , , , and have all agreed to take part in "", a collaborative horror project of Warner Bros. Pictures and Legendary Pictures.

Already started the production yesterday, November 9, in Vancouver, Canada, pic is set on Halloween night and depicts a story which "interweaves four tales of chaos and malevolence." Michael Dougherty is on board to both write and direct with Bryan Singer producing and Thomas Tull, William Fey, plus Alex Garcia executive producing.

News
>
Movie News
November 10, 2006 09:26:31 GMT
Making a follow-up to its acquisition of "", Universal Pictures will develop one more dramatic feature under its wings entitled "" based on Irene Nemirovsky's 2004 novel of the same title.

In bringing up the project to the surface, the company has already assigned "The Pianist" writer Ronald Harwood to pen the script with Kathleen Kennedy and Frank Marshall serving as producers. The story itself is the tale about the occupation of France by German troops that takes place in 1940 and involves a romance between a French woman and a German soldier.

News
>
Movie News
November 10, 2006 08:56:25 GMT
Set to come up with another promising fantasy movie apart from its "Harry Potter" franchise titled "A Spell for Chameleon", Warner Bros. Pictures has appointed British commercials veteran Chris Palmer to direct the project, The Hollywood Reporter has reported.

Adapted from the Piers Anthony novel that kicked off his hugely popular and long-running Xanth novel series, the picture will revolve around a young man living in the magical kingdom of Xanth who gets exiled for having no magical powers but later returns to save the kingdom with his true gift.

News
>
Music News
November 10, 2006 08:12:47 GMT
Season comes and season goes. Christmas is on its way approaching people all around the world, and its time for us to celebrate. For the holiday season to-come we invite you to join the "Now Music" contest.

Join the contest at and win some big prizes. There are Nintendo Wii Prize Package including: Nintendo Wii system and the games - The Legend of Zelda: Twilight Princess and Trauma Center: Second Opinion, plus the entire "Now That's Music" catalog (1-23), all only for one grand prize winner.

News
>
Movie News
November 10, 2006 07:43:05 GMT
Negative reaction on "" apparently still continues out there despite the flick's worldwide success. A government agency in Russia has recently remarked that it would reject granting permission for the mockumentary comedy to be shown in theaters around the country, a local distributor has learned.

According to Vadim Ivanov, theatrical sales director at Twentieth Century Fox C.I.S., the Federal Agency for Culture and Cinematography seemingly perceived the film to have great possibility to offend some viewers due to its material that "might seem disparaging in relation to certain ethnic groups and religions." Russia itself is known to have close political ties with Kazakhstan, whose officials and citizens have seethed at the depiction of their country.

News
>
Celebrity Gossip
November 10, 2006 07:38:32 GMT
Singing isn't the next thing will do after modeling. The supermodel will instead give hand at acting, taking part in the "Little Britain" stage show.

"I've known Kate socially for a little while and she and Pete came to our show one night and liked it," David Walliams the series co-creator and star has revealed. "So we thought, let's be cheeky and see if we can convince her and she was up for it."

News
>
Celebrity Gossip
November 10, 2006 06:46:37 GMT
Country duo adds more to their award collection as they collected two more at the 12th annual Inspirational Country Music Awards show Thursday November 9th.

Their hit "Believe" scores them both Song and Video of the Year honors in addition to that of Single, Song and Video of the Year honors they won at the Country Music Association Awards on Monday.

News
>
Movie News
November 10, 2006 06:03:25 GMT
Seems that the gap between Hollywood and Vatican is getting narrowed as for the first time a Hollywood feature is allowed to have its premiere at the governmental capital of the Catholic Church.

New Line Cinema's President and COO of Worldwide Distribution and Marketing Rolf Mittweg has officially announced yesterday, November 9, that the company's latest drama picture "" will be the one received the honor prior to its theatrical release on December 1 in USA.

News
>
Celebrity Gossip
November 10, 2006 05:58:34 GMT
Speculation is mounting in Hollywood that is offering the photos of her second son, Jayden James, for free. That's not a joke.

What prompted the pop singer to do so is that in the prenuptial agreements she had with estranged husband , one of its points stated the man will keep all proceeds from the baby's photos.

News
>
Celebrity Gossip
November 10, 2006 04:23:35 GMT
The case has yet closed on 's Hong Kong canceled show. The diva is wanting her money back.

Carey's production company has filed suit against Asia-based concert promoters, ONE Group Investments Private Limited, over the singer's canceled performance in the country.

News
>
Celebrity Gossip
November 10, 2006 03:52:03 GMT
If singing isn't a brand new thing for , acting is. The American country music singer, who finished sixth on the fifth season of American Idol, is eager to give the field a try.

Thus, Kellie has inked a development deal with 20th Century Fox, which has planned a half-hour comedy revolving around the songbird.

News
>
Celebrity Gossip
November 10, 2006 03:21:59 GMT
Trouble has found . The actress was involved in a run-in with paparazzi on the Canadian set of her new film "" Wednesday November 8th.

According to a spokesperson for the Royal Canadian Mounted Police, the incident took place on the set of the comedy flick, Richards is starring in alongside , at the River Rock Casino Resort in Richmond, just outside Vancouver. While filming was taking place, there were photographers chronicling the actress' every move.

News
>
Celebrity Gossip
November 10, 2006 03:01:08 GMT
She's been going through many things these days. Yet, all is nothing compared to her divorce with hubby . Fortunately, is a tough woman and she keeps living her live, planning a comeback to music scene.

The once proclaimed pop superstar is bidding New York City farewell and heading to Miami, where she plans to continue working on her new album over the weekend. The singer is busy recording her new LP, which is her first since the 2003's "In the Zone", in studios in Miami, Los Angeles and New York City.