News
>
Celebrity Gossip
August 21, 2006 08:26:31 GMT
Warning
: getimagesize(/home/aceshow/public_htmlhttp://img85.imageshack.us/img85/280/britneyteenchoiceawardsjb8.jpg) [
function.getimagesize
]: failed to open stream: No such file or directory in
/home/aceshow/public_html/php/ndetail.php
on line
423
It was a big surprise for all teen audiences of the 8th Annual Teen Choice Awards that appeared in a pink cleavage-baring dress which shown her heavily pregnancy and introduced her hubby onstage.

"This show has been very good to me and my career over the years. And I'm hoping that it will be as good to our next performer," she said. "Please give a big welcome to my man, ."

News
>
Movie News
August 21, 2006 07:34:20 GMT
Walt Disney has its biggest release ever in "" after its previous record holder 2003's "." With 7th weekend estimate of $25.5 million from 51 territories, "Dead Man's Chest" pushed its international gross to $522.7 million. That's make this flick the leading on the foreign box office chart.

On the chart of worldwide release of all time, Dead Man's Chest has placed itself at the sixth place under 1999's "" with worldwide total stands at $923.8 million.

News
>
Celebrity Gossip
August 21, 2006 06:32:57 GMT
According to the New York Daily News, whose real name is Trevor Smith, was arrested and investigated for assaulting a concert-goer identified as Roberto Lebron who may have spat on his car after Rhymes' 5 p.m. performance at the Heineken AmsterJam Festival that also featured and the Heartbreakers, and the .

Rhymes was arrested at about 8 p.m. as he and his entourage tried to flee the East River island. After being questioned for several hours, he was released.

News
>
Music News
August 21, 2006 05:51:36 GMT
Warning
: getimagesize(/home/aceshow/public_htmlhttp://img204.imageshack.us/img204/2112/johnlegendsaveroomqo5.jpg) [
function.getimagesize
]: failed to open stream: No such file or directory in
/home/aceshow/public_html/php/ndetail.php
on line
423
After a year which include 3 Grammy awards, and performances at the Super Bowl, NBA All-Star game, and MLB All-Star game, is ready to release his sophomore album "" this fall, on Oct 24. Involved with the project are , and .

The first single, "Save Room," is written by John himself along with other seven songs in the first five days of his collaboration with fellow musicians. He spent about six months working on "Once Again," during which time he amassed 30 songs.

News
>
Movie News
August 21, 2006 04:05:59 GMT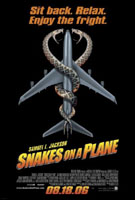 With an estimated $15.3 million in ticket receipts, "" opened as the weekend's top film in U.S. and Canadian theaters. It beats "" which dropped to second place after two weeks in first with $14.1 million.

Being hot topics on Internet discussions among moviegoers which helps its debut to reach the leading position of this weekend chart, this action thriller flick which directed by David Ellis, has playing an FBI agent who is escorting a witness on a flight from Hawaii to LA when an assassin releases hundreds of deadly snakes on a commercial airplane in order to eliminate the witness.