News
>
Movie News
April 13, 2006 08:03:42 GMT
At first it was Jay Russell who rode on "". And as the man has agreed to direct the drama action flick, , Ben Chaplin and Alex Etel are all joining him.

Based on the Dick King Smith novel, "The Water Horse" tells the story of a lonely boy in Scotland (Etel) who finds a mysterious egg on the shore of a lake. When the egg hatches, what emerges is a "water horse," a mythical sea monster of Scottish legend.

News
>
Movie News
April 13, 2006 07:39:10 GMT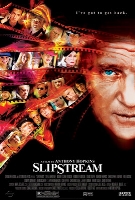 When it comes to "", and Gena Rowlands have both become so interested in it. Even more as the project is of '. Thus the twosome has signed on to star in the upcoming drama flick.

As of the story, "Slipstream" follows aging screenwriter Felix Bonhoeffer (Slater) who has lived his life in two states of existence: the world of reality and the world inside his head. Hired to rewrite a murder mystery set in a desert diner, and unaware that his brain is on the verge of implosion, Felix is politely baffled when the characters from his movie start showing up in his life and vice versa.

News
>
Movie News
April 13, 2006 07:17:44 GMT
Variety brings the news that is about to join and to star in "".

Of comedy genre, the flick centers on a self-absorbed man in his late 20s (Heder) who still lives at home with his mother. The man's world turns upside down when his mother starts dating and considers booting him out of the house.

News
>
Movie News
April 13, 2006 06:24:42 GMT
After creates abuzz in Hollywood film industry with his two films direction, "" and "", Peter Segal is now taking "" as his next project. Besides, he also is giving hand at producing alongside Michael Ewing via their Callahan Filmworks. Elsewhere, set to write the script is William Goldman and Bryan Goluboff.

An adaptation of a DC Comics' comic book, the story of "Shazam!" centers on Young Billy Batson who finds himself gifted with the power of the wizard Shazam to fight against the forces of evil. With the wisdom of Solomon, the strength of Hercules, the stamina of Atlas, the power of Zeus, the courage of Achilles and speed of Mercury, he is the holder of the power of S.H.A.Z.A.M; he is Captain Marvel.

News
>
Celebrity Gossip
April 13, 2006 04:06:49 GMT
The family is now even more complete for Scottish actor and his wife Eve Mavrakis with the addition of a new member. The couple reportedly has adopted a 4-year-old girl from Mongolia.

A rep for the actor told People magazine "I can confirm Ewan McGregor and his wife Eve Mavrakis have adopted the girl but cannot comment further". Aside from the adopted daughter, the husband-and-wife has had two biological daughters; Esther, 4, and Clara, 1.

News
>
Celebrity Gossip
April 13, 2006 03:50:13 GMT
"Why do I want to keep it?" Niklas Soderblom told People magazine speaking on the engagement ring he gave to in 2004. Now as the actress is engaged to , Soderblom puts the 1.76-carat round-cut diamond Tiffany ring up for sale on eBay.

"I don't need that thing. It's a nice way to finish off something nasty with something nasty," he remarked. "If somebody buys this and it makes them happy, it would be perfect." Soderblom continued. The ring has a starting bid of $20,000. Interested?

News
>
Movie News
April 13, 2006 03:28:06 GMT
"" will keep busy in the coming days as he's been tapped to star in the action thriller flick.

Based on a script written by Doug Cook and David Weisberg, the story revolves around an American ex-pat who stumbles across a plot to destabilize the world's economy by mass-producing perfect counterfeit greenbacks.

News
>
Movie News
April 13, 2006 03:17:39 GMT
is the "". Not exactly in real meaning, but the actress has signed on to star in the drama flick, which is a fact-based story of a woman who scammed the welfare system out of a fortune.

"Welfare Queen" actually is based on the life of Dorothy Woods. Abdul Williams is writing the script. Keep it here for more details on the film project.

News
>
Music News
April 13, 2006 02:43:35 GMT
The "King" no longer seats on the throne. It means no longer rules the Billboard 200. The rapper sadly has to give away the top position on the album chart to country trio whose album "Me and My Gang" sold 722,000 copies, to easily debut at No. 1 on the U.S. pop charts, while T.I.'s "King" drops to No. 3 with 185,000 copies.

The second best on the chart is the pop hits collection "Now That's What I Call Music! 21" selling 334,000 copies. The soundtrack to Disney's "High School Musical" slips one from last week's position to be at No. 4 with 181,000 copies, ahead of 's "Greatest Hits Vol. 2" at No. 5 sold for 128,000 copies. Enter the Billboard 200 at No. 6 with 126,000 copies is 's fourth album, "I'm Not Dead".

News
>
Celebrity Gossip
April 13, 2006 02:11:32 GMT
Hollywood actress and actor Charlie Shanian will soon have their divorce finalized. Shanian has in October last year filed for divorce from Spelling, citing dissolution of marriage as the reason behind.

In court documents obtained Tuesday by syndicated TV news magazine "Entertainment Tonight", a Superior Court commissioner stated that Spelling and Shanian divorce will be officially dissolved on April 20.