News
>
Celebrity Gossip
April 10, 2006 06:02:08 GMT
Happy news comes from another famous couple, Tom Dumont and his wife, Mieke as they welcomed their first child together.

The guitarist and "Mieke Dumont became first-time parents on April 6, 2006 as Mieke gave birth to their son, Ace Dumont," No Doubt rep Dave Tomberlin tells People magazine while adding "The couple is happy, excited and having a blast with their new little one."

News
>
Celebrity Gossip
April 10, 2006 04:54:39 GMT
has on Saturday April 8th, 2006 during the 17th annual GLAAD (Gay and Lesbian Alliance Against Defamation) Media Awards in Hollywood, been honored for increasing "visibility and understanding". "This is very surreal for me because two years ago, I stood right here and won my Oscar for Monster," the actress said while accepting GLAAD's highest honor, the Vanguard Award.

Some other winners at the same event included the drama comedy "" and who was presented the Stephen F. Kolzak Award.

News
>
Movie News
April 10, 2006 03:58:20 GMT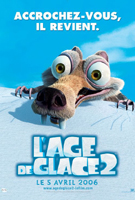 Who's on top of US box office? Believe it or not it's still "". Taking in another $33.8 million in ticket sales, the flick satisfyingly remains the top movie for a second-straight weekend while also is becoming the first movie released this year to cross the $100 million mark at the box office.

Debut at 2nd place is sports comedy "" which takes in $19.7 million and "" is at 3rd with $12.1 million. No. 4 is "," which scores $9.1 million in ticket sales, followed after by "" at No. 5 with $7 million. Secures the 6th place is "" which takes in $4.1 million.

News
>
Celebrity Gossip
April 10, 2006 03:40:49 GMT
First came a girl, and now it's a boy for and husband . Moses Martin, that is how the happy couple named their second child which was born during the weekend in New York City.

Details on the newly born remain undisclosed. Elsewhere, Paltrow and Martin's first child, Apple, will be 2 years old on May 14.

News
>
Celebrity Gossip
April 10, 2006 02:03:33 GMT
is facing a $26,000 lawsuit filed by Emmy Award-winning designer Niklas J. Palm. In his lawsuit, filed on Friday in Los Angeles Superior Court, Niklas claimed that Griffith refused to pay the $26,000 dress he designed for her and her daughters, and Stella Banderas, for the Golden Globes Awards.

Further, Niklas alleged that he has on Jan 16th submitted a $25,960 bill and Griffith was overdue in making any payments. Moreover, Griffith promised "that he will receive publicity that money could not buy, then conveniently forgot his name when reporters on the red carpet specifically asked who designed her beautiful gown - taking credit for the gown herself," the lawsuit said.