News
>
Movie News
December 20, 2005 09:50:48 GMT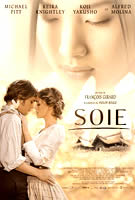 Several different sources reported actress about to star in the upcoming drama romance "." And as KeiraWeb.com has confirmed, the star has already signed on to star in the film which Francois Girard going to direct and produce as well.

Based on a best-selling novel by Alessandro Baricco, "Silk" is the story of a married silkworm smuggler, Herve Joncour, in 19th Century France who travels to Japan to collect his clandestine cargo. While there he spots a beautiful European woman, the concubine of a local baron, with whom he becomes obsessed. Without speaking the same language, they communicate through letters until war intervenes. Their unrequited love persists however, and Herve's wife Helene begins to suspect.

News
>
Celebrity Gossip
December 20, 2005 09:08:43 GMT
Does "Brit & Kev: Secret Sex Tape" really exist? Well according to the pop superstar herself it doesn't. And so has on Monday Dec 19 filed a $20 million lawsuit against US Weekly in Los Angeles for a story claiming she made the related sex tape with husband .

As mentioned in the lawsuit, Us Weekly was claimed to have published an article on its "Hot Stuff" column on Oct 17 which claimed that Spears and Federline feared the release of a secret sex tape, which they had viewed with their estate planning lawyers. Moreover, the article also stated that Spears gave a copy of the tape to the lawyers on Sept. 30 and that she and her husband were "acting goofy the whole time" while watching the video.

News
>
Celebrity Gossip
December 20, 2005 08:47:40 GMT
Hollywood couple, and , has provoked rumors they soon to become engaged after they were spotted visiting various jewelers last weekend, Dec.18-19, in London.

"They were picking out engagement rings and she was trying them on. They popped into lots of flash jewelers on New Bond Street. But they were in Bulgari and Van Cleef + Arpels for the longest period. They had huge smiles on their faces and were kissing and cuddling." An onlooker tells British newspaper The Sun.

News
>
Celebrity Gossip
December 20, 2005 08:08:30 GMT
A talented actor, but also a romantic man. That's a bit about who really knows how to treat his lady. Surely is the luckiest woman around the globe that she has such a man who knows what a woman wants.

Willing to give the best for her, Cruise spoiled his pregnant fiancee with an extraordinary birthday party. This is the series of activity on Holmes' 27th birthday on Sunday Dec 18. First, the couple had dinner along with friends at New York's Post House steakhouse on Thursday.

News
>
Celebrity Gossip
December 20, 2005 07:36:37 GMT
Was hospitalized in Tokyo on Thursday after she collapsed in an elevator following a performance at MTV Japan, seemingly is feeling well enough to out from the hospital and return home to the United States to be with her family. So what her publicist, Rob Shuter, confirmed Monday.

To your notice, due to her being hospitalized Ashlee was forced to cancel her performance at the Radio Music Awards in Las Vegas Monday night. American Idol runner up was then slated to fill in her place on the NBC special. Unfortunately, the rocker suddenly also was rushed to hospital on Sunday after coughing up blood with complications from recent intestinal surgery. Thus, were then proposed to perform in his place.

News
>
Music News
December 20, 2005 07:13:29 GMT
As the world goes round, actor keeps sharpening his singing skills while also is still maintaining his acting career. Gaining success through his collaboration with on "Gold Digger," Foxx is now looking for success in music industry on his own.

As an attempt to achieve the success he dreamt of, Foxx is releasing his debut album, entitled "Unpredictable," Tuesday Dec 20. Released under J Records, the set features cameo appearances from West, , and other musicians.

News
>
Movie News
December 20, 2005 06:43:45 GMT
The likes of , , and are all teaming up to star in the U.S. remakes of two films by slain Dutch director Theo van Gogh. Their publicist confirmed this on Thursday Dec 15.

Shalhoub and Clarkson, the two are set to star in the US reworking of Van Gogh's 1996 film "." In the film which going to produce, the twosome will portray a married couple who very tragically lost their child in a car accident. Since the child's death they've been unable to spend time together, and they can't not be together, so they sort of meet on blind dates and role-play as strangers.

News
>
Movie News
December 20, 2005 06:20:17 GMT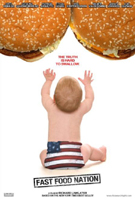 Peter Rice, the president of Fox Searchlight Pictures, has outed statement announced that the studio has acquired North American distribution rights to "." Based on Eric Schlosser's nonfiction best-seller of the same title, the film is about to be directed by Richard Linklater.

Of thriller genre, "Fast Food Nation" tells the story of an ensemble piece examining the health risks involved in the fast food industry and its environmental and social consequences as well. With its principal photography has just completed, the flick is slated for a 2006 release date.

News
>
Movie News
December 20, 2005 05:57:38 GMT
Gold Circle Films has made sure that these coming days will surely be a very busy days for Eric Popen as the studio has proposed him to pen two new thrillers, "The Puritan" and "."

As of "The Puritan," its story centers on a psychiatrist and his family who are threatened by an evil spirit after the shrink begins treating a patient who claims her family has been haunted for many years.

News
>
Celebrity Gossip
December 20, 2005 04:27:48 GMT
American Idol runner up was rushed to hospital Sunday after he became ill while rehearsing for a performance on the 2005 Radio Music Awards at the Aladdin Resort & Casino. The singer, supposedly tapped to fill in for ailing at Monday night's Radio Music Awards, started coughing up blood with complications from recent intestinal surgery assumed as the main cause.

Soon then the performer was rushed to Desert Spring Hospital, where he underwent emergency intestinal surgery in August. Despite such fact, Roger Widynowski, a publicist for RCA Records insisted "He didn't collapse but was rushed to the hospital. Bo is doing fine, and he's going back to Nashville today for treatment." Due to such fact, is then slated to perform in his place.

News
>
Celebrity Gossip
December 20, 2005 04:06:35 GMT
, frontman of the Irish rock band , has been named as one of Persons of the Year by Time magazine. Also chosen for the same category is Microsoft billionaires Bill Gates and his wife Melinda Gates.

The three of them get the honor generally as recognition for their tireless work to alleviate poverty and lavish their charity on those less fortunate. Personally, Bono is honored for his Live 8 performance and mission to persuade the leaders of rich countries to drop the debt owed by the developing world.

News
>
Celebrity Gossip
December 20, 2005 03:40:00 GMT
It's been so long that we don't hear their names make sound in entertainment industry. Though, just now they, and husband , once again make headline as the couple has been named the Tackiest Couple of 2005. More than 35,000 readers involved in America's Star magazine poll have chosen the pair to top the rank mainly because of their antics on the reality show "Being Bobby Brown."

Placed at the 2nd rank are and , followed then by and at No. 3. and are voted the 4th, while and are the 5th. As of and , readers place them at No. 6, one place ahead of and Coco at No. 7. No. 8 to 10 in a row are and Cisco Adler, and Paris Latsis / Stavros Niarchos III, and Star Jones Reynolds and Al Reynolds.