News
>
Movie News
December 19, 2005 09:29:14 GMT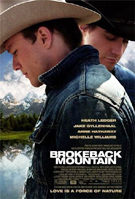 "" really is a big winner at this year movie awards season. Has been named as one of AFI's Best Movies of 2005 and becoming the lead nominee of the 63rd annual Golden Globe Awards, the flick also is scoring great at the 10th annual Satellite Awards, an event organized by critics formerly affiliated with the Hollywood Foreign Press Assn.

At the ceremony held Saturday Dec 17th at the Four Seasons Hotel, the film won four trophies all at once, mainly for Best Motion Picture Drama, Editing, Song, and Director for Ang Lee. Another winner was who was named Best Actor in A Motion Picture Drama for "" and who was granted the Best Dramatic Film Actress prize for "."

News
>
Music News
December 19, 2005 09:03:03 GMT
Saturday Dec 17th was the day for Texas country singer and folk singer Arlo Guthrie to treat fans with their last performance of their Katrina tour. During that time, the two musicians entertained about 800 New Orleans residents with good music, a good time and a reminder of what they love most about this city.

Took place at legendary Tipitina's, the tour was the last of the series aimed to raise money for musicians left homeless and without a place to work by Katrina. Money and equipment from the Arlo Guthrie and Friends benefit tour will be donated to performers and to churches and schools that have music programs.

News
>
Movie News
December 19, 2005 07:30:27 GMT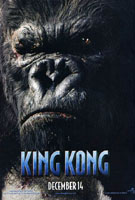 This weekend box office is dominated by the giant animal, "." The classic beauty and beast tale taking in $50.15 million in its first weekend, such amount less than expected yet able to place the action adventure on top of the Top 10 movies for the period of Dec 16th to 18th.

At 2nd position is "" with $31.1 million, ahead of "" at 3rd with $12.7 million. Meanwhile, "" scores $5.9 million in its fifth weekend, secures the 4th place, followed by "" at No. 5 with $5.4 million.

News
>
Celebrity Gossip
December 19, 2005 07:02:36 GMT
It was announced Thursday Dec 15 that actor will be honored by the I Have A Dream Foundation Los Angeles for his commitment to education, both on film and in real life.

Will present him with the Dream Keeper Award at the foundation's 8th annual Gospel Brunch at the House of Blues in Los Angeles is director George Lucas.

News
>
Movie News
December 19, 2005 06:42:15 GMT
The Academy of Motion Picture Arts and Sciences has on Dec 16 announced the 7th films competing for Achievement in Visual Effects for the 78th Academy Awards. Among those are "," "," "," "," "," "," and "."

Those seven films will have their fifteen-minute clip reels screened for the Visual Effects Award Nominating Committee on Wednesday, January 25, 2006. Members will then vote to decide three out of the 7th films for Oscar consideration.

News
>
Movie News
December 19, 2005 06:10:47 GMT
"" is the title of the next film project that will work on. Besides directing, he also will adapt and star in as well.

An adaptation of Paulo Coelho's "The Alchemist," the film centers on Fishburne's role, Santiago, a well educated who had intended to be a priest.

News
>
Movie News
December 19, 2005 05:55:22 GMT
adding one more list to his hectic schedule as he's going to star in the upcoming "." The drama written and to be directed by Tom Schulman reportedly will start shooting in Los Angeles in early spring.

"Morgan's Summit" is the story of a radio host (Willis) whose late night show is devoted to songs and stories that promote the power of kindness. His devotion to redemption changes when a brutal crime affects his life, and his thoughts turn to vengeance.

News
>
Movie News
December 19, 2005 05:07:12 GMT
As Universal Pictures has acquired Don Winston's spec script "Our Family Troubles," the studio will soon start working on the flick. They reportedly will develop the drama mystery genre with proposed to star in.

There in the film Witherspoon is set to portray a first-time mother so plagued by unexplained phenomena that she doubts her own sanity. When she returns to her Tennessee home, she fixates on the legend of the Bell Witch and becomes convinced the evil spirit is intent on harming her son.

News
>
Celebrity Gossip
December 19, 2005 04:33:07 GMT
Music legend gets honor from his home state, New Jersey. Lawmakers in the Garden State are honoring the singer Thursday Dec 15 with license plates, reading "Born to Run" that will benefit one of his favorite charities.

Unveiled at the same day Springsteen celebrated the 30th anniversary of his seminal album of the same name, $10 for every $50 "Born to Run" license plate issued will go to the Community Food Bank of New Jersey, which Springsteen has supported. "In those 30 years, Bruce has become not only a national hero, but a worldwide hero," so State Senator Raymond Lesniak, the person behind the plates proposal said.

News
>
Celebrity Gossip
December 19, 2005 04:09:32 GMT
Gay marriage is still a new phenomenon for our society that many tend to perceive it as something special if not extraordinary. Thus, due to such perception, numbers of actresses willingly stand in line to be 's bridesmaids at his wedding with his long-term partner David Furnish.

Among those reported to have expressed their wish for a spot at the civil ceremony to be held in Windsor, England, on December 21st are and . "Penelope Cruz and Salma Hayek (asked). At the Cannes Film Festival they both stopped me and asked if they could be bridesmaids," Furnish revealed.

News
>
Celebrity Gossip
December 19, 2005 03:44:35 GMT
Singer and actress fueling recent rumors centering on her marriage problem. The beauty has on Friday Dec 16 filed for legal divorce from husband in Los Angeles Superior Court.

Citing irreconcilable differences, the divorce paper obviously ended the couple's three years marriage. What's more is that Simpson reportedly has asked the court to have her last name legally restored, and has also requested the court terminate Nick's spousal rights, meaning the court would not be able to award Nick any spousal support.

News
>
Celebrity Gossip
December 19, 2005 03:28:02 GMT
Popular music group is battling for over $62-million in disputed royalties, which they claim EMI Group PLC owed them. Apple Records, owned by , and the estates of and , said Dec 16 to have filed legal suit in the high court and the US supreme court to get back the money.

Speaking on the cause of the legal battle, Apple said in a statement "Despite very clear provisions in our contract, EMI persist in ignoring their obligations and duty to account fairly and with transparency. Apple and The Beatles are, once again, left with no choice but to sue EMI."