News
>
Celebrity Gossip
December 10, 2005 05:53:59 GMT
Comedian won't be back as the host of next year's Oscars. Publicist Matt Labov, Friday in a brief statement e-mailed to The Associated Press has confirmed the star absence at the prestigious event.

It is written there "He is not hosting the Academy Awards "in perpetuity" but would "like to do it again down the road." Though Labov didn't elaborate, many have obviously linked Rock's absence with his criticized manner at last year's Oscars.

News
>
Music News
December 10, 2005 04:50:41 GMT
Just like his stage name, actually is a legend in music industry. Has produced many notable and highly praised music work, the famous singer has just inked a deal with Universal for the release of his next album, "3121."

Preceded the set will be the single "Te Amo Corazon," which clip was shot in Marrakesh and be available online Tuesday December 13 via Prince's NPG Music Club site (http://www.npgmusicclub.com).

News
>
Celebrity Gossip
December 10, 2005 04:27:23 GMT
Her cocaine scandal won't block her way to live a new life with new hope in the future. Supermodel arises. The troubled star is staring a new beginning not only in her personal life, but also in her modeling career.

Apparently, Moss is reported to have inked a deal with Virgin Mobile, for which she will front a new U.K.-based TV campaign for the product. The cell-phone advertisement is scheduled to debut on British television Christmas Eve.

News
>
Celebrity Gossip
December 10, 2005 04:07:00 GMT
Kept silence for some moments, finally speaks all about her heartbreak soon as ex-boyfriend Stavros Niarchos gets romantically involved with socialite . Further, the teen star reveals that her heartbreak has provoked her to leave New York University just to get over the hurtful feeling.

She says "I miss him and I love him, and I don't speak with him anymore. It's a hurtful and painful subject. I've pretty much been with someone my whole life, so this is a hard time for me." Well, be tough sist.

News
>
Celebrity Gossip
December 10, 2005 03:49:27 GMT
Former member is reportedly about to tie the knot with rapper boyfriend . It is believed that the pair has just started planning their wedding, which is to take place in the Caribbean some time next summer.

The wedding is going to be a very private affair, with all the details being kept private from press scrutiny. As a friend of them revealed, "Both Beyonce and Jay are determined to avoid turning the day into a media circus. So only they and their parents will know the full details until the very last minute."

News
>
Celebrity Gossip
December 10, 2005 03:26:23 GMT
A former WCW World Champion named Diamond Dallas Page is attempting to sue rapper , accusing him of stealing his trademark hand gesture. Filed a lawsuit against the star last week in Los Angeles, Page alleged that he was the first one to use the trademark gesture, Diamond Cutter, in 1996 during his WCW World championship run.

In fact, the hand gesture comprises of putting two hands forward with thumbs and fingers to form a diamond shape, has been featured on the front of many of Jay-Z's albums as well as in his videos. Thus Page is attempting to save his livelihood besides claiming unspecified damages as compensation from the famous rapper and Roc-A-Fella records.

News
>
Celebrity Gossip
December 10, 2005 03:06:52 GMT
Celebrated actress has recently rubbished rumors claiming she's been married to her boyfriend, the Indian business man Arun Nayer, insisting she's not even engaged.

"Look at my hand - no diamonds. We haven't even got engaged. We're not getting ready for the big day yet," so she said to Britain's The Sun newspaper.

News
>
Movie News
December 10, 2005 02:39:26 GMT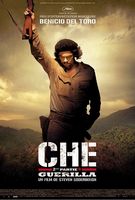 The next project for Steven Soderbergh is to direct the upcoming drama action "." A biopic about Cuban revolutionary, Che Guevara, the flick will star with its production set to begin January 21 in New York in the Mexican state of Veracruz.

More on the figure, born in 1928, Ernesto "Che" Guevara first trained as a doctor before becoming Fidel Castro's chief lieutenant. In 1967, he was captured and executed by Bolivian forces.

News
>
Celebrity Gossip
December 10, 2005 02:22:51 GMT
Actor is single no more. He is now a married man. The Hollywood hunk has married his girlfriend, Luciana Barroso, in New York, a spokeswoman for the actor said on Friday.

The couple who has just reported to have expecting their first child together is said to wed in New York and both was thrilled. So said Matt Los Angeles-based spokeswoman who refused to give further details concerning that matter.