News
>
Celebrity Gossip
October 21, 2005 09:35:20 GMT
While they are busy denying rumors claiming their marriage is on rock, Hollywood couple, and husband , is reported to have a "to-save marriage" trip. It is said that their recent trip to Italy was their last attempt to save their marriage. Well at least that's what music manager Lou Pearlman said.

Pearlman, who represents Lachey's friend and former bandmate Jeff Timmons, claimed to have heard the couple is struggling. "Timmons says Nick told him, 'My marriage is shaky right now. I'm hoping this trip will turn things around. This trip could be a second honeymoon - or preparation for a divorce. I don't know what's going to happen, and Jessica doesn't know what's going to happen, but we're going to give it our best shot.'" So he said to America's Star magazine.

News
>
Movie News
October 21, 2005 09:17:05 GMT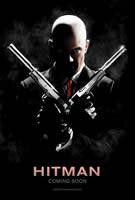 The 20th Century Fox is said to have hired Skip Woods to adapt its action thriller "." The film actually is a feature version of videogame with the same title, which the studio picked from producers Chuck Gordon and Adrian Askarieh in June.

The story of "Hitman" centers on Gun-for-hire Agent 47 who is hired by a group known as "The Agency" to kill targets for cash. In hand to executive produce is , who also is to play the main role, with Daniel Alter to serve in a producing capacity.

News
>
Music News
October 21, 2005 08:46:49 GMT
It's been weeks but the "Gold Digger" isn't tired yet, keep mining another week on top. That of rapper featuring is in the top spot on the Billboard Hot 100 for the fifth straight frame. The second best of this week is 's "Run It!" followed in succession by 's "Photograph" at No. 3 and ' "My Humps" at No. 4.

's "Shake It Off" to follow falls from No. 3 to No. 5, ahead of 's "Like You" featuring at No. 6. Securing the 7th position is still 's "Soul Survivor" featuring , while 's "Wake Me Up When September Ends" falls from No. 6 to No. 8. Finishing this weekend's Top 10 is 's "Because of You" at No. 9 and 's "Sugar, We're Goin' Down" at No. 10.

News
>
Music News
October 21, 2005 08:11:00 GMT
Weeks of doubts finally are paid off. American rock band finally gets the green light, which means they would for sure perform in Sao Paulo. More than 40,000 fans are expected for the December 2 and 3 shows at the Pacaembu stadium, the Brazilian city's biggest stadium. The show in fact is the band's debut in Brazil.

Sao Paulo's mayor Jose Serra already suspended previous shows in Pacaembu following complaints from residents of the posh neighborhood around the stadium about noise and mess. As of Pearl Jam's, it did got the go-ahead but in condition that the show must finish at 9.45 p.m. sharp and rehearsals must take place during the day for just 30 minutes.

News
>
Celebrity Gossip
October 21, 2005 07:37:13 GMT
People were surprised by the soon slimmed-down figure appeared in Malibu, California on Friday October 14. It's all, but weighed loss that make them hard to breathe. The pop superstar was spotted enjoying dinner with husband in Malibu, California, at Moonshadow restaurant.

That was her first public appearance since giving birth to son Sean Preston, but her body was just so perfect. It's a proud for Federline to have her wife back in shape so soon. Just like Spears' former trainer Bobby Strom says, "She's a pro. She knows what to do (to get back in shape)."

News
>
Celebrity Gossip
October 21, 2005 07:21:33 GMT
Watchmaker Ebel has tapped supermodel to appear on their new ad campaign. The black and white ads were shot in party capital Ibiza by photographer Patrick Demarchelier.

Schiffer is added to the list of , , , and , who all promote watches for the same company.

News
>
Music News
October 21, 2005 06:44:34 GMT
The American Idol won't be home for Christmas, but he'll make some 'noise' which you fans would love to hear. Per Pr Newswire, will embark on his "JOYFUL NOISE 2005" tour, his second consecutive holiday tour, during which he will perform 40 shows in 36 cities, starting November 2 in Vancouver, British Columbia, Canada.

Subsequent to that, Clay is slated to perform in the United States and concludes the tour with two shows on December 29-30 at the Ruth Eckerd Hall in Clearwater, Florida. More on the "JOYFUL NOISE 2005" tour, it reportedly will feature songs from Aiken's platinum-selling "Merry Christmas with Love," the best-selling new holiday album of 2004 and some of songs he recorded for the album that didn't appear on the CD, as well as new arrangements for some traditional favorites.

News
>
Movie News
October 21, 2005 05:02:00 GMT
New movies come in and out of the theater, but none can compete the best of the best. It's "." The film of George Lucas has been named Hollywood Movie of the Year with the movie director set to receive the award at the Hollywood Awards Gala Ceremony at the Beverly Hilton Hotel on October 24.

To note, the "Hollywood Movie of the Year Awards" winner is chosen by the public voting online for their favorite movies at the Yahoo Movies (movies.yahoo.com) and "Entertainment Tonight" (ETonline.com) websites. From over 20 million impressions with more than 70,000 voters, "Star Wars: Episode III: Revenge of the Sith" received nearly one-third of the votes cast.

News
>
Celebrity Gossip
October 21, 2005 04:22:39 GMT
Preparing a wedding day isn't what is doing. Rather he's preparing for a family with fiancee . That's the point exactly, a family.

First he dated her, then proposed her. Shortly thereafter, Katie is pregnant and the couple is heading for a hurry up wedding date. Just now, Cruise is reported eyeing a $1.5 million home in Holmes' hometown of Toledo, Ohio.

News
>
Celebrity Gossip
October 21, 2005 04:07:07 GMT
Movie star, director and producer has a very deep concern for the society. The highly celebrated is donating US$1 million to the victims of Hurricane Stan through the Rotary Club of Mexico.

The hurricane destroyed Central America and Mexico from October 1, and triggered floods and landslides. More than 2125 deaths were reported in Guatemala, El Salvador, Mexico and Nicaragua.

News
>
Movie News
October 21, 2005 03:41:34 GMT
It is reported that New Line Cinema has started principal photography for "Texas Chainsaw Massacre: The Origin" with Platinum Dunes is once again producing. The film, previously titled "The Beginning," was written by David J. Schow and Sheldon Turner and is directed by Jonathan Liebesman.

With shooting began in Austin, Texas this week, "Texas Chainsaw Massacre: The Origin" is set for an October 6, 2006 opening date. Star in among others are , Andrew Bryniarski, R. Lee Ermey, Taylor Handley, , and Heather Kafka.