News
>
Celebrity Gossip
September 05, 2005 05:09:27 GMT
Rappers and , announced Thursday, their $1 million joint donation to the American Red Cross to help victims of Hurricane Katrina. Marked their contribution, the two of them hoped that what they've done would inspire others, especially blacks, to give.

"This is our community. When I turn on CNN, I see a lot of black people on the streets. I know it's other people too, but those projects have been hit hard," so said Jay-Z. Supporting his pal, P. Diddy commented, "We are all descendants from each other's families. When you hear black people say `brothers' and `sisters,' it's really true. These are all people that I know I'm related to somehow, some way - the human race family."

News
>
Music News
September 05, 2005 04:34:01 GMT
As she's promised before, will have her new song "Shoes" released to country radio stations on September 6. "Shoes," which is produced by husband, Robert John "Mutt" Lange, is the debut single from a September 20 Hollywood Records soundtrack featuring music inspired by the hit ABC series "Desperate Housewives."

"It's upbeat, playful and from a female point of view," so said compilation supervisor Mitchell Leib. Several covers featured on the work among others include the ' "Mrs. Robinson," 's "Treat Me Right" and 's "Band of Gold," all of which haven't been confirmed to be featured in the series. Moreover, Twain also is targeting a forthcoming pop remix that will target adult contemporary (AC) and modern AC stations.

News
>
Music News
September 05, 2005 04:16:26 GMT
After a long hiatus, during which she had a hard time finding tunes, finally is back. This time the country singer brings in hand something special for her fanatics, which is an album. Dubbed "Jasper County," the album is her 4th, which also marks her 11th release for MCA Nashville.

Produced by Garth Fundis, who has worked on many of her albums, for the work Yearwood also involves such writers, as Beth Nielsen Chapman, Al Anderson, Anthony Smith and Leslie Satcher. As for the album's first single, the star has pointed her finger on the currently No. 17 on the Hot Country Songs chart, "Georgia Rain."

News
>
Celebrity Gossip
September 05, 2005 03:53:06 GMT
Hollywood couple and husband have been appointed to sing America the Beautiful as part of a tribute by the National Football League to mark the fourth anniversary of the Sept. 11 terror attacks. Both of them are set to perform at FedEx Field in Landover, Md., where the Washington Redskins will play the Chicago Bears. Their performance, later on, will be televised by CBS and Fox before the nine regular-season opening games on Sunday, Sept. 11.



News
>
Celebrity Gossip
September 05, 2005 03:41:40 GMT
Oscar-nominee actress has now felt sure and had confident that she can play poker well. The beauty has, at the World Poker Tour Ladies Night III at the Bicycle Casino on Thursday, won her second major poker tournament.

That winning surely makes her the first woman to win that title and the World Series' Ladies World Poker Championship held in June. Moreover, it also ensures the actress a spot in the $25,000 buy-in WPT Championship in April at Bellagio. Congrats.

News
>
Movie News
September 05, 2005 03:17:25 GMT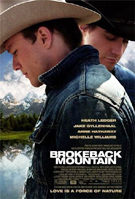 One of 20 movies vying for the coveted Golden Lion at the world's oldest cinema competition Venice festival is the most eye-catching "." The Ang Lee's film has created a sensation for audiences attending the ceremony with its homosexual love scene in the wilds of Wyoming.

The film, stars and , focuses on a tale of forbidden love that begins in 1963 and ends 20 years later and is predicted to be one of Hollywood A-listers that will obviously gain huge success. Well, let's hope so.

News
>
Celebrity Gossip
September 05, 2005 02:48:46 GMT
Among many topliners volunteering the Hurricane Katrina's victims, R&B singer is one of them. She has on Saturday handed out clothes and toiletries in the Astrodome, where about 18,500 survivors were housed.

"I just really wanted to help out," she recalled. "I think the most important thing to them is their futures. They are here, and they have gotten out of that disaster but it is, like, now what? Because they can't live like that forever."