News
>
Celebrity Gossip
August 10, 2005 07:00:15 GMT
Two rappers belong to 's , namely and , were released without bail August 9, 2005 following their arrest on felony gun possession charges after a concert in Manhattan. Both suspects were, at first, riding in a van with 10 other men that allegedly ran a red light at about 11:30 p.m. the night before near the corner of West 41st Street and Eighth Avenue.

Further, police explained one of the 12 men was carrying a loaded handgun and another weapon was found on the floor of the van. And so, all of them were charged with gun possession.

News
>
Celebrity Gossip
August 10, 2005 06:43:35 GMT
"From Pieces to Weight." What's that? It is the autobiography of rapper that has just hit the shelves Tuesday. Inside, the thug tells all about his life, family, his career in music, and his business. In the day the book was released, many fans lining up at a New York record store for autographed copies from the rapper.

Among that much he writes, 50 Cent says on the book "After I got shot nine times at close range and didn't die, I started to think I must have a purpose in life. Hustling didn't seem like one of the options, it seemed like the only option."

News
>
Music News
August 10, 2005 06:16:00 GMT
Wanting to join the competition and vie his other contenders, of ramps up the launch of his Purple Ribbon label. Marking the label's first release is a compilation from the Purple Ribbon All-Stars on October 4. That first project features the single "Kryptonite" featuring Big Boi, Killer Mike, C-Bone and Rock D.

Soon then, the label will release new albums from Killer Mike and rapper , which both due out in the fall. Besides, Purple Ribbon has also signed Sleepy Brown and is in the process of securing the services of veteran Southern rap act .

News
>
Music News
August 10, 2005 06:03:47 GMT
To follow up the success of his latest album "Guero," has revealed on his official Web site (http://www.beck.com) that he's going to hit the road, beginning September 19 in Minneapolis. Dates are on tap through October 8 in Camden, N.J.

In related news, Beck is reportedly will open three shows for : September 24 in Columbus, Ohio; September 26 in Toronto; and October 1 in Hershey, Pa. Along the way, he will also serve as one of the four headliners at the first Across the Narrows Festival, which will visit Brooklyn and Staten Island, N.Y., on October 1-2.

News
>
Celebrity Gossip
August 10, 2005 05:11:27 GMT
Looking upon their many humanitarian efforts, it's worth for to get an honor. Thus, Portugal said on Tuesday it would award the Irish rockers the country's Order of Liberty. The award will be handed to the four, lead singer , guitarist The Edge, bassist Adam Clayton and drummer Larry Mullen Jr., by President Jorge Sampaio before a concert in Lisbon on Sunday. Good luck and keep on fire guys.



News
>
Music News
August 10, 2005 04:30:11 GMT
really is one of the music Goodies. She's been chosen to host the 10th annual Soul Train Lady of Soul Awards, held September 7 at the Pasadena Civic Auditorium, along with singers and . In fact, that's nothing compares to her achievement, leads all nominees this year with five nods.

Ciara, to be more specific, grabs a completely 5 nominations, mainly for Best New Artist, Solo Album, Dance Cut and Music Video for "1, 2 Step," and Song of The Year for "Goodies," which features rapper . In addition, she also is nominated for the Dance Cut and Music Video category for her collaboration with on "Lose Control."

News
>
Movie News
August 10, 2005 04:04:47 GMT
"" isn't ready yet. Will start shooting August 18, Lucy Davis and are in advanced negotiations to join the film for screenwriter-director Jake Kasdan. Meanwhile, , and have all signed on to star in the indie satire.

"The TV Set" revolves the story of the making of a television pilot. Duchovny is set to play the pilot's besieged show runner. Weaver, whose father Sylvester "Pat" Weaver, was a top executive at NBC in the 1940s and '50s, will play the head of a network, and Gruffudd will play a BBC exec who joins the network.

News
>
Movie News
August 10, 2005 03:36:57 GMT
World be ready to derive the "." The critically acclaimed novel by Ian McEwan is going to be turned into a film by director Joe Wright. The novel actually is about a multi-layered affair, starting in the summer of 1935 when a 13 year-old girl returns from school for summer with her family. Amid the small family dramas of love and illness, Bryony makes a mistake that will echo through the rest of her life.

It's probably too early to mention who's the cast, but the behind-the-scenes are all preparing to start the new project. Becoming Wright assistance to turn the novel's structure into something that will work onscreen is Christopher Hampton. To help him, Hampton has already been working with director Richard Eyre on the book, who was previously attached to direct the film.

News
>
Movie News
August 10, 2005 02:59:46 GMT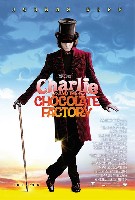 No longer reigning the throne at US box office, the 'Chocolate' still tastes sweet. Earnings to 19.4 million pounds in total, "" tops UK box office for a second week, followed by the animated adventure "" in second place with 18,7 million pounds. Meanwhile, romantic comedy "" moves up one slot to third, while "" falls to fourth.

The later film securing the top 5 is "" with 9,7 million pounds. Rounding the Top 10 in sequence is "," "," "," "," and "."

News
>
Celebrity Gossip
August 10, 2005 02:41:30 GMT
What is happening to the celebs? What's wrong with them? Why there are more and more celebs couple split up? Can anyone explain why? Just now is reportedly split up from her boyfriend of two years Jackson Scott.

Speaking about the wreck, a spokesman said, "I can confirm that Sadie and Jackson have agreed to take some time out of their relationship. The split is amicable and they remain in close contact." Moreover, an insider commented, "Sadie is 40 with four children and Jackson is 24 and they are at very different stages in their lives. The settlement means that Sadie can start life again and unfortunately she did not want Jackson to be part of her future. Although she loves him very much they want different things out of life."

News
>
Celebrity Gossip
August 10, 2005 02:25:44 GMT
Who says love is blind? Who says love will lead your way? Who says love is everything? Love isn't that worth you know. See the fact that is happening to Hollywood actress and her boyfriend Jamie Dornan.

First met in August 2003, both persons then in love to each other and began dating. Yet, they now reportedly split up, as told by an insider to British newspaper the Daily Mirror, "Keira's gutted. She really thought what she and Jamie had was love but it just wasn't meant to be. They both wanted it to work but in the end it was just untenable. They were having crisis talks on an almost daily basis so the decision was reached to finally call it a day."