News
>
Celebrity Gossip
July 21, 2005 04:37:27 GMT
As a result of an Atlanta incident that killed Henry Clark, rapper has been arrested Friday in Miami by local authorities on the outstanding police warrant, his lawyer Dennis Scheib said Wednesday. The arrest actually stems from an altercation earlier this month involving a promoter and people at Mane's record label, Big Cat Records.

At the time the incident occurred, five men entered a DeKalb condominium where Mane was visiting and exchanged gunfire with Mane before the men escaped. Clark is believed as one of the five men who confronted Mane. On the other hand, the promoter was injured and filed a complaint. Speaking about the rapper trial, Scheib said that case has been put on hold until October, pending a new investigation by authorities.

News
>
Celebrity Gossip
July 21, 2005 04:28:56 GMT
Jim Donio, president of the not-for-profit National Association of Recording Merchandisers, announced Tuesday that singer-songwriter is slated to receive the Harry Chapin Memorial Humanitarian Award. Raitt, honored for her devotion to social, environmental and community issues, will receive the award during the opening session of NARM's 47th annual convention August 12 at the San Diego Marriott.



News
>
Celebrity Gossip
July 21, 2005 04:04:34 GMT
Will they for one more time remarry?! Unbelievable?! Well, at least that's according to PageSix.com which reported has again fallen for and he proposed on Friday in Las Vegas.

Further, PageSix.com claims a friend of Anderson has been told by the star that the wedding, which will be their third, will be held this week. A source even says "He got her a black diamond with two gray diamonds on the side. After she said yes, they flew on the Palm's private jet back to L.A. - but they crossed out the 'l' on the side of the jet so it said 'Pam's'."

News
>
Movie News
July 21, 2005 03:54:16 GMT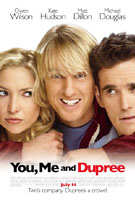 In the upcoming Universal Pictures' "" moviegoers would have seen and co-star star in. The by Mike LeSieur comedy will be directed by Joe Russo and Anthony Russo, and will start its production this year. It tells the story of a newlywed couple whose relationship issues boil over when the groom's unemployed best man moves in for a brief period and seems to have no intention of leaving.



News
>
Celebrity Gossip
July 21, 2005 03:38:36 GMT
"I just don't think the world is worth putting music into right now. I no longer want to make art that other people--particularly record companies--are turning into a product." So said to RollingStone.com. However, it doesn't mean that he will entirely give up on music, rather he is getting ready to play a round of high-profile festival dates in Europe this summer and has nearly 20 new songs ready for release.

On top of that, the singer said he "just wants to make art." And so, he's focusing on filmmaking. Evidently, Manson will have his vignettes "Phantasmagoria: The Visions of Lewis Carroll" release this winter on his Website, MarilynManson.com. "It's horrifying, and it's depilatory," he told RollingStone.com about that new stuff.

News
>
Celebrity Gossip
July 21, 2005 03:16:00 GMT
Fox Searchlight Pictures said on Wednesday it has bought the rights to make a film about the life of late rapper . To start working on that project, journalist Cheo Hodari Coker has been tapped to write the biopic and Antoine Fuqua is set to direct.

Producing the film will be B.I.G.'s mother, Voletta Wallace, and his former managers Wayne Barrow and Mark Pitts. Detailing about the set, Barrow said the three of them had been trying to get a film off the ground for the last five years.

News
>
Music News
July 21, 2005 02:52:33 GMT
The return of the multitalented on the VH1 series "Storytellers" will be available on DVD September 6 via Columbia Music Video. The footage for the home video release is reportedly been re-edited, with an expand to nearly two hours from the original one-hour version premiered April 23 on the music channel.

Besides consisting of Springsteen's introductions and anecdotes regarding the eight songs he performed at the April 4 taping at the River Theater in Red Bank, N.J., the DVD also includes a question and answer session with the audience that was not part of the VH1 broadcast. The songs Springsteen performed for the show, including two songs from his solo album, "Devils & Dust," two from 2002's "The Rising," the title track, "Waitin' on a Sunny Day," and many more from the singer's older selections.

News
>
Music News
July 21, 2005 02:40:20 GMT
Years since their 1995's "Tales From the Punchbowl" and 1999's "Antipop," bassist/vocalist Les Claypool, guitarist Larry LaLonde and drummer Tim "Herb" Alexander are reuniting as Primus and will be on the studio later this year to record its first new studio album. It yet confirmed if the new set would be released via Claypool's Prawn Song imprint or another label.

In related news, Primus will on Saturday be the only performer at the revived Lollapalooza festival in Chicago that was a part of the event in its 1990s heyday. Besides, Claypool will also play a solo show the night before at the Vic Theatre.

News
>
Music News
July 21, 2005 02:16:33 GMT
The competition is off and the winner is still Pied Piper. This victory is the second for whose "TP.3 Reloaded" holds onto the top spot on The Billboard 200. Inferior to him is Houston rapper 's major label debut, "Already Platinum," selling more than 129,000 copies to open at number two.

Enters The Billboard 200 at No. 3 is 's "Wanted," which's been sold 119,000 copies in its first week. Meanwhile, 's "X&Y" and 's "The Emancipation of Mimi" each slips one level this week to No. 4 and No. 5. Following close behind at No. 6 is ' "Move Along" while 's "Cookbook" finishes at No. 7 with 65,000.