News
>
Celebrity Gossip
May 16, 2005 03:49:29 GMT
Hip hop star Sean P. Diddy Combs has been honored his own day by people in the city of Las Vegas, Nevada, for the lasting contribution he made wherever he goes. The people of the city have just made May 14th as "Diddy Day," further acknowledging the entrepreneurís admiration for the popular vacation spot.

Speaking about the honor, P. Diddy commented "It's a great honor that one of my favorite cities in the world has named May 14th 'Diddy Day'. Las Vegas is one of the most colorful and vibrant cities I know. Its non-stop action and adrenaline-fueled energy is infectious. I look forward to working with the city in the years to come."

News
>
Movie News
May 16, 2005 03:34:03 GMT
Actress and singer is joining the cast for a sequel to Fox's 2003 hit "," reuniting with and . Also joining the three of them on the film is .

That sequel is directed by Adam Shankman and will focus on Martin's brood facing off against Levy's perfect family of eight blond children. And Hilary herself will return as the daughter of the characters played by Martin and Hunt.

News
>
Celebrity Gossip
May 16, 2005 03:17:14 GMT
Commenting on recent reports saying he's gone under psych treatment in South Africa, comedian Dave Chappelle claims those are wrong. In his interview with Time magazine, Chappelle said he's staying with friends there, as he takes a break after being unhappy with the direction of his Comedy Central show.

In his further explanation he said "I'm a difficult kind of dude....I have trust issues. There were some things about myself that I didn't like. People got to take inventory from time to time. That's what this [coming to South Africa] is for." On top of that, the star even insisted "I'm not crazy. I'm not smoking crack. I'm definitely stressed out."

News
>
Music News
May 16, 2005 02:44:51 GMT
, , actor , and "Today" show host were all in the VIP section of Sting's concert. Yet, none of them becoming so lucky to get the chance singing with the great singer on stage because they didn't ask for it, like one of his fans did. Sting has, in fact, willingly invited a female fan of his to go onstage and sing "End of the Game" with him.

The fan screamed out that she wanted to join him, and so Sting said "You want to help me sing the song? OK, C'mon." The fan then did her best, dancing along with Sting and singing into a microphone brought on stage for her. When the song finished, Sting shook her hand and she kissed him on the cheek. Then Sting shouted out, "Who's next?"

News
>
Movie News
May 16, 2005 02:21:03 GMT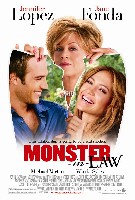 "," stars against as her villainous prospective mother-in-law, has been chosen as this weekend's top box office, taking in $24 million. At number 2 is and 's "," which takes $21 million, 3 million less than this weekend's winner.

The other major projects make list on this weekend's top movies including action flick "" which takes $10.6 million, while last week champion "" slips to fourth place with $9.6 million. To be at number 5 to 10 in succession are "" with $7.2 million, "" which takes $6.3 million, "" taking in $4.8 million, "" $4.4 million, "" $2.2 million, and "" with $2 million.