News
>
Celebrity Gossip
April 27, 2005 04:51:14 GMT
Supermodel Naomi Campbell teamed up with President Luiz Inacio Lula da Silva in a campaign to fight poverty in Brazil, held on Tuesday April 26, 2005, by selling trendy "We love Brazil" T-shirts. Further Campbell explained the designer shirts would go on sale in airports and shops, and profits go to children's charities in the South American country she calls her second home.

In relation with the campaign, Campbell will also act as an ambassador for Brazil's fast-growing tourist industry as well as Lulu's plan to reduce wealth inequalities. While pursuing the tourists there to sell the T-shirts worldwide, the model said "Anyone who loves Brazil should wear the T-shirt to raise awareness and raise funds."

News
>
Celebrity Gossip
April 27, 2005 04:36:20 GMT
Dixie Chicks member, Emily Robinson, has given birth to twins on April 14, 2005. The first born was daughter Julianna Tex, weighed 6 pounds 10 ounces, while the latter son born Henry Benjamin weighed 6 pounds 14 ounces. The Dixie Chicks' Web site mentioned "Babies and mom are all doing very well."

To note, Emily and her country music star husband, Charlie Robison, have also had one son, Charles Augustus "Gus" Robison, who is now 2,5 years old. And the newly born twins, Julianna and Henry, have brought the Dixie Chicks' baby count to seven.

News
>
Celebrity Gossip
April 27, 2005 04:18:29 GMT
Senior singer Celine Dion will devote her Las Vegas show dubbed "A New Day," which is part of the Mother's Day performance, to raise money for victims of the Asian tsunami. As said on the singer's Web site, profits from the performance held at Caesars Palace on May 8, 2005, will go to UNICEF's Tsunami Recovery Fund to help with relief and reconstruction in the region.

Moreover, funds will also be raised through sponsorship packages, a commemorative program book, collection boxes in The Colosseum and a silent auction, last mentioned will include a private dinner with Dion and her husband, Rene Angelil, prepared by their personal chef. Detailing on the plan Dion said in recent statement, "Our goal is to raise $1 million but we're hoping to go far beyond that since all the money is going to UNICEF to help these people get their lives back."

News
>
Music News
April 27, 2005 04:00:21 GMT
Pearl Jam will embark on a 15-date tour of Canada this fall, begins September 2 in Vancouver and wrap September 24 in St. John's, Newfoundland. The tour is, in fact, planned to debut material intended for the group's as-yet-untitled new studio album. Detailing on the ploy, members of the band's Ten Club fan association can purchase tickets beginning Tuesday April 26; tickets go on sale to the general public at the end of May.

To notice, here are Pearl Jam's Canadian tour dates: September 2: Vancouver (GM Place); 4: Calgary, Alb. (Pengrowth Saddledome); 5: Edmonton (Rexall Place); 7: Saskatoon, Sask. (Credit Union Center); 8: Winnipeg, Manitoba (MTS Center); 9: Thunder Bay, Ont. (Fort William Gardens); 11: Kitchener, Ont. (Memorial Auditorium); 12: London, Ont. (Labatt Center); 13: Hamilton, Ont. (Copps Coliseum); 15: Montreal (Bell Center); 16: Ottawa, Ont. (Corel Center); 20: Toronto (Air Canada Center); 20: Quebec City (Colisee Pepsi); 22: Halifax, Nova Scotia (Metro Center); 24: St. John's, Newfoundland (Mile One Stadium).

News
>
Celebrity Gossip
April 27, 2005 03:49:03 GMT
American Idol judge Paula Abdul has been accused by one of the talent show contestant Corey Clark of seducing him. The 24 years old contestant has been writing a book, inside which he claims Paula paid his expenses and promised to pay $2 million towards his pop career if he kept their romance secret, otherwise she threatened to ruin his music career plans if he told anyone about their affair.

In addition, Corey tells US newspaper The Globe, "She warned me, 'Don't screw me over or you'll be sorry.'" Commenting on the testimony, Paula's spokesman insists, "Paula Abdul disputes the allegations contained in Corey Clark's book proposal."

News
>
Music News
April 27, 2005 03:33:08 GMT
American Idol runner-up Clay Aiken will soon go plastic for Mastercard's new line of debit cards, which will be launched in companion with Aiken's mug across the front. The debit cards, which cost about $28 to acquire, is called MYplash cards and will offer parents a way to teach their children about the responsibilities that come with possessing a credit card.

Some fans of him positively response to their idol-planned debit cards because they often find difficulties in proving their devotion to Aiken. Thus, by the time this cards are launched, Clay Aiken fans can carry him in their wallet.

News
>
Movie News
April 27, 2005 02:53:02 GMT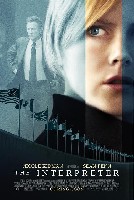 Nicole Kidman and Sean Penn's horror movie "The Interpreter" has topped at the box office with $22.8 million over an otherwise sluggish weekend, leaving its rival, last week's chart-topper "The Amityville Horror" at number two with $13.7 million. Top at number three is "Sahara" with only $9 million. Coming in fourth is Aston Kutcher's "A Lot Like Love" with $7.6 million, little more than Stephen Chow's "Kung Fu Hustle" which takes of $6.7 million in fifth place.

At number six to number ten in succession are; "Fever Pitch" with $5.5 million; "Sin City" $3.7 million; "Guess Who" $3.5 million; "Robots" $3.4 million; and Anthony Anderson's kidnap-themed comedy "King's Ransom" with only $2.1 million be the last on the top ten list.

News
>
Celebrity Gossip
April 27, 2005 02:35:04 GMT
Despite denials of their romance, "Mr. and Mrs. Smith" costars, Brad Pitt and Angelina Jolie, have recently being spotted on the sandy shores of an unidentified African country, believed to be Morocco, playing in the sand and strolling on the beach with the actress' 3-year-old son Maddox. The photos of them were firstly published by London's Sun in Monday's edition.

Could it be an evidence that Pitt and Jolie are more than just co-workers????? Commenting to it, Pitt's publicist Cindy Guagenti, would not comment Tuesday on the reports. Well, we'll see then?!