News
>
Celebrity Gossip
April 11, 2005 04:00:44 GMT
Movie hunk Brad Pitt seems to get tired with the many rumors link him to Angelina Jolie, and so he finally establishes "Angelina Jolie Rumors Hotline." Beginning at 9:00 a.m. (EDST) on Monday April 11, 2005, fans who want to get the reliable information on the rumors can dial 1-900-NOT-TRUE to hear Pitt in his own voice the latest rumors being printed about him and Angelina Jolie in the false tabloids.

At 49 cents a minute billed automatically to the telephone number from which a call is made, this service represents a great bargain for Brad Pitt fans everywhere. What things fans could know from the hotline are; Pitt denial on Jolie broke up his marriage to Aniston, on his spending several nights in Jolie's trailer while they were filming Mr. and Mrs. Smith, on his spending Easter weekend with Jolie at a posh resort while doing publicity for the same movie, and on their planning to get married before the June release of Mr. and Mrs. Smith.

News
>
Movie News
April 11, 2005 03:35:27 GMT
Rock 'n' Roll wizard Gene Simmons has signed to play in six episodes of VH1's reality series "Rock School," which is inspired by the hit movie "School of Rock." To produce "Rock School" for U.S. viewers, VH1 is teaming with Britain's RDF Media.

Moreover, for the American version, RDF and VH1 will tweak those episodes and include additional music and footage of KISS performing from past MTV specials. Simmons himself wants to play in this series because he is interested in transforming the troupe of pre-teens into a rough-round-the-edges rock band.

News
>
Movie News
April 11, 2005 03:15:06 GMT
Spanish beauty Penelope Cruz is back in the United States with this weekend's debut of Hollywood action flick "Sahara," co-starring Matthew McConaughey. In the movie based on a novel by Clive Cussler, Cruz plays a "beautiful and brilliant" doctor, tracing the origin of an African plague when she gets caught in shoot-em-up adventure with treasure hunter Dirk Pitt played by McConaughey. Besides playing a beauty in the film, the actress is playing a brainy role too, which can be seen in the Italian film, "Don't Move," playing in art house theaters.



News
>
Movie News
April 11, 2005 02:52:58 GMT
Film maker Michael Moore has been listed in the "Artists and Entertainers" category on Time magazine's second annual 'Time 100' Influential List' published on Sunday April 10, 2005. On the list also USA President George W Bush and lifestyle trendsetter Martha Stewart.

Moreover, this year list, which according to Time managing editor Jim Kelly is more about moral influence, also lists Ukrainian President Viktor Yushchenko, who survived dioxin poisoning; and conservative German Cardinal Joseph Ratzinger, who presided over Pope John Paul II's funeral on Friday April 8, 2005.

News
>
Movie News
April 11, 2005 02:31:31 GMT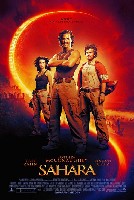 The new released movie entitled "Sahara" which is adapted from Clive Cussler's adventure novel and which stars Matthew McConaughey, Penelope Cruz, and Steve Zahn, has topped the weekend box office debuting at $18.5 million from Friday to Sunday. "Sin City," on the contrary, has slipped to second place with $14.1 million, while Drew Barrymore and Jimmy Fallon baseball romance "Fever Pitch" debuting in third place with $13 million.

On the fourth to the tenth position in succession are "Guess Who," "Beauty Shop," "Robots," "Miss Congeniality 2: Armed & Fabulous," "The Pacifier," The Ring Two," and "The Upside of Anger."

News
>
Music News
April 11, 2005 02:18:03 GMT
Queens of the Stone Age singer, Mark Lanegan, has taken a break from the group, leaving only eight dates remaining on their "Songs for the Deaf" tour, citing exhaustion. The rest members of the band hope Mark can soon recover and touring back with them, but there's no word when they'll expect him back.

Queens' singer-guitarist and mastermind, Josh Homme, in fact, denied any suggestions that the departure was due to infighting.