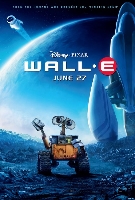 Overview
---
Genre :
Animation, Comedy, Sci-Fi
Release Date :
June 27, 2008
MPAA Rating :
G
Director :
Andrew Stanton
Starring :
Fred Willard
,
Jeff Garlin
,
Sigourney Weaver
, John Ratzenberger, Kathy Najimy, Ben Burtt, Kim Kopf, Garrett Palmer, Paul Eiding

REVIEWS RATE: Critics Readers [Rate It]
Reader's Reviews
---

LOOKED awesome. KINDA boring.
posted by

rdog

on Oct 15, 2009 11:05:53

zS5Pco
posted by

Wkmxsmff

on Jul 13, 2009 03:11:35

MAN!!! I LOVE THIS MOVIE SO MUCH! I CAN'T STOP WATCHING IT!!!!
posted by

Mighty B!

on Jun 20, 2009 08:39:07

I love wall-e i thought it was a great movie when it came out as it was fun for little kids and for older people....thanks :)
posted by

Ammmy

on May 20, 2009 05:58:59

this movie gives us many important lessons i like it
posted by

wall e

on May 05, 2009 09:57:45

I THINK THIS MOVIE NEEDS MORE THAN 5 STARS..... it is the most amazing animated movie EVER!!!!!!!!!
posted by

Walllllll-ee

on Mar 01, 2009 02:30:48
I cried.. amazing movie.. so sensible.. wall e... hero of the true love
posted by

MK

on Oct 23, 2008 09:57:42

Very positive movie! our family enjoyed it! can not remember when i had such a great emotions from watching movies!!!! I LOVE WALL-E!!!!
posted by

nikusha

on Aug 19, 2008 00:00:00

The credits song is 'Down to Earth' by Peter Gabriel
posted by

Laura

on Jul 27, 2008 00:00:00

Eve and Wall-E so go together (; great movie. And I agree with Wall-ed. Wtf wall-ehero, that doesn't portray what is going to happen in the future if we keep going? You want us to end up with little feet and arms and fat as a whale?
posted by

Oh My God...

on Jul 11, 2008 00:00:00

Outstanding movie. The kids loved it and most adults should find it enjoyable. My only complaint is people that try to make this an "Al Gore Message" movie. Sci Fi uses extreme what-ifs all the time and this is no different. Trying to put a Green message to the story puts political junk on what is an excellent movie. Go see it, enjoy it and take the setting for what it is. A sci-fi fairy tale.
posted by

Wall-ed

on Jul 08, 2008 00:00:00

i loveeddd this movie!!! does anyone know what the song was that played during the end credits?
posted by

go wall-e!!

on Jul 07, 2008 00:00:00

OOH Y LOVE IT!!! I WAS A RIVER AT THE END OF THE MOVIE!!
posted by

Ppadopulos III

on Jul 07, 2008 00:00:00

this movie was so awesome... i want to watch it over and over again.. i cried like a river at the very end the movie teaches you about wat happens in the future if we keep going the way we're going now
posted by

wall-ehero

on Jul 07, 2008 00:00:00

This movie is so great...i love everything about it even when they dont say much. Everyone needs to see it.
posted by

in love with wall-e

on Jun 30, 2008 00:00:00

absolute masterpiece. one of my new favorites
posted by

2110

on Jun 30, 2008 00:00:00

it was very good this movie becouse it had a lot of things .. and also teach us a very important lesson
posted by

wall e the best

on Jun 27, 2008 00:00:00