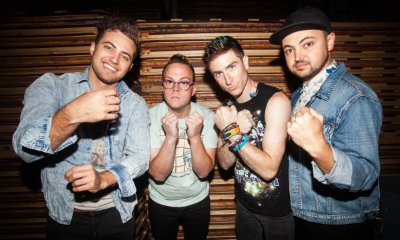 isn't really a new face in the industry. The band was formed by lead vocalist Nicholas Petricca in 2008 and had gone through some member changes before settling on their current line-up that also includes Kevin Ray, Sean Waugaman and Eli Maiman.

The group then released their debut album "" independently in 2010 and followed it up with their first major label self-titled set which came out in 2012 under RCA Records. However, they finally gained the recognition they deserved in 2014, following the arrival of "Shut Up and Dance" that leads their third overall album, "".

The song co-penned by the band members along with songwriters Ben Berger and Ryan McMahon has become WALK THE MOON's biggest single to date. It was inspired by Petricca's own experience when he was having a night out in Los Angeles two years ago.

"I went out with my friends to blow off some steam," he recalled in a recent chat with Entertainment Weekly. "I was at a bar trying to get a drink and started complaining because it was taking forever. And this girl in a backless dress and red Chucks came up to me and said, 'Just shut up and dance!' And I thought, 'Yeah, f**k the bar, f**k the alcohol. Let's just rock out!' "

Receiving generally positive reviews from critics and fans, the upbeat feel-good track slowly climbed up the charts. Month after its release, it recently hit No. 4 on Billboard Hot 100 and at No. 1 on Billboard's Hot Rock Songs and Alternative Songs charts.


© AceShowbiz.com
---
Previous Week »
Britney Spears
WALK THE MOON is an Indie rock band based in Cincinnati, Ohio. Lead singer Nicholas Petricca started the band in 2008 and went through several member changes before finally coming together with current members Kevin Ray, Sean Waugaman and Eli Maiman in 2010. The band derives their name from the song "Walking on the Moon" by The Police. » more
Related News