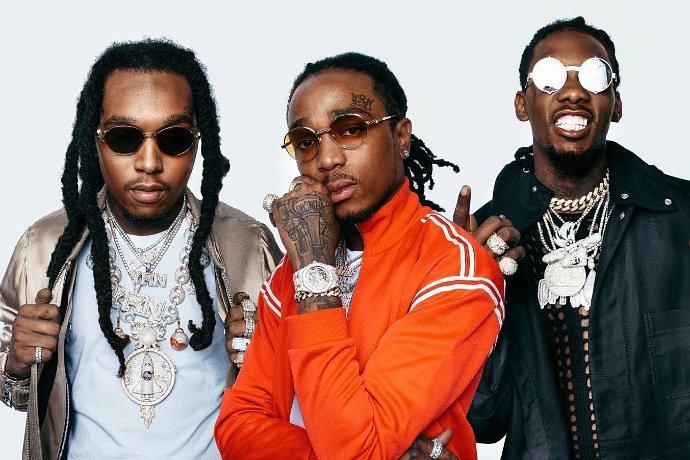 After putting out several acclaimed mixtapes and some hit singles, isn't slowing down. In fact, the rap group is now getting ready to take over the hip-hop world with their highly-anticipated debut album "".

Fans have waited so long for the oft-delayed LP. Having heard about it since last year, they eventually learned that the project would be called "YRN Tha Album". It was only a few weeks ago Migos announced they'd retitled it to "Yung Rich Nation" and would finally drop it on Friday, July 31 via 300 Entertainment, Quality Control Music and Atlantic Records.

Those who can't wait until later this week are lucky, because Migos is now streaming the album in its entirety. Fifteen tracks off it, including previously-released "One Time" and "Migos Origin" as well as collaborations with and are available on Pandora.

"Yung Rich Nation" is coming despite one-third of Migos, Offset, still being incarcerated. He was arrested back in April along with groupmates Quavo and Takeoff as well as some of their crew members during a show at Georgia Southern University last April. They were charged with drug possession, possession of firearms in a school safety zone and possession of firearms during the commission of a crime among others.

Quavo, Takeoff and six members of the their crew were released a few days later on $10,000 bond. Due to the arrests, Migos was forced to postpone their tour to promote the album. The trek that's also featuring OG Maco was supposed to start in early May in Milwaukee, WI.


© AceShowbiz.com
---
Migos is an American hip hop group based in Atlanta, Georgia formed with the help of Trap Rapper & CEO Gucci Mane. The group consists of Quavo (real name Quavious Marshall, age 24), Takeoff (real name Kirshnik Ball, age 21) and Offset (real name Kiari Cephus, age 23). They rose to fame in 2013 following the arrival of their single "Versace". » more