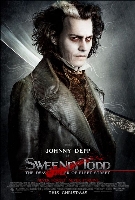 REVIEWS RATE: Critics Readers [Rate It]
Reader's Reviews
---

Love Johnny Depp as Sweeney Todd! His demeanor is perfect- he fits the role like an old glove. Depp used to be a family friend, and it's amazing to see how far he's come.
posted by

MNM

on Jun 21, 2009 08:54:11

helena carter done an awesome job with her singing and everything and her being in the fire was sad but funny
posted by

helena

on May 08, 2009 05:03:12

sweeney todd is so freaken awesome i almost died watching his movie because stodd died i watched it like a billion times and me and my friends tanya iracheta,and asia mcbride always talk about him
posted by

sweeney todd

on May 08, 2009 05:00:02

I thought this film was alright the singing was did not have enough oomph for me and I did not like Johnny Depp weak, warbling in his title role. Although I did enjoy Helena Bonham Carter's sweet beautiful singing and Alan Rickman was pretty cool.
posted by

Razbash

on Jan 27, 2009 08:36:23

Wonderful! Best adaptation of a musical in a very long time. Depp is amazing and Carter really is Mrs. Lovett like I've never seen her. I probably would not have liked this movie without the music as I'm not a fan of horror films.
posted by

mombot

on Dec 25, 2008 03:07:16

Johnny Depp should have been an Oscar winner here. Alot of people didn't like it because they felt there was too much music and not enough dialogue. I truly enjoyed the movie. Johnny was very good for someone who has never sung a whole song. As he had been quoted as saying. Even though "My Friends," was about razors. Johnny sang it like he was singing it to his true love. Helena also did a wonderful job. I like it better then the Broadway show.
posted by

piratefan60

on Sep 11, 2008 08:52:15

I(m sorry, my English is very bad but the film is wonderful ( of course it's a Tim Burton's film =P ) and Helena is one more again a wonderful actress ! She sings so well =P
posted by

Bonhamcarter Fan

on Jul 27, 2008 00:00:00