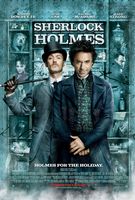 REVIEWS RATE: Critics Readers [Rate It]
Reader's Reviews
---

this movie is really too good and i enjoy it alot
posted by

amna

on Feb 05, 2011 04:16:23

wow good job
posted by

sherlock holmes

on Sep 01, 2010 05:07:00

great great movie!!!!!!All actors in this movie super!can't wait 2 part!!
posted by

johon

on May 30, 2010 12:09:27

Superb
posted by

dyjdnyjfyfj

on May 20, 2010 10:25:23

Saw it at watchfullmovienow d0t c0m for free, great quality :)
posted by

Brian

on Feb 19, 2010 11:42:54

LOVED IT!!! Seeing it again in a few days time, is it just me or when Watson is under teh French guy, doesn't it look like he's having an orgasm?
posted by

greggormcpheeb

on Jan 25, 2010 02:05:02

awesome and true to the stories for the most part, more than most interpretations ive seen.
posted by

Zeal365

on Jan 04, 2010 03:18:41

I'm waiþing for the next film.
posted by

star

on Jan 03, 2010 12:21:40

Great film, excellent script, extremely intelligent. Films with high special effects like transformers are always big, but hold no key story or plotlines, but this excelled and entertained.
posted by

Lukew357

on Jan 01, 2010 02:59:42

It is an origional that gets better the more you see it.
posted by

Mr. Moon

on Dec 30, 2009 12:44:42

*****
posted by

Annie Oakley

on Dec 30, 2009 06:28:22

this movie was really good, great quality, very realistic. Sherlock holmes sarcasticness is truly comedy. Jude law, rachel mcadams, and robert downey jr. bring a great movie tat puts a new meaning to the word detective and is sure to bring many new readers and fans to the series. I totally recommend this movie!
posted by

lambs16

on Dec 30, 2009 01:07:06
I can't wait. I've been a fan of Sherlock Holmes for 6 years. I'm so excited to watch the movie :).
posted by

yisha

on Nov 24, 2009 09:31:52
How know soundtrack?
posted by

Ashley

on Nov 15, 2009 09:56:40
you have a grand gift of silence Watson it makes you quite invaluble as a companion *thump* Lol funny or what? can't wait to see it at the cinema on crimbo!
posted by

sherlocklover89

on Aug 05, 2009 09:31:05
Can't wait for this movie.
posted by

sjklhf

on Aug 04, 2009 10:47:33
I' ma huge fan of Robert Downey Jr. and I think this part will totally bring out his best. I think this was the perfect part for him!
posted by

Kat

on May 05, 2009 10:23:11
i like sherlock holmes story so much! So i hope this film is good and interest as the book.
posted by

Kalya

on Jan 04, 2009 07:58:20