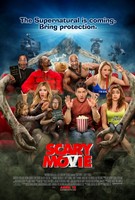 Overview
---
Genre :
Comedy, Horror
Release Date :
April 12, 2013
MPAA Rating :
PG-13
Director :
Malcolm D. Lee
Starring :
Ashley Tisdale
, Simon Rex,
Lindsay Lohan
,
Charlie Sheen
,
Terry Crews
,
Kate Walsh
,
Heather Locklear
,
Molly Shannon
,
Mike Tyson
,
Audrina Patridge
,
Kendra Wilkinson
,
Angie Stone
,
Katt Williams
,
Sarah Hyland
,
Katrina Bowden
,
Tyler Posey
,
Usher

REVIEWS RATE: Critics Readers [Rate It]
Reader's Reviews
---
dwayne bonello this movies scary movie 1,2,3,4,5 i dont like them all the movie and it just like a movie parody and i dont like it 1stars!
posted by

dwayne bonello

on Jan 12, 2012 03:03:08
it is 2011 where is the movie???????????? <3
posted by

aw50mn355!! <33

on Jan 13, 2011 12:54:15
i think they said it comes out in 2011 (-.-)
posted by

I rule

on Dec 17, 2010 03:46:57
I loved Scary movie 1 and 2 number 3 wasn't that good but 4 was the most halarious of all now there will be 5th part I hope they make funnier than 4 or I will still think that 4 is the best of all scary movies.Ohh and maybe there will be no 5th or the posters are just fake or itmight come there is 33.33% it might not, that migth come or maybe. Welll I just hope is halarious than the 4 or scary movie 4 will still be the best to me.
posted by

Spyro

on Sep 16, 2010 10:14:12

everything GaryC said. we watched it together last night and it was complete balls. those people that gave it 5 stars obviously have not seen it or are just giving it 5 in anticipastion because they know the franchise has been great so far. this last movie ruins everything they've built up with their fans. sad
posted by

Monica

on Aug 22, 2009 08:42:55

I loved Scary movie 1 and 2, 3 and 4 were good fun too, but lacked a little something. Scary movie 5 is a steaming box of poop. If you giggle inanely whenever someone says poo or find knock-knock jokes hillarious then this is about your level. If I'd seen it in a cinema I'd have walked out. As it is I just stopped the DVD after about 15 minutes... and that was 5 minutes too long. Seriously, the script writers must be retarded 9 year olds because the puns are SO amazingly dumb that any normal 9 year old would have edited them out. I notice this is a different team, and unfortunately it not only doesnt work ' but it must be the single biggest movie fail of the year, the decade and perhaps even the century. DONT RENT IT, DONT BUY IT... and if you get the chance to watch it for free DONT buy popcorn. Seriously, it really is that bad. And I LOVED the others.
posted by

GaryC

on Aug 22, 2009 08:37:49

Hey Scary Movie 5 Is Acully Coming Out In 2011 I Heard It On igoogle They Even Said So.
posted by

Twisters

on Jul 06, 2009 01:51:07
whats scary movie 5 even about?how could you have seen it when theres no trailers?! im a big fan of these movies but this is just stupid!when did the movie come out on dvd?
posted by

I rule

on May 31, 2009 12:08:38
Why do you say, that you've watched it, beacause it ain't even out yet. Not before 2011.
posted by

?

on May 09, 2009 04:37:10
HI
posted by

Tomas

on Feb 14, 2009 09:28:09
yo come on man first they said that Scary Movie 5 is coming out in 2008 now they say its coming out in 2009 i hate when they do that i mean get real man
posted by

crazykid14

on Dec 10, 2008 10:45:58

this movie is a good movie but sad at the end i could watch it over and over again
posted by

titanic

on Nov 25, 2008 01:00:45

scary movie 5 aint epic movie or superhero movie it s a separate movie.the official date is 10 oct i saw this on their site but i dunno it s not finnished yet.i hate all his secrecy around the movie
posted by

xarius

on Sep 24, 2008 10:03:36
twat
posted by

mike

on Aug 07, 2008 00:00:00

Scary Movie 5 is the excellent movie in 2008,and its coming in October 10,2008.
posted by

Scary Movie 5

on Jul 02, 2008 00:00:00

i own this dvd it rocks.
posted by on Mar 27, 2008 00:00:00
say what?????
posted by on Jan 13, 2008 00:00:00