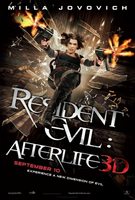 Overview
---
Genre :
Action, Sci-Fi, Thriller
Release Date :
September 10, 2010
MPAA Rating :
R
Director :
Paul W.S. Anderson
Starring :
Milla Jovovich
,
Ali Larter
,
Boris Kodjoe
,
Wentworth Miller
,
Spencer Locke
,
Kim Coates
,
Shawn Roberts
, Norman Yeung,
Sienna Guillory
, Kacey Barnfield, Sergio Peris-Mencheta, Kacey Barnfield, Norman Yeung

REVIEWS RATE: Critics Readers [Rate It]
Reader's Reviews
---

Excellent movie
posted by

farhan

on Nov 11, 2011 08:25:57

i had seen the 3 part of resident evil.....next i want to see its 4th part...em so excited....
posted by

jain

on Sep 18, 2011 09:42:50

I Love this!!
posted by

EvilBoy

on Dec 10, 2010 04:35:48

The movie is so good that i can't stop geting out of my chair keep up the good work
posted by

iceman

on Nov 20, 2010 01:59:20

How many movies of resident evils movie are there going to be
posted by

iceman

on Nov 20, 2010 01:28:01
guys.. when will be on a dvd?
posted by

rocky

on Nov 20, 2010 01:05:52

PEOPLE SHOULD STOP HATING LIKE LadyClarK RESIDENT EVIL AFTERLIFE IS AMAZING AND DONT RUIN FOR THE OTHER PEOPLE WHO LIKE THIS BITC AND TO YOUR WHOLE GENERAATION SORRY SWEETIE BUT THATS WHAT I GOT TO SAY THAN GOD I GOT THAT OFF MY CHEST
posted by

Twilghtrock2

on Nov 11, 2010 10:58:31

This Movie is awesome kick butt acting and millia you rock girl and the rest of the gang dont ever forget that
posted by

Twilghtrock2

on Nov 10, 2010 04:36:20

Good musicccccc
posted by

jack

on Nov 06, 2010 10:54:13

looking forward to this. jovovich is fantastic in these movies
posted by

jc

on Nov 06, 2010 05:04:28

The movie was good. But a little boring. I didn't like the story dude. Alice just show offed at the starting. But the music was awesome!
posted by

Lapo

on Oct 25, 2010 03:19:03

was really fn epic loved music action they really steped up this movie n 3d just adds the epicness 5 stars
posted by

busty

on Oct 20, 2010 09:22:16

F in love it. It was amazing and now can't wait for the 5th the music and the way they use it was awesome as always haha wonderful five stars haha
posted by

Shadowreaper

on Oct 14, 2010 06:16:47

Best movie super mega great!!!!!!
posted by

Lord Wesker

on Oct 10, 2010 10:12:04

what a GREAT movie..
posted by

lupus

on Oct 09, 2010 09:59:06

Wow I love the games and all, but the movies would be boring as shit if it would be the same story line. I love what Anderson did with the genre and the storyline from the begining and how he introduced Alice. Also love how he's begining to bring in characters from the game. This movie rocks!
posted by

C.Redfield

on Oct 08, 2010 10:56:38
but just more
posted by

WeskerPower

on Sep 30, 2010 10:44:27
like Degeneration
posted by

WeskerPower

on Sep 30, 2010 10:44:05
but I want the story from the game series not this.... I´m looking for the Damnation!!! from Capcom and sequel of Degeneration. I believe Damnation will by more best like Anderson films....
posted by

WeskerPower

on Sep 30, 2010 10:43:13

very cool
posted by

WeskerPower

on Sep 30, 2010 10:40:33

I wish the hell all the people who complain about the Resi movies would b@gger off! Because the only criticisms ever levelled about them all over the internet r based upon them not being EXACTLY LIKE THE GAME! IT'S A DIFFERENT FORMAT 4 GAWDSAKE!!! If u love the games so much MARRY THEM! Go spend all your time with them. And shut the hell up about the movies unless your complaints about them r based on other things:o@ !...Now I've got that off my chest...this movie kicks as much; if not more ass than those b4 it. And as mentioned below, like Avatar, it is the only 3D movie taking full advantage of the technology available. This aspect of the movie, plus its compelling nature, will also blow u away. There will not be a 'reboot' after this movie. There *will* be a RE5 movie. So in closing ignore the Vidgame heads who can't accept these r movies and not games. Ignore rumours. Go 2 the flicks. Don your glasses, have fun and be amazed ;oD
posted by

PWSA is king

on Sep 27, 2010 07:09:19

cool
posted by

mo

on Sep 24, 2010 10:50:42

man this movie was excellent!!! not a great story but if fits to the bigger pictue for the fifth one!! and if want to see a movie on 3D go see this one or avatar the only 2 that are a must see on 3D.
posted by

afgaviria

on Sep 22, 2010 12:34:37

Can't wait for "Resident Evil 5"...
posted by

Blind

on Sep 20, 2010 11:56:37

I don't understand Why they keep ruining the Great Stories of the Games.??? This part supost to be part of Game 4 and 5. But they ruin it again, let's finish it. Don't keep RUINING IT, PLEASE!
posted by

Javier S

on Sep 20, 2010 07:36:00

theres not gonna be a reboot of RE after this movie, there is going to be another movie after this one
posted by

vaginaboob

on Sep 18, 2010 12:14:32

but s.o.a.d where? theand capter s.o.a.d playing..
posted by

LoqaN

on Sep 17, 2010 11:32:58

realy excellent to film..
posted by

LoqaN

on Sep 17, 2010 11:31:22

!!!!!!!
posted by

st24

on Sep 13, 2010 02:16:16
They will do a reboot of R.E after this movie
posted by

Super2010

on Sep 08, 2010 11:45:08
Will there be a rock soundtrack of the movie, like they did with the previous one's?
posted by

Gerisel

on Sep 08, 2010 05:55:13
@ hmm. yes there will be one with metal etc. it's coming out the 28th i asked at best buy haha
posted by

RE RULES

on Sep 07, 2010 07:12:01
There will be up to 2 more movies... The director and writer said they will most likely write in Leon in the next script..
posted by

WiL2KiLL

on Aug 21, 2010 04:43:39
Is there no metal for the REAL soundtrack of this movie?? The first Soundtrack (2001) is fuckin great..
posted by

hmm

on Aug 20, 2010 11:58:33
Ladyclark more nerdrage plox !
posted by

Famous

on Aug 20, 2010 06:46:06
They fucked up everything. Why are you gonna take one of the best horror games and fuck it up? I cant believe this! This movie makes me want to scream in tears! And it all started at the beginning with this stupid Alice character! How can you do this to a good game and story? I CANT BELIEVE THIS!
posted by

LadyClark

on Jul 29, 2010 10:11:58
resident evil 4 will be called afterlife and is due in september 2010 it will probably be where resident evil extinction left off and as milla said at the end of re3 i'm coming for you and i'm bringing a few of my friends and i think alaska should remain safe to survivors which is like 25 people and i think people would like to see at least one city isolated from the infection
posted by

Liam

on Feb 21, 2010 12:41:34
i wonder if they are going to make any more after this to include the other characters from the game, eg. barry burton- rebeca chambers- brad vickers- decapitated Kenneth(RE1game- if they do since the 4th movie is (CGI) with leon they should throw in an actor for him in aswell.
posted by

diz

on Jan 18, 2010 04:31:03

muay tay warrior
posted by

resident evil

on Aug 16, 2009 02:10:46

lmoamv
posted by

Zfqyarkt

on Jul 15, 2009 02:02:39