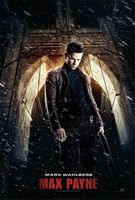 Overview
---
Genre :
Action, Drama, Thriller
Release Date :
October 17, 2008
MPAA Rating :
R
Director :
John Moore
Starring :
Mark Wahlberg
,
Mila Kunis
,
Chris O'Donnell
,
Beau Bridges
,
Ludacris
,
Nelly Furtado
,
Olga Kurylenko
, Donal Logue, Joel Gordon, Kate Burton, Rico Simonini

REVIEWS RATE: Critics Readers [Rate It]
Reader's Reviews
---

@rshack Resident Evil was never a graphic novel. This movie was terrible. It was boring throughout the entire movie. Who decided that Jackie Gephardt from That 70's Show would be perfect as Mona Sax? There was some good cinematography, but that's the only good thing I have to say about this movie. Just another example of a bad movie based on a video game.
posted by

John

on Oct 18, 2012 12:46:34

had the potential to be so much better, could have followed the game plot closer
posted by

pdp

on Sep 28, 2009 07:24:18

good point dank. except you made one mistake. this movie was not based on a game first. it was a graphic novel. just like resident evil.
posted by

rshack

on Jan 23, 2009 05:00:31

how can anybody say this movie was good? i couldn't even finish it because it was so bad. this should teach us a lesson... never turn games into movies. name five good movies that were once games... exactly
posted by

dankmastrflex

on Jan 22, 2009 11:58:09

A #2 would be awesome! and ofcourse this one ruled, full of emotion with that action it promises. Mark was the best choice they could have made - he's the best actor :D
posted by

raerae

on Jan 08, 2009 10:41:56

my new fav. love the dark feel to it, the music was kick ass too! i would like to shoot a film like this one day.
posted by

pyromagnium6

on Dec 31, 2008 06:22:09

AWESOME....!!!!!!!!
posted by

silent_chaos

on Dec 12, 2008 11:41:56

Very cool. Deep, dark, like the game.
posted by

Andre~

on Nov 30, 2008 11:26:04
A number two is possible and I deffinately wouldn't mind! MARK WAHLBERG IS THE BEST! :D
posted by

Raee

on Nov 25, 2008 05:39:43

This movie was so damn damn awesome! It was really beautifully shot and very well done in all other aspects, like acting, casting, action, drama.. It held itself I think further than expected (to me) because I wasn't too sure what to expect other than a great movie, but it let it self really shine. The movie was deffinately emotionally driven and it's beyond comparison with other movies because it's not like "other" action movies/ if you could call it that because it's more of a crime thriller really- with it's well-placed action sequences. Wonderful movie! Can't wait for the DVD :)
posted by

Raee

on Nov 25, 2008 05:38:35

agree to the music bit..that was indeed rather cool guys. I liked the look of the movie as well, nice cinematography etc.. but story structure was flawed here and there. still enjoyable in my opinion.
posted by

Justin

on Nov 24, 2008 10:59:06

film = shite music = AWESOME! and thats that kids.
posted by

Rob

on Nov 24, 2008 10:56:34

Mark Wahlberg is agreat artist but he should't have done this move.
posted by

KK

on Nov 21, 2008 12:20:44

i think it was excellent max payne was one of the best games and one of the best movies we r waiting for number 2
posted by

Amir hosein

on Nov 02, 2008 07:37:34

my kind of movie. you definately have to have a like for theses types...sin city
posted by

amanda

on Nov 01, 2008 05:54:14

i know game is really good but think so when it come to india it rocking
posted by

wow

on Oct 26, 2008 03:20:23

The music was so awesome and I think I could watch it over and over again and again..
posted by

Patty

on Oct 25, 2008 10:03:37

This movie is so Beautiful and dark I think its well done and the main actor is so gorgeous.
posted by

Isabella

on Oct 25, 2008 10:02:22

The movie is outta this world. Anyone who is a Maxc Payne video game freak will love the movie. I suggest you see it and soon
posted by

gnr450@aol.com

on Oct 24, 2008 01:00:10

Don't get me wrong I loved the movie the graphics and music played a big part, but there was something missing I can't put my finger on it. I think maybe it needed to go into more depth than it did.
posted by

Kadith

on Oct 23, 2008 10:01:36

ok)))
posted by

keks

on Oct 23, 2008 02:35:49

I would give it 3.5 stars if there was the option. The music was great...couldn't have been too much better. good twists too! I expected a shotgun and I got one lol
posted by

Clement

on Oct 20, 2008 12:54:41

pretty good movie... liked the scene when the guy is being dragged out of the building.
posted by

f12e34r56k78e

on Oct 20, 2008 12:39:55

This was a great movie, it had alot of relations to the video game and even better when it wasnt related to the video game. We all want to see something new, right? We dont want to see the same thing as we have read/played before.
posted by

That One Guy

on Oct 18, 2008 03:37:37

the song in the preview is Save Me by Stereo Black its a really awesome song!!! Just found it.
posted by

Blondie

on Oct 15, 2008 08:57:17

hey Rob, have looked up Metsuo online and on their myspace page are some of their tracks to listen to and they sound incredible!! definately perfect for the movie. thanks for sharing!!
posted by

Lourdes

on Oct 14, 2008 12:51:41

Metsuo are a band from the UK. They are known for their dark and dramatic music and have composed a few tracks for the movie, including music for the ending credits. they are pretty amazing. check them out on myspace!!
posted by

Rob

on Oct 07, 2008 03:50:27

I keep hearing about Metsuo...who is that??
posted by

Lourdes

on Oct 07, 2008 03:44:53

well...a lot of the geeks are already criticizing the movie for not being a better adaptation of the computer game.. but if it was a 1:1 adaptation, all we'd see would be a guy with a gun running around in circles for 180mins, no? ;) Only joking, but I think people who haven't played the game will love the movie more than those that compare it to the computer game. The movie itself is amazing!! its got all a dark action movie needs: cool storyline, great cast and Metsuo are involved in the music!!!
posted by

Rob

on Oct 07, 2008 03:42:28

I am awaiting the movie as well as the next game, no vlad and vinni in this one because this one seems more closely based on the plot of the first game. still the vlad was in the first game although it wasnt till the second that he became a principal player.
posted by

DefconFx

on Sep 30, 2008 11:40:23

where the hells is vlad and vinne gognitti? and why is such a young chick from that 70s show playing Mona Sax?
posted by

SmallieBigs

on Sep 29, 2008 08:28:08

Sounds like a band called "orgy"
posted by

Ittcehwiz

on Sep 27, 2008 11:35:30

the song is "if i was your vampire" - marilyn manson
posted by

fuckshit

on Sep 27, 2008 11:35:29

does anyone know what the song is that plays during the preview? It is so sick. I am like obsessed with it but i can't find it anywhere.
posted by

kberry

on Sep 27, 2008 06:19:01

5 stars cause it's max payne but bravura black and no vlad... shock to the system.
posted by

KATZATA

on Sep 20, 2008 08:29:43

The plot is interesting, even if it may be a little over-the-edge, but I'm still gunna watch it for sure!
posted by

Whoa

on Sep 16, 2008 05:59:45

Max Payne is SICK! so is Marky Mark.
posted by

skaggatron

on Sep 03, 2008 00:00:00

I CANT WAIT for the trailer to come to the UK. I hear Metsuo are being involved in the music.. if thats the case, its going to be AMAZING!
posted by

Veronica

on Aug 08, 2008 00:00:00

So the movie is finally coming to theatres in October. Iam anxiously waiting like many other die-hard Max Payne fans.
posted by

Arslan Baig

on Aug 06, 2008 00:00:00