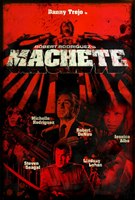 Overview
---
Genre :
Action, Adventure, Thriller
Release Date :
September 03, 2010
MPAA Rating :
R
Director :
Robert Rodriguez, Ethan Maniquis
Starring :
Danny Trejo
,
Robert De Niro
,
Jessica Alba
,
Michelle Rodriguez
,
Steven Seagal
,
Lindsay Lohan
,
Rose McGowan
,
Daryl Sabara
, Cheech Marin,
Don Johnson
,
Shea Whigham
, Jeff Fahey

REVIEWS RATE: Critics Readers [Rate It]
Reader's Reviews
---

DISH Network is showing Machete in HD and it's an action packed riot! Robert Rodriguez, Robert DeNiro, Steven Segal and Cheech Marin are spectacular. There's no other way to truly enjoy this movie unless it's in HD and on your big screen TV. I'm a movie lover and I work for DISH so I'm always excited when DISH shows sweet releases like this in HD. Don't stop at an HD trailer; watch this provocatively gritty movie as soon as you can in HD!--Nicole
posted by

Colleecee

on Feb 16, 2011 11:46:09

Can someone tell me where I can download or buy the Machete soundtrack? I'm searching for Chingon - Ave Maria. Please e-mail me at msj.hansen@online.nl
posted by

Marcel Hansen

on Dec 06, 2010 06:46:37
Does anyone know when the DVD release will be?
posted by

naughts91

on Oct 11, 2010 09:04:41

recvd a bootleg copy in spanish subtiles/lets just say it was a bad copy However though my spanish sucks & i'm latina....I would go & purchase this movie The story line was GREAt/Lots of action Main msg here TO celebritys etc DONT worry if you think your gettin ripped off cause IF THE MOVIE is GOOD us consumers will purchase a copy when it is legally available! by the way the music was excellant I happen to have most BUT wouls also buy the soundtract! best wishes to all
posted by

marlene

on Oct 02, 2010 09:35:57

HORRIBLE
posted by

hate machete

on Sep 26, 2010 12:24:17

ES LA PELICULA MAS ESPECTACULAR QUE E VISTO ESTA GENIAL
posted by

TETO

on Sep 14, 2010 10:51:57

Bad ass movie!!
posted by

Trizzy

on Sep 12, 2010 10:10:50

Awesome from start to finish! Moves at a brisk pace, the dialog is crisp and witty, and of course the gore is over the top. I'm not a Rodriguez fan but I've been hooked on this film since the original phoney trailer...the full film fully delivers. Can't wait for it to come out on Blu-ray, hopefully a director's cut with more of the gore left in. PLEASE make the sequels!
posted by

rod2pop

on Sep 08, 2010 11:08:18

SUPERB !!!
posted by

Machete

on Sep 05, 2010 10:20:15

if you havent seen it get your ass in that theater!!!
posted by

fuzzy

on Sep 05, 2010 07:26:33

Best film ever!!! no jokes!
posted by

ElBuffalo

on Sep 04, 2010 12:26:57
well,This looks like grind house.Atleast In terms of Looks..It will be weird and Bizzare movie of the Year.
posted by

Faheem Siyal

on May 08, 2010 10:40:28