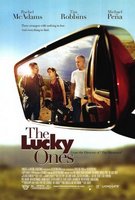 Overview
---
Genre :
Comedy, Drama
Release Date :
September 26, 2008 (Limited)
MPAA Rating :
R
Director :
Neil Burger
Starring :
Rachel McAdams
,
Tim Robbins
,
Michael Pena
, Molly Hagan, Mark L. Young, Howard Platt, Arden Myrin, Coburn Goss

REVIEWS RATE: Critics Readers [Rate It]
Reader's Reviews
---

I loved the movie. I laughed and I cried at the same time. Incredible feeling...
posted by

Mia

on Apr 20, 2009 02:19:07

Where do I begin? Weak script. Weaker dialogue. Mediocre directing wasting the talents of three good actors (poor acting was not their fault). Clunky plot contrivances. Lack of character development. Unsatisfactory ending. How could the makers of this film have blown what would have potentially been a great road trip movie and a poignant, funny story of three characters arriving at a deeper understanding of themselves and their lives. If you are going to make a movie, do it right, or don't do it all! There are lots of good movies out there, full of humanity and depth and humor. Unfortunately, the makers of this movie squandered a fine opportunity to join that list.
posted by

GrizBearMan

on Mar 26, 2009 07:47:51

"...what can I say, all three characters kept me glued to the couch, great movie, it made me think about our soldiers..."
posted by

Movie Monster

on Mar 24, 2009 10:30:12

I think this will be a very good movie because it has a very good story and script. It has an every day type feel to it. Meaning, we meet different people or people we don't know almost every day, and sometimes those people can become a life long friend once you get a chance to know them. Michael Pena is a very cool, funny, and nice guy. He is becoming a house hold name in the Movie Industry, and he is a down to earth type guy. I think we should support good actors/actress and good people like Michael. I had a chance to spend a little time with him this past Spring. Also, I think Tim is a very unique actor. I enjoyed the role he had in "The Shawshank Redemption".
posted by

Eizzac

on Sep 17, 2008 02:00:50
I was an extra in this movie. It was originally called The Return and was to be released Dec 2007. I have not been updated, till just now, that the title had changed and the release date was extended by 10 months. It was real great meeting Michael Pena - he has a great sense of humor and was very nice to the extras on set.
posted by on Apr 23, 2008 00:00:00