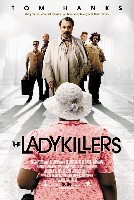 Overview
---
Genre
Comedy
Release Date
March 26, 2004
MPAA Rating
R
Duration
104 min.
Production Budget
$35 millions
Studio
Touchstone Pictures
Official Site
click here

REVIEWS RATE: Critics Readers [Rate It]
Cast and Crew
---
Director
Ethan Coen, Joel Coen
Producer
Ethan Coen, Joel Coen, Tom Jacobson, Barry Josephson, Barry Sonnenfeld
Screenwriter
Ethan Coen, Joel Coen
Starring
Tom Hanks as Professor G.H. Dorr
Marlon Wayans as Gawain MacSam
George Wallace
Ryan Hurst
Jason Weaver
Stephen Root
Story
---
The concept of pairing very young men with much older women has only been attempted in a few films. We see the opposite all the time. In recent memory only Harold and Maude and The Graduate come to mind. Lady Killers takes this concept into a whole new light.
Calvin Menhoffer (Will Friedle) and Leonard Smallwood (Chris Owen) are two lovable losers, but grand dreamers, desperately searching for the so-called "Good Life". "All we want is the best that life has to offer", Call tells his partner. "You know, without working for it."
After an unsuccessful attempt at robbering two 70 year-old sisters, Cal and Lenny find themselves behind bars. Within days, the charges are mysteriously dropped and the two older women invite the boys to their Beverly Hills mansion. As Cal and Lenny enter the grand foyer, they find the interior of the spacious home to be a throwback to the late sizties. From the top of the staircase a voice suddenly calls out, "Hey, you two little jailbirds!" Cal and Lenny glance up and the sight is enough to wilt their flower and melt their candy. Doris and Betty Mundt (Louise Lasser and Renee Taylor) stand dressed to kill. Seventy year-old women transformed! Doris wears a Baby Jane outfit, while Betty sports a skin tight, red Sequins dress complete with patent leather Go Go boots!
Cal and Lenny's first instinct is to run, but Cal has other plans. He convinces Lenny that they should court and marry the wealthy sisters. Once the sisters "buy the farm", a year at best he figures, the boys would inherit the Mundt fortune and with the big bucks in hand, they could finally go about living out their dreams. Within months the two couples are wed, Lenny with Doris and Cal with Betty. The ensuing madness culminates in a honeymoon night that is anything but business as usual.
The real twist of Lady Killers appears immediately afterward as we learn that Betty and Doris are actually destitutem, victims of their Uncle's mismanagement of their trust fund. Their true intentions of marrying Cal and Lenny were to take out life insurance policies and then kill their new husbands. As Betty boldly states as she prepares a poisonous lemonade, "When life throws you a lemon... sometimes you just have to up and kill somebody."
At the same time, the sisters launch into their plan, Cal and Lenny, already burned out by their ordeal, decide that they too must murder the sisters! What ensues is a hillarious series of botched murder attempts which manage to kill everyone around them (their neighbor, gardener, plumber, etc) but never inflict so much as a scratch on Betty and Doris or Cal and Lenny.
The last act finds our foursome teaming up to rob the home of Betty and Doris' Uncle and take back what was rightfully theirs to begin with. With Cal leading the way, the home invasion robbery does not quite go off as planned and slowly deteriorates into a string of comical mishaps. In the end, Cal and Lenny, Betty and Doris all wind up getting exactly what had hoped for, but the journey is what matters most.
Lady Killers is a hilarious character driven comedy, which follows the odyssey of four very unique people whose lives can be seen as the human struggle between fantasy and reality, with the innate desire in all of us to fulfill our dreams no matter what the cost is.