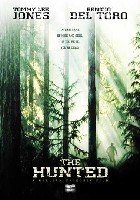 Overview
---
Genre
Drama, Action
Release Date
March 14, 2003
MPAA Rating
R
Duration
94 min.
Production Budget
$55 millions
Studio
Paramount Pictures
Official Site
click here

REVIEWS RATE: Critics Readers Be the 1st!
Cast and Crew
---
Director
William Friedkin
Producer
James Jacks, Ricardo Mestres
Screenwriter
David Griffiths, Peter Griffiths, Art Monterastelli
Starring
Story
---
Revealing the bond between these two men almost entirely without words, Friedkin first introduces Aaron Hallam (Benicio Del Toro) in 1999, during the bloodiest of the fighting in Kosovo. Serbian soldiers are carrying out scores of atrocities against Albanian civilians while U.S. Special Forces operate covertly nearby. Aaron - at this time a soldier in good standing - penetrates a demolished building and slips unseen past guards. As he moves without a sound, there is tense moment when the path to his target is blocked by a small child praying over her mother's dead body. But Aaron is so skilled at melting into the shadows that the Serbian officer who has ordered all this butchery has no clue anyone is even in the room until Aaron has killed him. Awarded the Silver Star for calor for this murder, Aaron feels no honor as he lies awake, tormented by nightmares.
In 2003, light years from what happened in Kosovo, we meet L.T. Bonham (Tommy Lee Jones) tracking an injured wolf through the bright white snows of northernmost British Columbia. He runs with the rubbery, bandy-legged gait of professional tracker, not making a sound, soft on the soles of his feet. This, along with his gentle demeanor, allows him to approach the suffering animal. Once he undoes the trap and treats the wolf's wound, the outraged L.T. marches into the nearest tavern and gives a beating to the man who set the trap.
A thousand miles to the south, in the green woods of Silver Falls, Oregon, L.T.'s former student, Aaron Hallam - now AWOL from the Special Forces - keeps his own brand of wildlife vigil. Two men in hunter's gear, but using rifles with high-powered military telescopes, suddenly hear ghostly taunts from someone they can't see, someone who blends into the trees like a forest goblin. He asks the two riflemen if they think they're being fair to the deer, hunting with such big scopes, then he swirls a knife into the tree, purposely just missing one of them. This triggers a fusillade of gunfire from the two hunters, who are no match for Aaron's lethal skills. With catlike reflexes, he pounces on them brutally, killing them with animal-like swiftness.
But these are not his only victims. In fact, Aaron has viciously killed two other hunters in the area, and the FBI, led by Special Agent Abby Durrell (Connie Nielsen, "Gladiator", "One Hout Photo"), desperate to track down the killer, calls in the one man who can bring him in.
Snug in retirement, L.T. resists the mission every way he can. He's closed off the past and this would only open everything up again. But after studying photos of how the man were gutted like deer, every vital orgam severed, L.T. knows the killer is a man he has trained. Accepting the assignment on the condition he works alone, L.T. walks into the woods -- unarmed, as if tracking another wounded wolf. His final words : "If I'm not back in two days, it'll mean I'm dead."
As Aaron is plagued by bad dreams, L.T. is plagued by bad memories of days spent teaching others to kill. The second he hears Aaron's voice, he remembers his best student very well, and the instant they eye-to-eye, he is riddled with guilt. L.T. knew that Aaron was slipping over the edge, havinf received letters from his tortured pupil begging for help. But not wanting to be pulled back into his past, L.T. had ignored Aaron's plea, and now knows he is partially to blame for the horrific result.
Finally taken into custody, Aaron is sent to a facility in Portland, but he's soon released to operatives from the covert branch of Special Forces he has been working for. Privy to far too many highly classified government secrets, Aaron can never stand public trial, and the covert agents bundle him into a van and whisk him away.
Quickly aware that the agents plan on neatly making him "dissapear", Aaron causes the van to crash and slips off into the surrounding Oregon countryside. The FBI sends additional agents in pursuit, while L.T. pleads with the authorities to let him chase Aaron alone. But despite their mounting body count, the Bureau remains confident they will get their man.
Still, it is only L.T. who can get close to Aaron, and only because Aaron -- like a cat with a mouse -- allows him to. Furious as he is with his former mentor for not responding to his letters, Aaron knows that he and L.T., share a tragic bond that is unbreakable. And, even as they go into their final combat against each other, neither can say with certainty who is "the hunted" and who is the hunter... and who will ultimately emerge as victor.