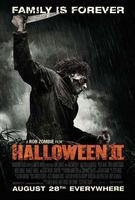 Overview
---
Genre :
Horror, Thriller
Release Date :
August 28, 2009
MPAA Rating :
R
Director :
Rob Zombie
Starring :
Tyler Mane,
Scout Taylor-Compton
,
Malcolm McDowell
,
Brad Dourif
, Sheri Moon Zombie, Chris Hardwick, Caroline Williams,
Danielle Harris
, Daniel Roebuck, Ezra Buzzington, Jeffrey Daniel Phillips,
Mark Christopher Lawrence
, Brea Grant, Margot Kidder

REVIEWS RATE: Critics Readers [Rate It]
Reader's Reviews
---

Rob Zombie's Halloween 2 is now the benchmark as far as modern horror movies go. This is, hands down, the best horror movie ever made....and I know horror movies. I just wish he would make a Halloween 3.
posted by

BillZombie

on Oct 22, 2010 02:27:16

is exelent but you idiot no post links tho download soundtrack
posted by

michael myres

on Oct 12, 2010 01:40:09

This stinking cesspool of a movie should never have been released. From the first frame to the last, it was like watching the contents of a stopped up toilet. All the rooms and backdrops were dark and sleazy looking. All the characters looked like they needed a good bath. The women looked hideous, with mangy hair and dirty punk outfits. What made the John Carpenter original so great was that you had a warm, sweet, feisty young heroine in the form of Jaime Lee Curtis. In this one, you've got a whiny, shrieking, babbling Scout Taylor-Compton, probably the most uncharismatic horror heroine in horror movies. When she's not screaming non-stop, she sobs and goes into convulsions. The Michael Myers monster is like a cartoon. When he kills somebody, he stab and stabs away. As for the dialog, nearly every word is F____. When one of the retards is chopped up, he blubbers for about five minutes, "F__, F___, F___" John Carpenter is probably comatose today over what's been done to his original masterpiece. Like hack director, Michael Bay, Rob Zombie doesn't make original movies anymore. He just trolls through the titles of beloved horror classics and proceeds to destroy them. His next project is yet another horror remake--this time around, "The Blob." Wouldn't it be a miracle if he actually invested the money for "The Blob" into a brand new horror thriller? I am so heartily sick of of this endless parade of remake abominations--especially the travesty of the Keanu Reaves "Day the Earth STood Still" and now this horrific mess called "H2"!
posted by

Stan

on Aug 28, 2010 01:34:34
i love michael myres homeis
posted by

sexymaya

on Jun 04, 2010 09:24:37

Pues a mi me encanta la saga de Halloween, soy un fanático a Michael Myers, he visto absolutamente todas las películas: la 1, la 2, la 3, la 4, la 5, la 6, la 7(H20), la 8 y la 1ªentrega del Remake. TODAS me han GUSTADO muchísimo, yo no se que pasa con la 2ªentrega no se porqué no la han estrenado todavía aquí en España, estoy deseando verla me encanta realmente esta saga :) Quizás estén esperando a octubre para estrenarla aprovechando que sea Halloween pero no lo se...y he leído por ahí que ya se está preparando la 3ªentrega...
posted by

Dani

on Feb 08, 2010 07:27:30
this movie have full screen too or not
posted by

h2 halloween 2

on Jan 28, 2010 03:46:13

Very good halloween its the best one so far. Rob zombie did great its very scary and brutal great job zombie.
posted by

Dach2

on Jan 02, 2010 05:23:42

great movie it was fucking rad the murder scenes where the best very graphic
posted by

mannnynapalm

on Dec 04, 2009 01:30:48

THE MOVIE IS THE BEST MOVIE
posted by

ANTHONY

on Dec 03, 2009 11:07:59

i watched in theaters i can't wait till it comes on dvd
posted by

roxastheemo

on Nov 21, 2009 10:41:56

i cannot wait to get the unrated...YOU GO ROB ZOMBIE!!!
posted by

sce

on Nov 19, 2009 06:40:34

Was a GREAT movie!!!Big Thanks to Rob Zombie who is not letting this great horror story die!!He Keeps getting better with it everytime and im looking forward to the 3rd!
posted by

$ho

on Sep 15, 2009 05:10:19

kicks ass
posted by

imedddy

on Sep 03, 2009 12:44:56

i so wanna see this movie
posted by

j

on Sep 01, 2009 04:57:53

this movie is so brutal, much more than the first, does anyone know when the dvd comes out?
posted by

nemesis

on Aug 31, 2009 12:00:00

I loved this movie. Rob Zombie did a good job of directing it.
posted by

MrBigJohn

on Aug 28, 2009 11:56:51

I am in love with Michael Myers! Ican't wait for the movie to come out!
posted by

love michael myers

on Aug 27, 2009 03:18:48

amazzzzzzing
posted by

chaselover

on Aug 25, 2009 03:24:00

A fun attempt to bring something new to a worn out franchise.
posted by

ugapuppy

on Aug 25, 2009 03:05:47

This comes out on my birthday..best birthday present i'm going to recieve
posted by

hdjwms

on Jul 27, 2009 01:51:33

I cant wait! Rob Zombie is the greatest horror film director ever!
posted by

jm9777

on Jul 26, 2009 03:39:03

TDe76e
posted by

Qqtixosu

on Jul 14, 2009 08:45:14
Does anyone know what the rating for it is yet???
posted by

PeaceKidd

on Jun 15, 2009 08:43:21

I Can't Wait For This Movie To Come Out....AWESOME!!!
posted by

ast

on Jan 26, 2009 11:06:16