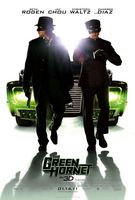 Overview
---
Genre :
Superhero, Action, Adventure
Release Date :
January 14, 2011
MPAA Rating :
PG-13
Director :
Michel Gondry
Starring :
Seth Rogen
,
Jay Chou
,
Cameron Diaz
,
Christoph Waltz
,
Edward James Olmos
,
Tom Wilkinson
, David Harbour,
Taylor Cole

REVIEWS RATE: Critics Readers [Rate It]
Reader's Reviews
---

it's perfect
posted by

hunter

on Apr 20, 2011 02:00:11

best movie in the world
posted by

green hornet

on Feb 11, 2011 12:26:22

dunno y the critics r blasting to the hilt but its a superb movie....just released in india and its a damn good movie......
posted by

mhaseebahmed

on Jan 26, 2011 09:12:10

5 Stars on the strength of what it could have been if a polished director had got ahold of this movie. Still, some good scenes and entertaining. Part II? Like somebody wrote recently, can the fine line between superheroes & martial arts be found???
posted by

Suizo Tico

on Jan 23, 2011 09:44:07

i don't know why critics don't like this movie, it's insanely funny,it has action, and drama all into one. It's like "Kick-Ass". Some say it's the superhero "Superbad".. I say it gets 5 stars.. Excellent movie for the family, it's not too racy or bloody. It just has language and brief violence..that's all.
posted by

Ray Berner

on Jan 20, 2011 09:01:20
its gangsta's paradise by coolio
posted by

kris

on Jan 07, 2011 07:05:33
can't find the name of the song that starts at 0:10.Please help me!
posted by

yurik

on Aug 07, 2010 11:49:43
it su
posted by

dcc

on Aug 03, 2010 10:43:27
my birthday is on january 15 so i'm going to see it for my birthday . sounds cool
posted by

bball

on Aug 02, 2010 12:26:59
Cypress Hill - "Rise Up"
posted by

Nikster

on Jul 08, 2010 10:57:58
I have looked everywhere and cannot find the name of the song that starts at 1:27. I have tried "Rise Up" but got nothing. Does anybody know?
posted by

I want the song name

on Jul 02, 2010 02:21:21
*WAIT
posted by

heatherjrock

on Jun 23, 2010 11:34:52
Cannot WAI to see Jay Chou in action! Love him! <3
posted by

heatherjrock

on Jun 23, 2010 11:34:37
I hope this will be given serious treatment as was "The Dark Knight"; no silly comedy, please.
posted by

vet6757

on Apr 23, 2010 10:02:51
Driven by the murder of a close friend and the realization that his media empire is infested with ruthless heroin smugglers, Britt Reid, as the masked crime-fighter and his human weapon Kato jump into action on a heart-pounding quest to rid the city of this mob once and for all.
posted by

Kato

on May 05, 2009 01:58:54