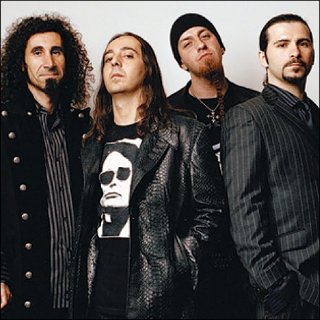 Profile
---
Famous as :
Alternative metal band
Birth Name :
Soil
Birth Date :
1995
Birth Place :
Glendale, California, USA
Claim to fame :
Album "
System of a Down
" (1998)

For the first time included an instrumental music entitled "Hezze" in the second part of their dual album, "Hypnotize," set to be released November 15, 2005.
Not only playing music, some members of the band also took another role: Shavo has handled the band's stage production while also being an editor on "B.Y.O.B." and directing some of their music videos; Daron became the co-producer on "Mezmerize."
Has experienced several times online leaking that happened to "Steal This Album!" (2002), which on the internet was called "Toxicity 2," and "Mesmerize" (2005).
The title of "Steal This Album!" (2002) is a reference to Abbie Hoffman's "Steal This Book."
"Chop Suey!" is made based on a poem by Father Armeni about the Armenian Genocide and has been turned into a parody sung by their fan named Tenacious D.
"Chop Suey!" originally had been named "Suicide," but later was changed although the words "We're rolling Suicide" can still be heard in the final cut's opening seconds.
Their song, "Soil," tells bitterly about Serj's friend from his previous band, Soil, who committed suicide.
"Mezmerize" (2005) also became #1 on the music charts of Germany, Canada, Austria, France, Sweden, Japan, Switzerland, Colombia, Greece, Brazil, and New Zealand.
Was named Best Agitators by Esquire Magazine in its Esky Music Awards in 2005.
"Mezmerize/Hypnotize" was recorded at Rubin's Laurel Canyon studio between June and November of 2004.
Their track called "Cigaro" was leaked intentionally on the internet in January 2005.
Became one of the headliners of Ozzfest tour in 2002 after previously performed on the second stage during 1998 and 1999.
Their song entitled "Streamline" was used as a soundtrack of "The Scorpion King" (2002).
"Steal This Album!" (2002) has five different designs of which one version resembles a CD Recordable labeled with felt-tip marker.
One of their songs from "System of a Down" (1998) entitled "P.L.U.C.K." stands for "Politically Lying, Unholy, Cowardly Killers" which talks about the 1915 Armenian Genocide and was featured in Atom Egoyan's film of "Ararat" (2002).
The song "DDevil" is an amalgamation of four poems written by Serj.
Their producer, Rick Rubin, personally played a bit of piano while adding a few samples and to the mix in "System of a Down." (1998).