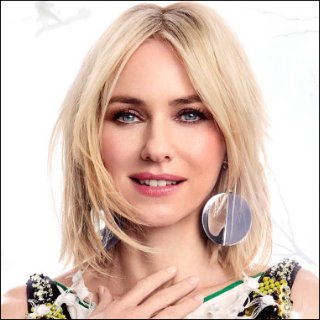 Profile
---
Famous as :
Actress

Birth Name :
Naomi Ellen Watts

Birth Date :
September 28, 1968

Birth Place :
Shoreham, Kent, England, UK

Claim to fame :
As Betty Elms/Diane Selwyn in "Mulholland Drive" (2001)


Was signed up as the new face of Thierry Mugler's signature scent "Angel" in May 2008.
Attended several acting schools in Sydney, Australia and met Nicole Kidman in the very first lesson in the first school.
Picked 7th on Maxim Magazine's list of 9 Hottest Pregnant Women, Ever (November 2007).
Chosen the 2nd Most Eligible Woman in the United Kingdom based on a survey conducted by FHM magazine in February 2006.
Is the 3rd in Entertainment Weekly's list of Entertainer of the Year (December 2005).
Was on May 15th, 2006 tapped as a United Nations special envoy on HIV/AIDS.
Her favorite musicians/bands are Fiona Apple, Coldplay, Björk, Radiohead, Cat Stevens and Pink Floyd.
Her favorite actresses are Meryl Streep, Jodie Foster and Julianne Moore.
Likes to watch soccer, boxing, and tennis.
Claims baked beans as her favorite comfort food.
Has a Yorkshire Terrier named Bob.
Ranked #76 on Forbes 2005 Power in Entertainment List.
Voted the 14th Sexiest Female Movie Star in the Australian Empire Magazine September 2002.
Named one of the 50 Most Beautiful People by People Magazine in 2002.
Appeared in an educational video for teenagers about the positive and negative aspects of credit cards, dubbed "Eddy-Taking Credit."
In 2002 she appeared in the play "Proof" in Melbourne, Australia with Heath Ledger and Rachel Griffiths.
Made appearances in "Rabbits" and "Thank You, Judge," both short video features produced by and broadcast on Davidlynch.com (2002).
Was asked by director David Lynch to be in the movie "Mulholland Dr." (2001) after picking out her headshot from a stack of actors.
Accepted the role for "21 Grams" (2003) without even read the script first.
Starred in and produced "Ellie Parker" (2001), which was made into a kind of cult classic about a struggling actress in Hollywood and the nightmares she encountered.
Once appeared in an Australian television commercial turning down a date with Tom Cruise for her mum's lamb roast.
Wanted to become an actress after seeing the movie "Fame" (1980).
Best friends with Nicole Kidman since a casting call for commercial when they were girls and moved in with her after she spilt up from husband Tom Cruise.
Moved to Australia when she was 14.
Spent some of her early childhood in Llanfawr Farm, a district of Llangefni town where her mother originally comes from.
Her father died when she was 10 and since then she and her brother were taken care by her mother.