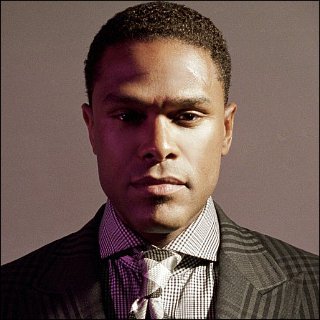 Profile
---
Famous as :
R&B singer
Birth Name :
Maxwell Rivera
Birth Date :
May 23, 1973
Birth Place :
Brooklyn, New York, USA
Claim to fame :
Debut album "
Maxwell's Urban Hang Suite
" (1996)

Biography
---
by AceShowbiz.com
---
Maxwell was born in Brooklyn, New York, on May 23, 1973. When he was just 3 years old, his father died in a plane crash. The experience of losing his father influenced his strong religious background. He spent much of his youth as a loner since he found it difficult mingling with children in his own neighborhood. His fellow classmates nicknamed him "Maxwell House Coffee" and often referred to him as "the quiet nerd who sat at the back of the classroom".

As a loner, young Maxwell spent hours in his bedroom composing a bunch of songs. In crafting the tracks, he was mostly inspired with the traditions of West Indian music he heard inside his home and hip-hop as well as early '80s soul music from the outside. "More than anything I went and found the sounds that I liked," he recalled. "I wasn't necessarily influenced by everything that was around me when I grew up, but having family from four islands in the Caribbean made for a wealth of influences."

Although he had started singing since he was a kid, Maxwell didn't consider to have professional career in music until he was 16. When his friend lent him a keyboard, he began learning how to play musical instruments. Since he had no one to teach him, he was determined to learn by himself. He locked himself in his room and spent most of his days in there, polishing his talent both in playing music and writing songs.

As a teenager, Maxwell had to financially support himself. He had two jobs, as an employee in a movie theater and as a waiter, to pay his school tuition and purchase musical instruments he was interested to learn. Through his jobs, he learned how to to develop his social skills, improving significantly in the essence of "people communication" and interacting with others on a more personal level.

At the age of 19, Maxwell had recoded four demo songs, and showcased them at several events in New York City's clubs. His on-stage experience helped him increase his confidence. Three years later, people started to notice his talent, he was signed to Columbia Records in 2004. With more than 300 original songs in his pocket, he worked on his debut album with songwriter Leon Ware and guitarist Wah Wah Watson. He dropped "Maxwell's Urban Hang Suite" in 1996 and stole people's attention when ...