Profile
---
Famous as :
Tennis player

Birth Name :
Maria Yuryevna Sharapova

Birth Date :
April 19, 1987

Birth Place :
Nyagan, Siberia, Russia

Claim to fame :
The 2nd youngest Wimbledon women's champion in the Open Era (2004)

Biography
---
Despite her young age, Maria Sharapova has reached such a superb accomplishment in her profession as a tennis player. Throughout her career, she has collected a series of titles: one in Grand Slam, WTA Championships, Tier I Event, and seven in WTA Tour Tournaments. Furthermore, she also has received 4 WTA Awards that were WTA Newcomer of the Year in 2003, WTA Player of the Year, Most Improved Player of the Year, and Player Service which were all honored in 2004. Compared to Monica Seles and
Anna Kournikova
, she is indeed the mixture of incredible skills and unusual beauty that brought a kind of phenomenon in sports world, especially tennis. With her excellent technique and talent, she undoubtedly has the potentiality to become the best tennis player in the world.
Born with the name of Maria Yuryevna Sharapova, she is the only child of Youri Sharapov and Yelena Sharapova. Her parents previously had lived in Gomel, Belarus, but left the city in 1986 to avoid the repercussion of Chernobyl nuclear incident. The couple then moved to a town in western Siberia called Nyagan where Yelena delivered their daughter on April 19, 1987. Feeling that it was still close to the location of disaster, the family took along little Maria to seek a safer place in 1989. They later settled in Sochi which has been known as a resort city as well as the home of famous Russian tennis player, Yevgeny Kafelnikov. It was not until she turned to four that she was introduced to tennis through an old racquet given by Kafelnikov's father who happened to be Youri's friend. As her enthusiasm for tennis flourished, she studiously practiced this challenging sport by hitting the ball against the side of her house.
Latest News
---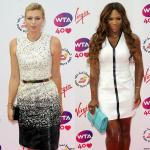 June 24, 2013 08:02:39 GMT
Maria Sharapova
has responded to
Serena Williams
. Sharapova was miffed after Williams was believed to have made an unfavorable comment about the blonde tennis player's relationship with Grigor Dimitrov, Williams' rumored ex, during an interview on Rolling Stone's latest issue.
...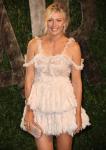 September 01, 2012 19:01:48 GMT
Tennis sweetheart
Maria Sharapova
and fiance Sasha Vujacic have called off their engagement. In a press confrence after U.S. Open match on Friday, August 31, Sharapova said they are no longer together and she has been waiting for someone to ask about it.
...