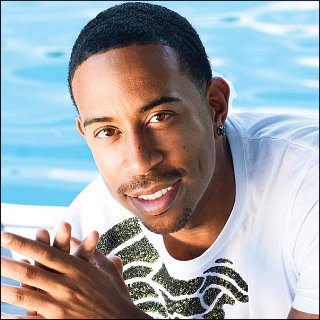 Profile
---
Famous as :
Rapper
Birth Name :
Christopher Brian Bridges
Birth Date :
September 11, 1977
Birth Place :
Champaign, Illinois, USA
Claim to fame :
Album "
Back for the First Time
" (2000)

Biography
---
by AceShowbiz.com
---
Christopher Bridges, better known as Ludacris, is an American rapper and actor. He was born on September 11, 1977 in Champaign. Began rapping at an early age, Bridges joined a Chicago, Illionis-based crew at the age of 12 before he moved to Atlanta, a place where he would go on to make a name for himself as one of the most prominent Dirty South rappers in this era, and rapping his way through high school.

Bridges firstly began his music career as a radio DJ personality, Chris Lova Lova, on the Hot 97 urban radio station in Atlanta, Georgia, and made his mark rapping over promos on the night show. He later made his recorded debut on "Phat Rabbit", a track from Timbaland's 1998 album "Tim's Bio: Life from the Bassment." Saving enough money to fund the recording of an album, Bridges adopted the name Ludacris and released "Incognegro" on his own Disturbing Tha Peace Entertainment label.

Supported by the success single "What's Your Fantasy," the album went on to sell over 50,000 copies with most of them were sold out of the trunk of Ludacris' car. The success, indeed, attracked many major labels to sign him, but the rapper went for Def Jam Records' new South imprint, under whom he recorded several new tracks with leading producers Organized Noise, Jermaine Dupri and Timbaland for a remixed version of "Incognegro." Renamed his first album "Back For The First Time," it spawned another hit single "Southern Hospitality" (2001) which became an even bigger urban radio and video hit, achieving heavy MTV2 airplay and moderate MTV airplay.

Following "Incognegro" two hit singles was its third single "Ho" that became a controversy and was banned on many radio stations due to its lyrics. Because of the same reason, this single video, too, was not played by MTV, MTV2, or even BET, although it was available online at Launch for some time. After the dispute, during the summer of 2001, Ludacris along with singer Nate Dogg released a single off of the "Rush Hour 2" soundtrack called "Area Codes." Nearly the same with "Ho," this song also became a dispute because a continuation of the lyrical themes was started with "Ho." As a solution, the song and video were only played in an edited version, in which all uses of the word "ho" were replaced with the word "pro."

Never mind about the controversies, ...