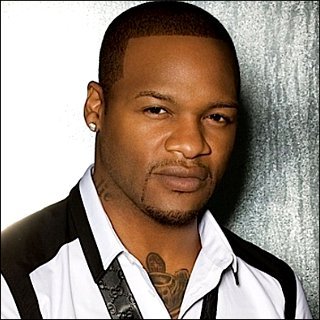 Profile
---
Famous as :
R&B singer
Birth Name :
Jaheim Hoagland
Birth Date :
May 26, 1978
Birth Place :
New Brunswick, New Jersey, USA
Claim to fame :
Album "
Ghetto Love
" (2001)

Biography
---
by AceShowbiz.com
---
Two of his partly labeled 'ghetto' albums in 2001 and 2002 were only on the verge of reigning #1 in the U.S. Billboard 200 chart, though Jaheim's third album "Ghetto Classics" successfully rammed the top position on February 24, 2006. Knocking down the previous week's frontrunner Jack Johnson with his soundtrack album "Curious George", "Ghetto Classics" sold over 152,000 units in the first week sale. Blessed to work under three great producers of Scott Storch, KayGee and Bink for the R&B album, he also released the first single "Everytime I Think About Her" which featured rapper Jadakiss. Next on his agenda were the release of single "The Chosen One" and the shooting of the clip as well. He chose the song to be the second single because as he mysteriously claimed, the ballad song was a tribute to an important woman in his life.

Born Jaheim Hoagland in 1979, the African-American singer was raised in the public housing of New Brunswick, New Jersey. Little Jah was lucky to be born in such a loving family, but things changed drastically when his father died in 1981, leaving Jah, his mother Julia Hoagland and his younger brother Taquane to be drowned in deep sadness. Fortunately having a lot of relatives, they relied on each other by gathering and singing. "Singing was my way out. No matter how hard life got, I could always make myself and my Mom feel better with a song. It was our salvation," he recalled those heart-breaking phases. The Hoaglands were actually very musical. Jah's grandfather, Victor Hoagland often sang for groups including the famous doo-wop band, The Drifters in 1960s. That was how Jah inherited the vocal gift that led him to become the singing star in the family reunions and local talent contests. Supported by his family, he continued to sing his heart out in those competitions before finally went through in one of the toughest talent shows in U.S., the Apollo Theater. Winning three times when he was only 15 years old, Jah was already claimed as the next Luther Vandross.

The happy times were brought down when his mother died by the time he was only 17. Though, he refused to sink in deep grieve saying "When I lost my Mom I thought I lost everything. But I had to be strong for my little brother...I'm the strength now." Pulling himself up, he retained ...