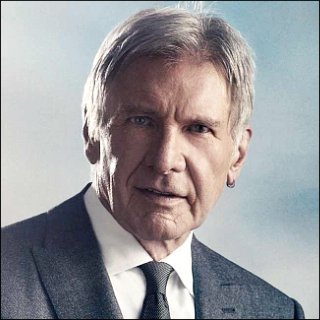 Profile
---
Famous as :
Actor

Birth Date :
July 13, 1942

Birth Place :
Chicago, Illinois, USA

Claim to fame :
As Han Solo in "Star Wars" original trilogy


Biography
---
by AceShowbiz.com
---
It would be very common for celebrities to start young in their career. It didn't happen so to Harrison Ford for the pinnacle of his career only came at the ripe age of 35 when he attained a big role in "Star Wars" (1977) as Han Solo, the mischief Luke Skywalker's team member. Although there was a bumpy ride to go up the hill, the rest of the ride was all downhill. In 2002, the total salary he grasped reached up to $100M for 11 films, with Tom Hanks, Tom Cruise and Mel Gibson tailing behind. The record would definitely nail him as the most bankable actor in history. Ford's effort to gain success was fascinatingly by a strange quirk of fate. Many interesting 'by-chance' incidents in his pre-famous life led him to what he is now.

Peeping into his childhood, teenage and adolescent life, it seemed impossible that he would become a star one day. Ford was born on July 13, 1942 in Chicago. His father, Christopher Ford was an Irish Catholic while his mother, Dora Nidelman was a Russian Jewish. Ford was a shy and gentle kid back in Maine Township High School in Park Ridge. Being bullied was a daily activity but like Indiana Jones, the character he would play in the future, he didn't take revenge and kept calm. He graduated from the school in 1960 and immediately registered to Ripon College in Wisconsin. In this school, his life wasn't so fortunate either. He was neither particularly sporty nor excel in his studies. Depression came as early as his first year. He would sleep during the day, stop attending classes and failed most of the classes. The future was bleak, but he found a new field in which he had grown so fond of, acting. Not only discovering his talent in this new activity, but he also found his college sweetheart, Mary Marquardt. They were married in 1964, a year after he quitted college because he was not qualified for graduation. The pair had two sons, Benjamin and Willard.

For the sake of pursuing acting, he moved to Los Angeles, California where there was an interview for Young Talent Program. After the interview, he left without hoping that he'll get the job. However, as he went down to take a pee, one of the officials came running down towards him and offered a salary of $150 ...