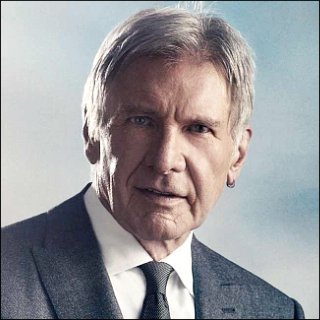 Profile
---
Famous as :
Actor

Birth Date :
July 13, 1942

Birth Place :
Chicago, Illinois, USA

Claim to fame :
As Han Solo in "Star Wars" original trilogy


He and Calista Flockhart won the 10th spot on Forbes' list of Hollywood's 20 Top-Earning Couples, earning $22 million between June 1, 2007 and June 1, 2008.
Was 1998 People magazine's Sexiest Man Alive.
Sitting in 3rd position in the 2005 "America's Favorite Movie Stars" together with John Wayne.
Noted in the list of 2001 Guinness Book of Records as Top-Grossing Actor.
Credited as Harrison J. Ford to avoid the confusion with Harrison Ford, the silent screen actor who had exactly the same name.
Developing interest in broadcasting in Maine Township High School in Park Ridge, Illinois and was the first voice heard in the school's inaugural on-air radio show.
Had his divorce from wife Melissa Mathison listed as the No. 4 Most Expensive Celebrity Divorce according to Forbes.com, cost him an estimated $85 million in settlement (April 2007).
Ranked 10th in the nationwide Harris Poll of America's Favorite Movie Stars in 2007.
Was in the same movies with 4 cast of The Lord of the Rings trilogies, John Rhys-Davies in "Raiders of the Lost Ark" (1981), Viggo Mortensen in "Witness" (1985), Sean Bean in "Patriot Games" (1992), and Miranda Otto in "What Lies Beneath" (2000).
By the time he did "Hollywood Homicide" (2003), the total gross of all his movies reached $ 3,18 billion in US box office and around $ 5,65 billion worlwide, maiking his movies the largest box office grosses in history at that time.
His daughter, Georgia and Eddy Murphy's son, Elliot are friends.
His daughter Georgia attends Wildwood School in Los Angeles, the same school that the children of Demi Moore, Eddy Murphy, Bruce Willis and Steven Spielberg attend.
Rescued a 20-year-old hiker, Sarah George, who was dehydrated on top of Table Mountain close to his ranch in Wyoming.
Flies himself between New York City and Wyoming homes.
Owns a Bonanza, Gulfstream IV, DeHavland Beaver, and Bell 407 helicopter but destroyed first the 407 during simulated "engine-out" practice.
Had flown more than 1 million youngsters since 1992 and was pointed as the chairman of Experimental Aircraft Association (EAA) Young Eagles Program in 2004 where he would teach children to fly.
Was fascinated by the beauty of Bowen Island during the filming of "Firewall" (2006) and immediately bought a $13 million property for his fiancee Calista Flockhart.
Accepted the 2003 Oscar on the behalf of director Roman Polanski for his work in "The Fugitive" (1993).
Was limping in one of the scenes of "The Fugitive" (1993) after injuring a ligament in his knee in the forest chasing scene.
Took the role of Henry Turner in "Regarding Henry" (1991) after knowing that he would appear as a lawyer for only the first ten minutes.
Was able to apply his real life skills in carpentry in the movies "Witness" (1985) and "The Mosquito Coast" (1986).
Han Solo was ranked at #14 on the American Film Institute's Top 200 List of Cinema's Greatest Heroes.
Referred his character, Han Solo as "The great rapscallion of the universe."
Suggested the change of the reply line "I love you too" to "I know" after Princess Leia said, "I love you" to Han Solo.
His co-star Carrie Fisher who played Princess Leia had to stand on a box for most of her scenes with him in the Star Wars trilogy because she was a foot shorter.
Is the good friend of Billy Dee Williams, his co-star in "Star Wars: Episode V - The Empire Strikes Back" (1980).
Was helped by the actor who played as Obi-Wan Kenobi, Alec Guiness, to find apartment during the filming of "Star Wars" (1977).
Never signed any contract for his roles in the Star Wars trilogy.
His name was mentioned in a song by folksinger Christine Lavin and the group Souvenirs had a hit in the late 1990s with a song named after the actor.
His favorite song is "On the Edge", by his favorite artist, Patrick Rondat.
His Indiana Jones jacket and sun-hat are on display at the Smithsonian Institution.
The American Film Institute voted his character, Indiana Jones, as the second Greatest Screen Hero of All Time.
Objected to the idea of using Sean Connery as his father in "Indiana Jones and the last Crusade" (1989) but enjoyed working with him in the end.
Suggested River Phoenix to play the young Indiana Jones in "Indiana Jones and the Last Crusade" (1989). Phoenix was Ford's son in "The Mosquito Coast" (1986).
Frightened Steven Spielberg and the rest of the crew in the filming of "Indiana Jones and the Temple of Doom" (1984) when suddenly ran out across the rope bridge used in the film, which was being tested for its safety.
Suffered from a back injury while filming "Indiana Jones and the Temple of Doom" (1984) and required surgery. So, Steven Spielberg used Vic Armstrong, a stunt who looked like Ford's twin.
Suffered from a back injury while filming "Indiana Jones and the Temple of Doom" (1984) and required surgery. So, Steven Spielberg used Vic Armstrong, a stunt who looked like Ford's twin.
Was having a problem with his stomach during the filming of "Raiders of the Lost Ark" (1981), causing the action scene to be cut to 'simply shoot the bad guy'.
Took the role President James Marshall in "Air Force One" (1997) from Kevin Costner while his intended role as Joe Darrow in "Dragonfly" (2002) was taken by Costner.
Gave up the roles in "Proof of Life" (2000) as Terry Thorne to Russell Crowe, "The Perfect Storm" (2000) as Capt. Billy Tyne to George Clooney, and in "The Patriot" (2000) as Benjamin Martin to Mel Gibson.
Contributed the sound of whip-cracks on the song "Desperation Samba (Halloween in Tijuana)" by Jimmy Buffett.
Admitted that he has some false teeth in "Late Show with David Letterman" in 1993.
Got the famous scar on his chin after losing control of his car while attempting to put on the seatbelt. The scar was explained in "Indiana Jones and the Last Crusade" (1989) as mark caused by a whip.
His favorite movie in which he'd starred in was "The Mosquito Coast" (1986), while "Blade Runner" (1982) was the most frustrating movie he had done.
His divorce settlement from Melissa Mathison reached up to $85 million and thus was regarded the most expensive in the history of Hollywood.
His ex-wife, Melissa Mathison was the screenplay writer of "E.T. the Extra-Terrestrial" (1982) and "Kundun" (1997). The latter caused Ford to be banned from entering Tibet.
Built himself a white ranch house in Jackson Hole, Wyoming and lived in it.
Owns a loft in Tribeca, NYC.
Central American ant (Peidole Harrisonfordi) and spider (Calponia Harrisonfordi) were named after him in honor of his conservation work.
Was honored to name a new breed of Tanzanian butterfly due to his contribution to environment and he named it Georgia, after his daughter.
Was the recipient of the 2000 Lifetime Achievement Award by American Film Institute.
Ranked 46th Greatest Movie Star of All Time by Entertainment Weekly.
Was number 8 Star TV's "Top 10 Box Office Stars of the 1990s" in 2003.
Listed as one of the 50 Most Beautiful People in the World in 1997 by People magazine.
Settled in the first spot of Empire (UK) magazine's "The Top 100 Movie Stars of All Time" list in 1997.
Positioned in 15th place as one of the "100 Sexiest Stars in Film History" by Empire magazine in 1995.
Appeared as Mac the Knife in the musical play, "The Threepenny Opera" during his college years.
Was a member of Sigma Nu Fraternity back in college.