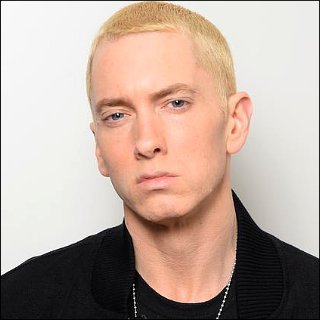 Profile
---
Famous as :
Hip hop musician
Birth Name :
Marshall Bruce Mathers III
Birth Date :
October 17, 1972
Birth Place :
Kansas City, Missouri, USA
Claim to fame :
Album "
The Slim Shady LP
" (1999)

Voted the 6th in Forbes magazine's "Hip-Hop Cash Kings" list in August 2007 with an estimated earning of $18 million by 2006.
Contributed an undisclosed amount of donation on May 10, 2007 to Hip Hop 4 Habitat, a project where members of the hip hop community will build a home for a needy family.
Released his semi-autobiographical movie "8 Mile" in November 2002.
Signed 30 bricks from the demolished Detroit Artillery Armory on 8 Mile in Oak Park, as part of charity to revitalize 8 Mile Road (May 2005).
Chosen the 10th Most Searched for Celebrity among UK web users in a poll held by Web analysis firm Hitwise in November 2006.
Has his single "Stan" voted the 2nd Most Memorable Music Video Ever by viewers of MTV show The Box (December 2005).
Voted the 82nd Greatest Rock 'n' Roll Artist of All Time by Rolling Stone.
Teamed up with shoe giant Nike to design limited-edition uppers of eight different shoes of the company's Air Max series, from the Air Max '87 to Air Max 360 (August 2006).
Set up a website, BigProof4Ever.com, as a way to pay tribute to his late rapper pal Proof with all proceeds from the Web site go to the Big Proof Forever Foundation, an organization that will benefit Proof's 5 children (July 2006).
Had his publishing companies, Eight Mile Style and Martin Affiliated, settled an undisclosed settlement with Cellus USA to stop the company from selling ringtones of his songs via the Internet.
His album "Curtain Call" is at No. 8 in the 2005's global charts.
Ranked #8 in Yahoo's annual list of the Most-Searched for Names on the Internet (2005).
Was among the biggest names in hip-hop, both dead and alive, contributed to "The Notorious B.I.G. Duets: The Final Chapter".
Once took treatment for his dependency on sleep medication (August 2005).
Came in second at the 1997 Rap Olympics in Los Angeles.
Worked as a short-order cook at a Michigan family restaurant called Gilbert's Lodge in order to help support his mother.
Is a fan of Detroit Pistons.
Was voted #3 for Entertainer of the Year in "Entertainment Weekly" magazine (December 22/29, 2000).
Was the only guest artist appearing on Jay-Z's album, "The Blueprint."
Got his joint custody of daughter Hailie Jade in 2001.
Eminem's favorite movie of all time is "Scarface" (1983).
Has become the only white person to ever be on the cover of "The Source" and "XXL" magazines.
Would like his daughter, Haile Jade, to become an actress.
Has ever had an operation on his knee, which resulted to his awkward stance at numerous performances.
In 1990, along with Proof and their 4 other friends, Eminem formed one group named D-12 short for Dirty Dozen.
Has raised an AIDS awareness through his song, which theme is about an HIV positive person who has slept with several people in a group of friends.
Was made an honorary priest by the Raelians Religious Movement, a nonviolent religious group, as he's been linked to support the Leary Fire Fighters Foundation.
Supports the American troops but does not believe in support for the war on terrorism.
Supported the Boys and Girls Club of America with various proceeds donated as he linked to U2's "Songs of Hope."
Lent his voice to the United States TV show, the "Crank Yankers," and a web cartoon called "The Slim Shady Show," which has since been pulled offline and is sold on DVD instead.
The release of Eminem's video "Just Lose It" displeased Michael Jackson for it parodies Jackson's troubles (October 2004). Though some televisions stopped airing the video, it became the number-one requested video on MTV TRL.
His lyrics in an unreleased song "We as Americans" which scattered onto the Internet was considered by the United States Secret Service to have threatened the President of the United States (December 8, 2003).
Has a cameo appearance in "The Wash" (2001).
In 2001, Eminem wrote a book called "Angry Blonde" in which he reveals the emotions and intent behind the lyrics in the "Marshall Mathers LP,"and describes his passion and approach to rapping.
The backwards-E in his stage name is always shown reversed and has become a logo since his 2nd album "The Marshall Mathers LP."
In 2000, Eminem and his manager, Paul Rosenberg, created their own record label "Shady Records."
His album "The Slim Shady LP" (1999) went triple platinum.
Began performing since 13 and later gained some popularity with a group called "Soul Intent."
Owns his clothing line called "Shady Ltd."
Once pleaded guilty to a weapons charge.
Married Kim in St. Joseph, Mo.
Is a fan of fast food chain Taco Bell & Wendy's.
Has a tatoo of his daughter on his right lower shoulder.
Eminem is wearing glasses and probably the one and only artist to cut his own hair.
He actually dreamt of becoming a comic book artist.
The name of Eminem was taken from his initials M(arshall) M(athers).
A week before the U.S. presidential election (2004), Eminem's song "Mosh" features anti-Bush message was released on the net. The song actualy is an anti-war/anti-violance song which represents Eminem's political convention in response to the National Po
In November 2003, Eminem went to court for racial controversy in his 1988 cassette, which features him performing a freestyle rap in which he is calling black women "stupid" in comparison to white women.
In 2002, two songs about Eminem have been written by a small time Christian rapper KJ-52. It fittingly titled "Dear Slim" and "Dear Slim Pt. 2."
Eminem and SIRIUS created their own an uncensored and commercial-free hip-hop radio channel dubbed "Shade 45."
In 2003, Eminem and Dr. Dre signed on Atlanta rapper Stat Quo.
His performance of "The Real Slim Shady" and "The Way I Am" at the 2002 MTV Video Music Awards while leading a procession of Eminem-lookalikes, is regarded as one of the best performances on the VMA's.