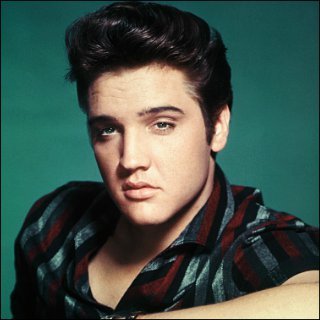 Profile
---
Famous as :
Rock and roll singer, actor

Birth Name :
Elvis Aaron Presley

Birth Date :
January 08, 1935

Birth Place :
Tupelo, Mississippi, USA

Claim to fame :
Single "Hard Headed Women" (1958)


Ranked 1st on Forbes.com's 7th annual list of Top-Earning Dead Celebrities, taking in an estimated $49 million during the 2007.
Included in GQ magazine's list of 50 Most Stylish Men in the Past 50 Years (September 2007).
Had his gold-plated gun sold for $28,800 and his prescription pill bottle raised $2,640 at the annual Julien's Summer Auction held June 16, 2007 at the Beverly Hilton Hotel.
Ranked 2nd on Forbes' 6th annual Top-Earning Dead Celebrities list conducted in 2006 with earnings of $42 million.
Ranked 1st in a poll conducted by Forbes magazine on Big-Time Moneymaker with estate earned an estimated $52 million (June 2006).
The first home he owned has been sold for $905,100 on the online auction service eBay (May 2006).
Has his Memphis home, Graceland, named a US National Historic Landmark by March 27th, 2006.
Voted the 3rd Greatest Rock 'n' Roll Artist of all time by Rolling Stone.
Inducted into the Gospel Music Hall of Fame, sponsored by the Gospel Music Association, in 2001.
Inducted into the Country Music Hall of Fame in 1998.
Was an Honorary Member of Tau Kappa Epsilon Fraternity.
Was one of the first people in the U.S. to own a "Betamax" system VCR.
Paid a visit to President Richard Nixon at the White House in Washington, D.C. on December 21, 1970.
Gave a robe to Muhammad Ali which said "The Peoples Champion."
Owned a pet chimpanzee called "Scatter."
He previously was an Army veteran, drafted in 1958, stationed in West Germany and discharged in 1960.
Thought The Beatles were a bad influence on America's youth, despite the fact that they admired him very much.
His Graceland mansion is the 2nd most-visited house in America after White House.
Highway 51 in front of Graceland mansion is officially renamed Elvis Presley Boulevard.
Bought Graceland mansion, consists of 23 rooms and 13.7 surrounding acres, from Mrs. Ruth Brown Moore for $102,500 on March 19, 1957.
Fell in love with Elizabeth Montgomery on the set of "Kid Galahad" (1962), yet she was married to Gig Young. So Elvis and Montgomery remained good friends until he died.
Always sent a roomful of flowers to Ann-Margret whenever she opened up a show in Las Vegas. He did this from the first time they met 'till his death.
He was buried wearing the same ring he gave to his entourage.
On his gravestone his name is written as "Elvis Aaron Presley," while his name actually is "Elvis Aron Presley."
The day before he died, Elvis tried to get a print of "Star Wars" (1977) to show his daughter, Lisa Marie Presley.
The last film he saw at the cinema was "The Spy Who Loved Me" (1977).
Died with about $5 million in his bank account.
At the time of his death, Elvis was reading "The Scientific Search for the Face of Jesus" by Frank O. Adams, (Psychical Aid Foundation, USA, 1972).
Buried at Graceland Estate, Memphis, Tennessee, USA and on August 18, 1977 his body was placed in a family crypt in Memphis.
Suffered from chronic insomnia.
Had glaucoma in the 1970s.
His favorite TV shows were "The Jeffersons" (1975), Good Times, Happy Days, and "The Flip Wilson Show" (1970).
The Holy Bible and The Impersonal Life were his two favorite books.
His favorite actors were Marlon Brando and James Dean, whom he credited in a 1956 interview as an acting genius.
His favorite sports were raquetball and football.
His favorite films include "King Creole" (1958), "Rebel Without A Cause" (1955), "A Streetcar Named Desire" (1951) and "Dirty Harry" (1971).
Shown on a 5.50 kr postage stamp issued by Sweden in 2004.
In June 1993, the U.S. Postal Service outed a commemorative stamp that featured his image.
Had a biography "Elvis: A Biography" released in 1971.
"Country Song Roundup" magazine was the first to feature an article on Elvis, calling him a "folk music fireball" (September 1955).
Purchased a poor black East Memphis woman an electric wheel chair, picked her up and personally sat her in it (1976). He gave his car to the woman's teenage daughter after she told him she liked his car and he also got her boyfriend a job.
Helped to support an All-Negro Day at the Memphis Zoo in 1956.
By the time he dead, Elvis was the second biggest selling recording artist of all time after Bing Crosby.
Once attended a concert for singer Connie Francis, but left for emotional reasons when he heard her sang the Italian song "Mama" as his mother had just recently died.
Held a single day's attendance record for his March 74 shows at the Houston Astrodome in March 1974, with 89,000 fans attending two shows.
Held the world indoor attendance record for a concert, which was at the Pontiac Silverdome in Detroit, on December 31, 1976. There was 62,500 in attendance, with another record for takings in a single show $850,000.
Was the #1 touring act in America for the year of 1977.
Spoofed in Eminem's music video "Without me."
Mentioned in Shania Twain's song "That Don't Impress Me Much."
Mentioned in Marillion's song "Three Minute Boy," taken from their 1998 album "Radiation."
Only performed two concerts outside of the United States, both in Canada.
Sang the gospel song "Peace In The Valley" on Ed Sullivan show though Sullivan asked him not to.
A remix of his "A Little Less Conversation" song, which was featured on the soundtrack of "Ocean's Eleven" (2001), became a Billboard #1 hit single over 20 years after his death.
His 1960 single "It's Now Or Never" is one of the best selling singles of all times with sales estimated between 25 and 30 million copies.
Gave his personal entourage, called "Memphis Mafia," matching diamond and gold rings sported a thunderbolt and the letters "TCB" standing for "Take Care of Business."
His debut album "Elvis Presley" earned him his first gold album award.
His song "Heartbreak Hotel" (1956) was the No. 1 country song of the year 1956 and it then went Gold.
Had sold over 1,000,000,000 albums worldwide; more than any other musical artists/groups in the world, including The Beatles.
With twelve albums selling over 2 million copies, Elvis has more multiplatinum album sales than any other performers.
Had himself portrayed by Kurt Russell in "Elvis" (1979/I) (TV), Bruce Campbell in "Bubba Ho-tep" (2002), Jonathan Rhys-Meyers in "Elvis" (2005) (mini), Tyler Hilton in "Walk the Line" (2005) and by Val Kilmer in "True Romance" (1993).
Was offered roles in such films, as "The Rainmaker" (1956), "Defiant Ones" (1958), "Cat On A Hot Tin Roof" (1958), "West Side Story" (1961), "Sweet Bird Of Youth" (1962), "The Fastest Guitar In The West" (1967), "Midnight Cowboy" (1969), "True Grit" (196
Was filmed from the waist upwards on Ed Sullivan's "Toast of the Town" (1948).
In April 1955, he auditioned for a spot on Arthur Godfrey's "Talent Scouts" (1948) and was turned down.
Turned down the role of Kris Kristofferson in "A Star Is Born" (1976) because his manager wouldn't permit him to act in a movie where he wouldn't have top billing.
Made his television debut on the regionally telecast "Louisiana Hayride," March 5, 1955 in Shreveport, Louisiana.
His first ever musical video of all time was "Jailhouse Rock" (1957).
Some of his trademarks are; the famous left sided grin, sideburns, and the movement of the pelvis that gave him the nickname he hated so much "Elvis, the pelvis."
Sometimes credited as The Pelvis, The King, and The King Of Rock 'n' Roll.
Had ever become a Deputy Sheriff in Shelby County, Tennessee.
Had ever worked at Parker Machinists Shop, Precision Tool Company, and Crown Electric Company.
In 1960 he earned a black belt in karate.
Recorded 33 takes of Hound Dog.
Wood shop was his favorite class in high school.
During the 60s and early 70s he used to play touch football at Whitehaven High School with kids around the neighborhood.
Loved football very much and often had three televisons set up at Graceland to watch all of the games.
Was on the Humes High School boxing team when he was studying there.
Extremely generous to family, friends and even total strangers.
Was a born again Christian who loved to sing gospel music.
His mother bought him his first guitar at age 12.
Is a distant cousin of President Jimmy Carter.
Is a direct descendant of Isaiah Harrison, who is Abraham Lincoln's great-great grandfather.
Survived a tornado in Tupelo, Mississippi, which killed 233 infants.
Was delivered 35 minutes after his twin brother Jesse Garon Presley who sadly died at birth.
Died on August 16, 1977 and his autopsy detected ten different drugs in his bloodstream.