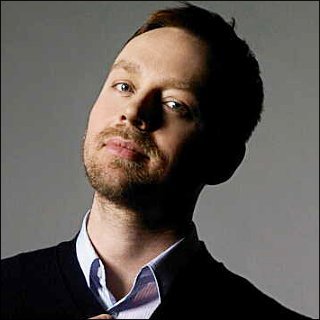 Profile
---
Famous as :
Singer
Birth Name :
Darren Stanley Hayes
Birth Date :
May 08, 1972
Birth Place :
Logan City,Brisbane, Australia
Claim to fame :
Album "
Spin
" (2002)

His favorite place in the house is kitchen.
Is managed by Leonie Messer and Wendy Laister.
Does not have any tattoos or apply body piercing.
Was given the nickname of Dozer by his father who thought Darren just looked like a bulldozer.
Has 2 kangaroos named Mork and Mindy.
His dog, Obi, is named after Obi-wan Kenobi of "Star Wars."
Likes watching TV series of "Seinfeld," "Friends," and "Mad About You."
Likes Biology, Art, and English subjects.
Loved to watch Wonderwoman, Scoobydoo, and Smurfs cartoon when he was a child.
Had ever worked at Woody's Record Store and a video store.
Prefers skimmed milk, yogurt, and healthy food.
Would love to be a teacher and a daddy if he weren't a singer.
Fell offstage twice; in Spain (1997) and Brisbane (1998).
A huge fan of "Star Wars," so he likes to collect the film figures.
The first concert he went to was Alison Moyet Festival Hall in Brisbane.
His favorite places are San Francisco and Paris.
His favorite food including Starbucks Coffee, Baskin Robbins Peanut Butter and Chocolate Ice cream, Dr Pepper, Linguini with Pesto Sauce, and Cherry cola.
His favorite childhood book is C.S Lewis' "The Lion, the Witch and the Wardrobe."
His favorite color is dusky blue.
His most favorite Savage Garden's track is "I'll Bet He Was Cool."
His favorite artists are U2, Basement Jaxx, Prince, Michael Jackson and Madonna.
His favorite actors including Harrison Ford, Steve Buscemi, and Raph Fiennes.
His favorite actresses are Grace Kelly, Natalie Portman, and Ellen DeGeneres.
Does yoga under the instruction of Sharon Millington, his PA and personal trainer.
Dislikes rudeness and lazy waiters.
Would like to be a monkey, mogwai, or Stitch if he could be an animal.
His first car was Mazda 808.
Grew up listening to the music of Fleetwood Mac and Motown.
Has 3 dogs: 2 cocker spaniels named Obi and Oola, and 1 English cocker spaniel, Wally.
Likes surfing the Internet and watching movies.
Loves reading Anne Rice's novels.
Had been a teacher in a kindergarten.
Went to the concert of Eurythmics' Peace Tour, U2's Zoo TV, Michael Jackson's Bad Tour.
According to him, the best song ever written is "With Or Without You" by U2.