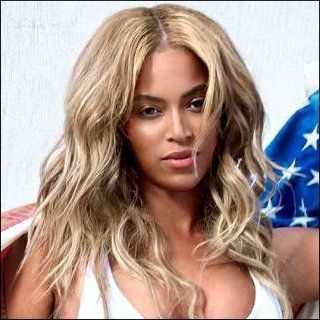 Profile
---
Famous as :
R&B singer
Birth Name :
Beyonce Giselle Knowles
Birth Date :
September 04, 1981
Birth Place :
Houston, Texas, USA
Claim to fame :
Album "
Dangerously in Love
" (2003)

Ranked 4th in Forbes magazine's annual list of "100 Most Powerful Celebrities" in 2008.
She and Jay-Z won the No. 1 spot on Forbes' list of Hollywood's 20 Top-Earning Couples, earning $162 million between June 1, 2007 and June 1, 2008.
She and boyfriend Jay-Z were listed as a Power Couple on Time magazine's 100's Most Influential People of 2006.
One of her favorite songs is "Lovefool" by the Cardigans.
She and Jay-Z were given a fake fur throw as a wedding present by People for the Ethical Treatment of Animals (PETA) in April 2008.
Included in People Magazine's list of The Best Dressed Stars of 2007, named the Showtopper.
Earned the 2nd position in In Touch Magazine countdown of top 10 "Best Bottoms In Hollywood" in August 2007.
Ranked 5th in In Touch Weekly Magazine's Hollywood "Beach Bums" list in 2007.
Chosen 5th on the poll of the Most Wanted Star Hairstyles conducted by In Touch Magazine in November 2006.
Named the Triple Threat at Life & Style Magazine's 2nd Stylemaker's Awards, held September 14, 2006 in Los Angeles.
Chosen as one of the Sexiest Stars in America in the poll conducted by In Touch Magazine (August 2006).
Makes the cover of "Fashion Rocks", a new style/music magazine hit stores August 1, 2006, alongside Jamie Foxx, her co-star in "Dreamgirls" (2006).
Writes and produces many of Destiny's smash hits, such as "Jumpin Jumpin", "Bootylicious", "Nasty Girl", "Independent Women", "Happy Face" and "Apple Pie a la mode".
In 2002, she co-starred Mike Myers in the box-office blockbuster "Austin Powers" and recorded a single for its soundtrack called "Work It Out."
Her name came from her mother's maiden name.
In 2002, she was ranked #7 in Stuff Magazine's "102 Sexiest Women in the World".
Her favorite rapper is Wyclef Jean.
In 2001, she became the first African-American woman to ever win the ASCAP Pop Songwriter of the Year Award.
Ranked 7th on Yahoo's annual list of Popular Search Terms in 2006 and 5th the following year.
Had her legs chosen as the 5th Hollywood's Sexiest Legs according to a poll conducted by Life & Style Magazine in March 2007.
In September 2007, she canceled a gig in Malaysia after not wanting to cover up from shoulder down which is part of the country's rule for female performers.
Launched her new 'Beyonce' branded limited edition 'B'Phone,' a special edition Samsung UpStage SPH-M620 Sprint-mobile phone, at the Samsung Experience Store in New York City on October 11, 2007.
Was one of People Magazine's "50 Most Beautiful People" for Most Wanted Lips (2004).
Teamed up with Kelly Rowland to build the "Knowles-Rowland Temenos Place Apartments" in Houston, aimed to provide permanent living accommodations for people who are trying to improve their lives after the trauma of personal and natural disasters (Sep 07)
Accidentally exposed her breasts during a concert at a launch party for her clothing line, "Dereon," in Toronto, Canada, in August 2007.
Tapped to be the new face of American Express, a diversified global financial services company, headquartered in New York City, best known for its credit card, charge card and traveler's cheque businesses in August 2007.
Visited two fans who were mildly injured during her concert after a firework escaped to the audience seat in July 2007.
Named International Solo Artist of the Year at the 2007 Glamour annual events held June 5th.
Tapped to be the face of Giorgio Armani's new perfume, Emporio Armani Diamonds (May 2007).
Broke the record of becoming the first non-Hispanic star to ever make People en Espanol's "50 Most Beautiful" list (May 2007).
Promotes Tommy Hilfiger's perfume, "True Star" and also appears in Pepsi and L'Oreal ads.
She along with boyfriend Jay-Z were named the Sexiest Couple in the so-called "What is Sexy?" list compiled by Victoria's Secret in April 2007.
Ranked 8th in a poll on World's Sexiest Bodies compiled by women magazine Glamour in April 2007.
In 2004, she sang three of the five Oscar-nominated songs at the 76th Annual Academy Awards, including one completely in French.
Has been billed as the 2007 cover girl for the Sports Illustrated Swimsuit Edition.
Plays Alice from "Alice in Wonderland" in the "Year of a Million Dreams" promotion for Walt Disney Co. theme parks (January 2007).
Along with mother Tina Knowles, both inked a deal with NBA team the New Jersey Nets to design new outfits for the team's cheerleaders (January, 2007).
Voted the No. 1 Best Dressed Female in a poll conducted by American publication Life & Style in December 2006.
Included in the list of the Top Entertainers of 2006 compiled by U.S. magazine Entertainment Weekly in December 2006.
Along with boyfriend, Jay-Z, earned the Big Power Couple honor at the "VH1 Big In '06 Awards", held December 3rd in Culver City, California.
Voted the 3rd celebrity to have the "Best Legs" in a poll conducted in November 2006 by Lambrini which was searching for the sexiest legs for a new fashion campaign with Pretty Polly.
Won a copyright infringement lawsuit brought by singer-songwriter Jennifer Armour in 2005 over her Grammy winning hit "Baby Boy" (October 2006).
Got a 1959 Rolls Royce convertible, worth for about $1 million, as a birthday gift from boyfriend Jay-Z on her 25th birthday party.
Celebrated her 25th birthday in the VIP room of 40/40 Club on August 31 2006.
Has her track "Listen", taken from her 2nd solo album "B'Day" (2006), featured as one of the four new songs written for drama musical "Dreamgirls" (2006).
Launched a nationwide search for an all-girl band to accompany her on a tour in support of her second solo album, "B'Day" (June 2006).
Toured with TLC (1999) and Christina Aguilera (2000) as their opening act.
Had an appearance on "Star Search" (1983).
Referred to rhymes as "Fiance."
Ranked #1 on E!'s 50 Steamiest Southern Stars.
She and boyfriend Jay-Z buy a house in Miami as well as in London, England.
In 2003, she starred in "The Fighting Temptations" alongside Oscar winner Cuba Gooding Jr. and had a role in a remake of "The Pink Panther" with Steve Martin.
Was voted number 1 on VH1's 100 Hottest Hotties.
Has Creole heritage on her mother's side of her family.
Is a fan of Middle Eastern music and dance.
She is allergic to perfume.
Has a cat named Master P.
Big heavy earrings is her trademark.
Her favorite item of clothing is a pair of pathwork metallic boots.