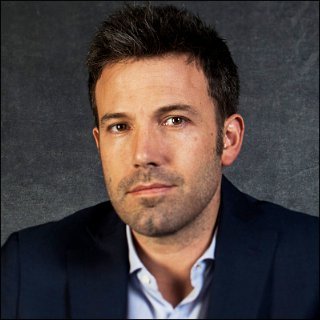 Profile
---
Famous as :
Actor

Birth Name :
Benjamin Geza Affleck

Birth Date :
August 15, 1972

Birth Place :
Berkeley, California, USA

Claim to fame :
The writer of "Good Will Hunting" movie (1997)


Named The Best Behaved Star of 2007 by People Magazine on December 20, 2007.
Ranked 11th on People magazine's list of "Sexiest Men Alive" in 2007.
Was rushed to hospital on May 29, 2006 and spent his Memorial Day in the emergency room of Mt. Auburn Hospital in Cambridge, Mass., for a migraine.
Ordered to pay $135 for driving in Massachusetts with a suspended license (1999).
Ranked 4th in Life & Style's list of "Hollywood's Top 10 Dads" in June 2007.
In December 2005 he and wife Jennifer Garner wrote $500 checks each to help fund Massachusetts governor-hopeful Deval Patrick's campaign to represent the Democrats in the gubernatorial elections.
Signed a $1.8 million deal to be the face of popular British deodorant Lynx in August 2005.
Volunteered to spend several days with disabled children (fall 2003).
Meeting Molly Hanna, a student in his mother's fifth-grade class who died of cancer in 2002, has inspired him to contribute to the Neil Bogart Memorial Fund, which supports cancer research at Los Angeles Children's Hospital.
Is a loyal Democrat and has supported Senator John Kerry's 2004 presidential campaign.
Appeared in a prop photo used in the movie "Mermaids" (1990).
Speaks Spanish and learns to speak Arabic.
The song "Dear Ben" written by Jennifer Lopez tells how she loved him.
Is a devoted fan of the baseball team Boston Red Sox.
Has a Boston Celtics logo painted on the basketball court at his house.
Doing commercials for L'Oreal Shampoo and is paid $1.5 million for it.
The reported $3.5 million engagement ring he gave to Jennifer Lopez was being offered for resale.
Was an extra with friend Matt Damon in "Field of Dreams" (1989).
Auditioned for Corey Haim's role in "License to Drive" (1988).
Possesses vintage Ms. Pac-Man and Millipede video-arcade games.
He and Matt Damon sold their "Good Will Hunting" (1997) script for $600,000.
During the filming of "Reindeer Games" (2000), he accidently knocked unconscious by football player Dana Stubblefield.
Is going to make his directorial debut adaptation of Dennis Lehane's novel "Gone, Baby, Gone" (2005).
Good at poker and won major poker open's Commerce Casino's California State Poker Championship.
Ranked #41 in Premiere's 2003 annual Power 100 List.
Daredevil is his hero since little.
In 2002, Ben was named People's "Sexiest Man Alive."
Entered Promises Rehabilitation Center in Malibu, CA for alcohol abuse.
Was one of People Magazine's "50 Most Beautiful People in the World" (1999 & 2000).
He and Matt Damon brought their moms to the 1998's Oscars in which they won Best Original Screenplay award for "Good Will Hunting" (1997).
His younger brother Casey appeared with him in "Chasing Amy" (1997) and "Good Will Hunting" (1997).
Is a very good impressionist.
Is of Irish and Scottish ancestry.
His first acting experience was for Burger King commercial.
Ben had major interest in politic.
He did not go to the UK premiere of "Jersey Girl" avoiding questions about his love life with ex-fiancee Jennifer Lopez.
He was #77 in Premiere's 2002 annual Power 100 List.